What you might not know is that heat loss in a conservatory in winter making it too cold in winter and heat gain in the summer, making it uncomfortably hot, happens through the conservatory roof. Even if your conservatory has double-glazed windows and thermally insulated windows and doors to the walls. When you have a poorly insulated roof, you're dealing with a too-hot, too-cold conservatory where it's very hard to regulate the internal temperature and comfort. It's for this reason you might not be using your conservatory as much as you'd like.
Heat loss in a conservatory is easily solved with a fast and simple roof replacement with immediate benefits and no major structural or modification work to your conservatory.
Why heat loss in a conservatory happens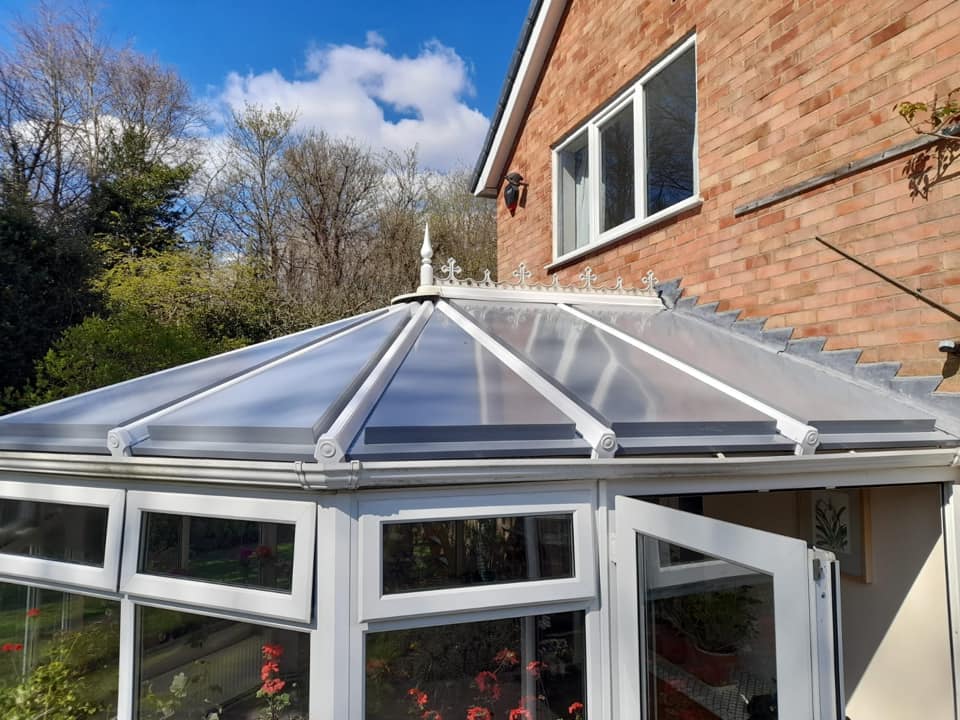 It's the poor insulation you get with polycarbonate sheets and old glass units, resulting in heat loss in a conservatory. This heat loss adds to your heating bills, stops you using your conservatory in winter and makes it virtually unusable on hot days.
The Thermotec panels we use in transforming your conservatory create an attractive yet highly effective thermal barrier between the inside of your conservatory and the outside, whether it's hot or cold outside.
Unlike polycarbonate sheet, Thermotec roof panels comprise latest generation aluminium, pressed and crafted to the exact sizes your roof requires. These sheets then have an infill of thick thermal insulation.
During the winter months, when you're trying to keep the heat in your conservatory, the significantly better, thicker and super materials compared with polycarbonate keep the heat where it belongs – inside. The aluminium skins inside and out with the thermal insulation prevent heat loss and reflect existing heat back into your conservatory.
Summer is just as effective. The 'solar gain' you experience inside, making the conservatory too hot is again down to inferior materials that aren't designed with any insulation, heat loss or solar gain protection in mind. Again, the Thermotec roof panels, their construction and design, keep solar gain out, preventing the roof from absorbing heat and sun rays, bringing all of this heat into your conservatory.
It's for this reason conservatories remain underused. Uncomfortable temperature extremes, both in winter and summer, leave your investment standing unused. And at a time when more of us are working from home, or thinking of ways to add more space in our homes, now is probably a good time to make the most of your conservatory, without the expense of a new extension or new garden room. All you need to do is make your existing conservatory better.
More on why heat loss in a conservatory happens
Surely the double glazing you have in your roof should work? Whilst it is true that double glazed units will be better insulators than polycarbonate sheet, the standard glass you have in your conservatory roof is never designed with solar and heat control in mind. There are specific products available for when you do want better performance glass in your conservatory roof.
So unless the glass is specifically manufactured and coated for solar control and heat loss, it's not a good insulator and the problem becomes even worse in a conservatory. Remember these are rooms made mostly of glass!
And lets also consider sound insulation. Thermotec panels provide better sound insulation and acoustics than glass or polycarbonate too. Your conservatory therefore becomes a quieter place too, especially when rain falls on the roof.
Transform your conservatory with no loss or gaining of heat
At Superior Conservatory Panels, we specialise in the supply and installation of easy fast insulated aluminium panels in a choice of colours, designed to stop heat loss in a conservatory. With a huge market in conservatory refurbishment, our panels give you an all-year-round room without the significant work involved in insulating or replacing your existing roof. Even better they work with PVCu, aluminium or timber conservatories.
Contact us today to discuss your conservatory and get a free quotation.