Aluminium conservatory roof panels maintenance needn't be hard work but is essential to ensure their longevity and performance in the face of the country's diverse weather conditions. From the constant rain to gusty winds and occasional snowfall, proper upkeep is paramount to preserve your conservatory's aesthetic and functional aspects. This article will delve into practical tips and best practices for effective aluminium conservatory roof panels maintenance, helping you safeguard your investment and enjoy a comfortable conservatory year-round.
Tips and advice for aluminium conservatory roof panels maintenance.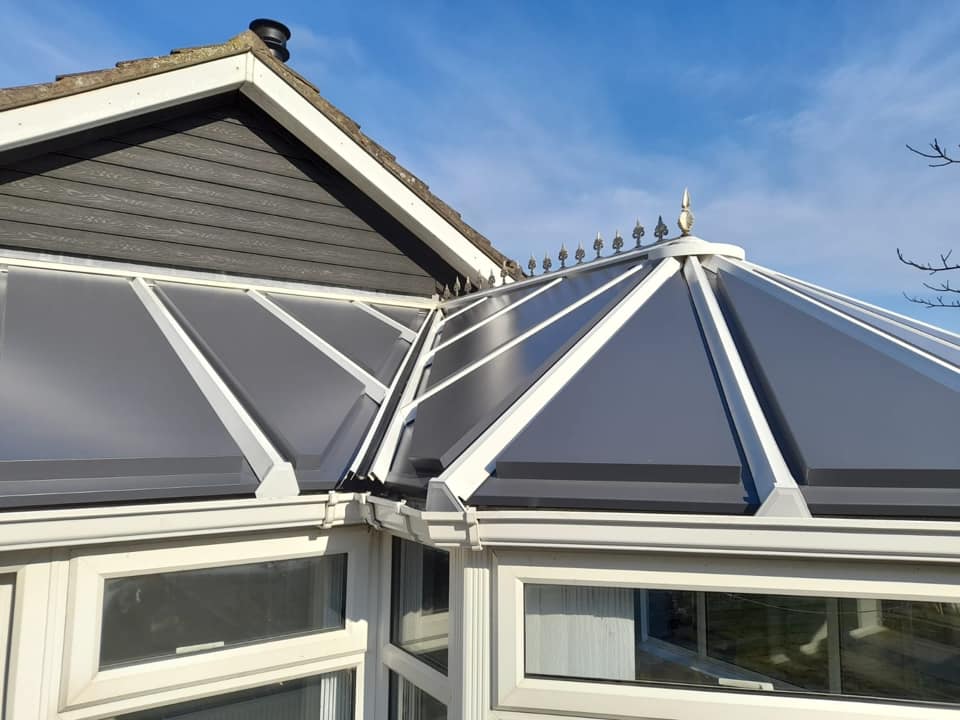 1. Consistent Cleaning for Aluminium Conservatory Roof Panels Maintenance in the UK: Regular cleaning is the foundation of proper maintenance for aluminium conservatory roof panels. The UK's rain and humidity contribute to the surface accumulation of dirt, algae, and moss. Establish a gentle cleaning routine using a mild detergent and warm water to counter this. Employ a soft cloth or sponge to avoid causing any scratches. This routine maintenance not only enhances the appearance of your panels but also contributes to their long-term functionality.
2. Seals and Joints Inspection: Seals and joints can degrade over time, given the UK weather's impact. Stay vigilant by inspecting these crucial components for signs of wear, cracks, or gaps around your aluminium conservatory roof panels. Whilst unlikely to happen with a quality product, if you see any joints or cracks visible, contact your supplier. Addressing these issues promptly prevents water infiltration during rain showers and ensures your conservatory remains watertight. Regular checks play a vital role in early problem detection, saving you from potentially costly repairs down the road.
3. Rain Management: The UK's frequent rain necessitates efficient water management. Make certain that your conservatory's gutter system is free of leaves and debris, permitting smooth water flow. Conduct regular gutter cleaning to prevent blockages that could lead to overflowing water and potential damage to your panels.
4. Strengthening Against Wind Impact: Strong winds are a characteristic of the UK climate. While aluminium conservatory roof panels are inherently sturdy, heavy gusts can sometimes compromise their integrity. To mitigate this risk, ensure professional installation to guarantee secure attachment. The DIY Fitting of conservatory roof materials is not always the best option.
5. Managing Snowfall: Though infrequent, snowfall requires careful handling. Employ a soft brush or broom to gently clear snow from your panels, avoiding the use of sharp tools that could damage the surface. Snow removal prevents excess weight accumulation that might strain the panels.
6. Tackling Humidity Concerns: High humidity levels in the UK can lead to condensation forming on the interior surface of your conservatory roof panels. This can obscure your view and potentially result in water damage. To combat this issue, prioritize proper ventilation by periodically opening windows and doors. Consider integrating dehumidifiers to maintain optimal indoor humidity levels.
Embrace Aluminium Conservatory Roof Panels Maintenance for a longer lasting conservatory roof.
The UK weather places the greatest strain on your conservatory roof. The good news is that the quality construction and guarantee of Thermotec roof panels, do provide excellent protection against rain, wind, snow, and humidity. By adhering to the provided tips and best practices, you are well-equipped to ensure your conservatory remains inviting and functional throughout the changing seasons.
From regular cleaning and vigilant inspections to mindful management of various weather conditions, your efforts will undoubtedly extend the life of your panels, enhancing both their aesthetic appeal and the long-term performance of your conservatory. A room you can use all year round.