A conservatory is a delightful addition to any home, offering a light-filled space where you can enjoy your surroundings all year round. You need to clean a conservatory roof because it needs routine cleaning and maintenance to keep it looking like new. Here is our helpful guide on how to clean a conservatory roof, and we cover all the current materials—PVCu, aluminium, and timber.
When you clean a conservatory roof, you preserve your structure.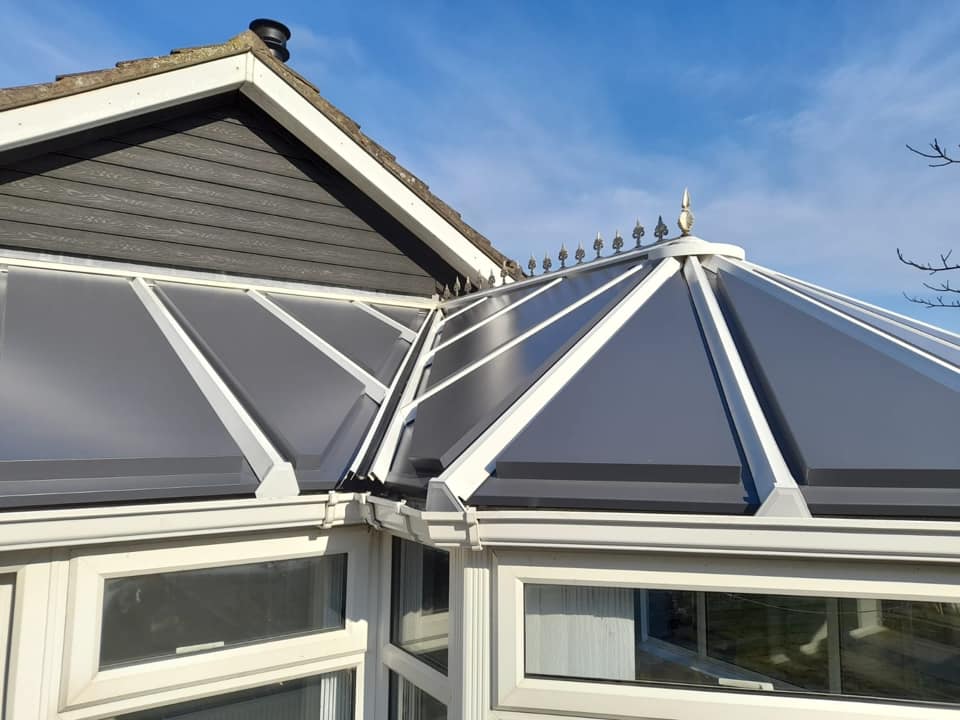 Conservatories typically attract more dirt and grime than other areas of your home due to their extensive glazing and often close proximity to garden foliage.
Regular cleaning prevents the accumulation of dirt, mould, and moss that can deteriorate the materials and cloud the glass. Moreover, a clean conservatory boosts your home's curb appeal and allows maximum natural light inside, enhancing the aesthetic and functional value of the space.
Cleaning PVCu Conservatories
PVCu conservatories are popular due to their durability and low maintenance requirements. However, they can become discoloured and dirty over time. Begin by dusting off loose dirt with a soft broom. Next, use a sponge or soft cloth with a solution of warm water and mild detergent to gently wipe down the frames and windows, working from top to bottom to avoid streaks.
Stubborn stains may require a specialised PVCu cleaner, which you can find in most home improvement stores. Avoid abrasive tools or harsh chemicals which can damage the PVCu surface. Rinse thoroughly with clean water, and dry with a soft, lint-free cloth to prevent water spots. We don't recommend you use cream cleaners like Cif.
Taking Care of Aluminium Conservatories
Aluminium conservatories offer a sleek, modern aesthetic and remarkable strength. Like PVCu, aluminium is relatively low maintenance but requires regular cleaning to prevent deterioration of the powder-coated paint finish that is applied by professional applicators. Use a soft brush to remove loose debris before cleaning the surfaces with warm, mild soapy water. Rinse thoroughly, and dry with a soft cloth.
Ensure to rinse it off completely to avoid any potential damage to the finish. If you notice any scratches or chips, touch-up paint can be applied to prevent corrosion and maintain the appearance of the aluminium.
Preserving Timber Conservatories
Timber conservatories add a warm, classic charm to your home but require more maintenance than their PVCu or aluminium counterparts. Regular cleaning and treating can prevent rot, mildew, and discolouration.
To clean a conservatory roof in timber materials, start by brushing off any loose dirt or debris. Use a mild detergent in warm water to clean the timber, taking care not to saturate the wood as this can cause swelling or warping. Rinse with clean water and dry thoroughly.
As you have a natural wood structure, it is worth checking it overall every few years. Well-maintained, timber conservatories don't need that much maintenance, but it is worth seeking a timber specialist to advise you. This process refreshes the appearance and protects the wood from weather damage.
Don't Forget the Glass
Regardless of your conservatory's material, when you clean a conservatory roof, the glass is a significant feature that also requires attention. Use a long-handled window cleaner's mop and squeegee for hard-to-reach areas and a mixture of white vinegar and water for a streak-free finish. Or you can use a mild window cleaner.
Helping you take care of your conservatory
A clean conservatory is not only visually appealing but can also increase the lifespan of your investment. Regular maintenance, using the right cleaning methods for PVCu, aluminium, and timber, can keep your conservatory looking its best, brightening your home and enhancing your enjoyment of the space.
At Superior Conservatory Panels, we specialise in easy-to-fit replacement aluminium conservatory roof panels designed to keep your conservatory quiet. At the same time, thick thermal insulation and strong aluminium that is low-maintenance and with many other benefits. Warmer in winter and cooler in summer is just two.
Contact us today for a free quotation on our Thermotec roof panels, or discuss your conservatory with a member of our friendly team.