Thermotec conservatory roof panels are the latest, highly energy-efficient solution for improving your old conservatory. We think there is no better way to improve your conservatory, quickly, efficiently and with immediate results from day one.   In this article we provide you some detailed information about the design, quality and manufacture of Thermotec conservatory roof panels.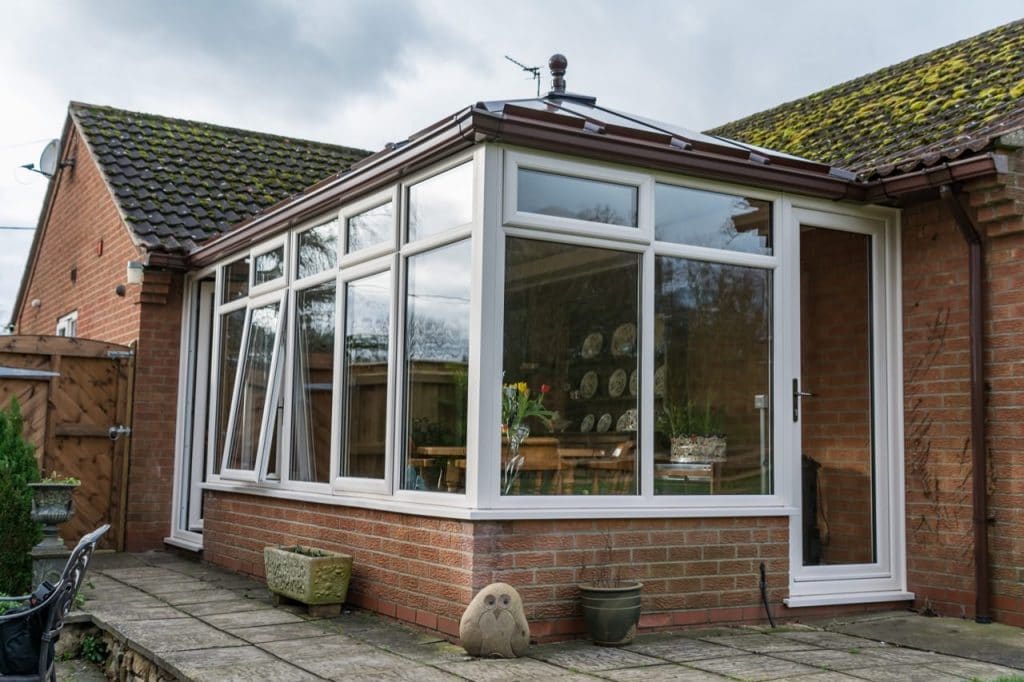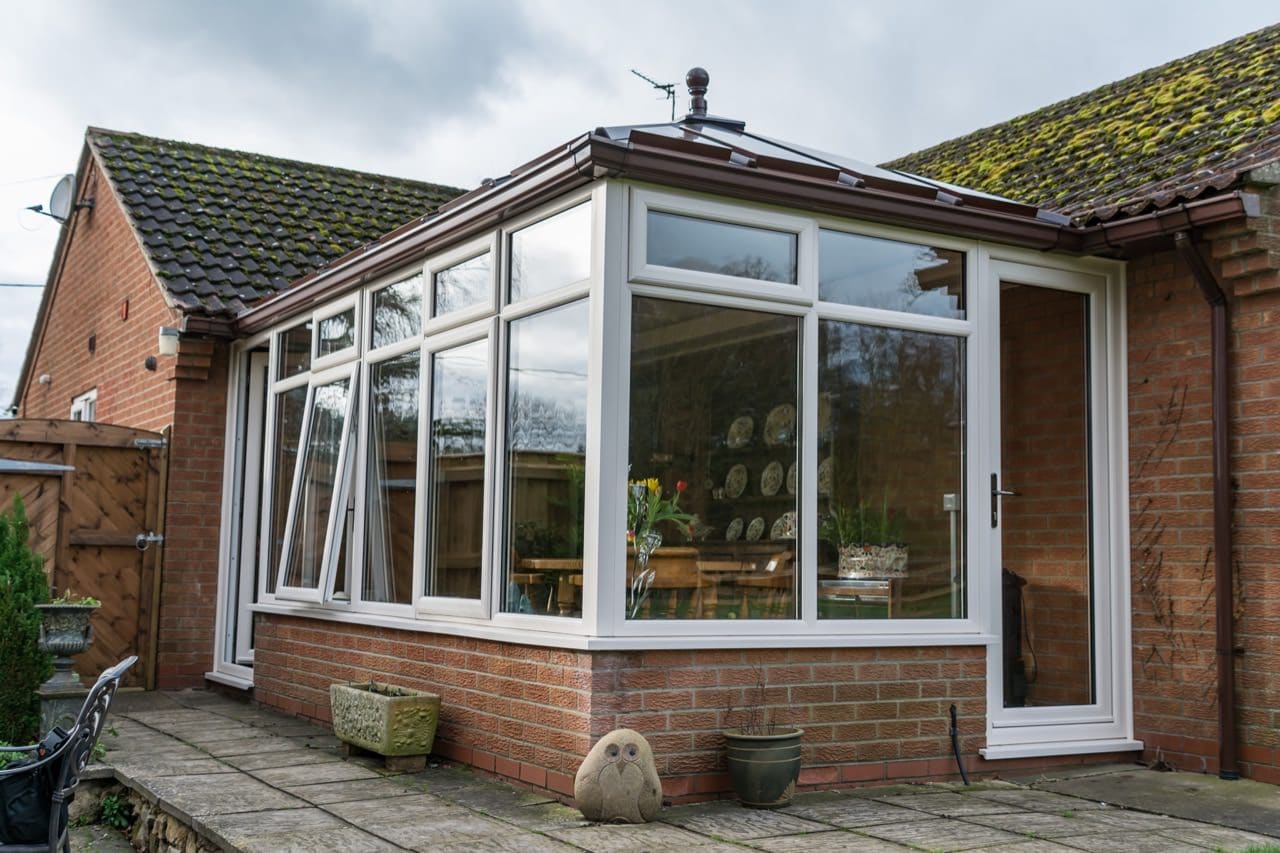 Why Thermotec conservatory roof panels offer a trouble-free conservatory refurbishment.
By far, the biggest benefit of the Thermotec conservatory roof panels is the ease of installation.  Most installations complete in under one day for a typical conservatory. Therefore, no other product we know of provides you with a virtually 'new' conservatory from day one.  The installation itself is tidier than other forms of conservatory roof replacement.
Even better is using your conservatory as a permanent extra room in your home, not a temporary one. That desirable kid's playroom, home office, extra dining space or extension to your living room is available as soon as we leave your home.
However, it is worth looking at some of the other benefits of Thermotec conservatory roof panels and what they mean for you.
U-Vales of 0.4Wm2K
Thermotec provides an ideal product for helping save money on your heating bills and improving the comfort of your conservatory. With U-Values of 0.4Wm2K, this is one of the most thermally efficient products on the market. Compare this to high specification double glazed units with a centre-pane U-Value of 1.0Wm2K. Thermotec conservatory roof panels beat even most Passivhaus windows generally available with a U-Value of 0.66Wm2K. Remember, the lower the U-Value number, the better performing the product.
As a result, you get one of the best performing conservatory roof systems on the market with outstanding overall U-Values. Better than glass!
Ideal for any PVCu or aluminium conservatory.
Our website makes several mentions that our roof panels work with any aluminium or PVCu conservatory.  What exactly does this mean?  Once again, this comes down to a fast, simple and trouble-free installation.
As standard, Thermotec conservatory roof panels come with a 75mm panel thickness.  With over 20 discontinued and existing brands of PVCu conservatory and as many aluminium conservatory brands, Thermotec roof panels fit.  Estimates suggest over three million conservatories in the UK.  The reality is many of these are discontinued even if in good condition.
Therefore, whether you have a new or old conservatory, we guarantee, subject to survey, of having a product for your structure.  The flexible nature of Thermotec panels with varying panels depths and insulation makes this possible.  Best of all, every panel comes made precisely for your conservatory.  Every panel is made to order, with no stock colours or panels available.
Conservatory roof panels to recognised industry standards.
If you previously purchased new windows or doors, you may be aware of some security and weather performance standards for your peace of mind.  Examples include Secured by Design for security, Kitemarking for the manufacture or British/European standards for weather performance.
Our insulated conservatory roof panels are no exception.  Thermal insulation meets nearly 20 different BS and EN standards including:
Correct thermal density EN1602
Compressive stress and strength EN826
Thermal conductivity EN13164
Tensile strength EN1607
Water vapour diffusion EN ISO 10456
Reaction to Fire Euroclass EN13501-1 (although not a fireproof product)
and many more.
Therefore, you are assured of a quality-made product giving you peace of mind.
Durable powder coated finish.
Thermotec conservatory roof panels use a premium quality powder coating process similar to that found in architectural aluminium windows and doors.  Many coloured metal products use wet-paint processes not used in the aluminium fenestration sector.
Therefore, you get a durable finish on the outside to resist the elements.  You also get a beautiful colour on the inside to enjoy when sitting in your conservatory.  Even better is the choice of over 150 colours to choose from.
Conservatory roof panels made with attention to detail.
Long-term enjoyment of your new conservatory roof and the conservatory overall is at the core of the Thermotec conservatory roof panels.
Every panel comes fully bonded with excellent weight-to-strength properties.  Additionally, we use the latest machinery to shape and bend your panels to the precise angles of your conservatory roof.
The corner joints are welded to add strength and to seal the joints before painting in your desired colour.  As well as this, insulation bonds to the trays and with a specific contact adhesive.  A further 'tongue-joint' ensures the roof panels sits correctly in your roof bar with additional vapour control tape for protection.
Any adhesives used with your new conservatory roof panels work perfectly for bonding metal, plastics and insulation materials.  They come with no odour on the outside and with excellent resistance to different temperatures.
Therefore, you have peace of mind of a precision-made product from the best possible materials.
Do Thermotec conservatory roof panels work?
Our many satisfied customers are thrilled with the end result, but how do the panels really work? Winter is an excellent example of the efficiency of Thermotec roof panels.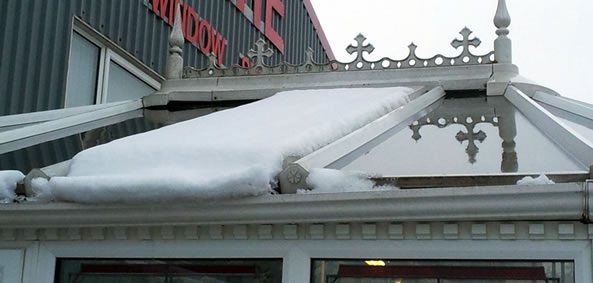 As you see from this image, a conservatory roof with both double glass unit and a Thermotec conservatory roof panel.  The low U-Values mean the heat from inside the conservatory melts the snow on the glass panel, but not on the Thermotec panel. The heat in the conservatory does not escape enough to melt the snow.  The reverse happens in the summer with a substantially cooler conservatory.
Contact us today for your free quotation and home survey.
Finally, Thermotec conservatory roof panels offer additional benefits for you.
No additional modification as our product uses your existing roof structure.
No planning permission or Building Regulation approval needed.
Cheaper than many other refurbishment products on the market.
Contact us today to find out more and for your free quotation and home survey.
(snow image courtesy of Thermotec Roofing Systems).