If you suffer from a cold, noisy or too hot conservatory, the Thermotec roof system is designed to transform it.  Discover all the benefits of the Thermotec insulated roof panel. There is no better product to give you back your conservatory.
Comfort, the right temperature all year round and none of the issues associated with dated polycarbonate roofs or glass units. And that is just for starters.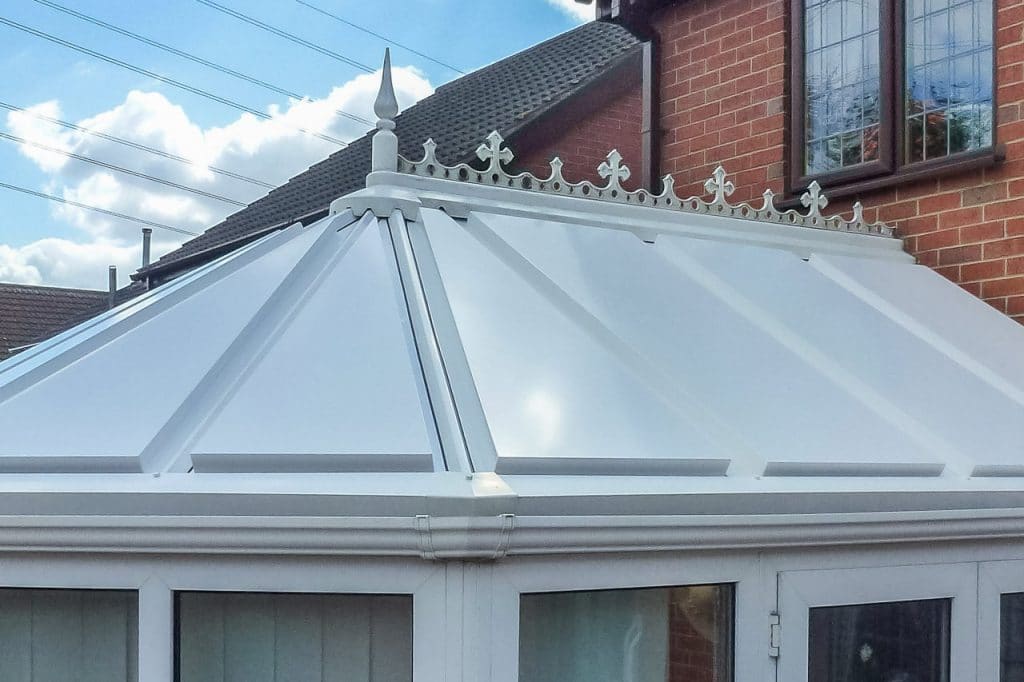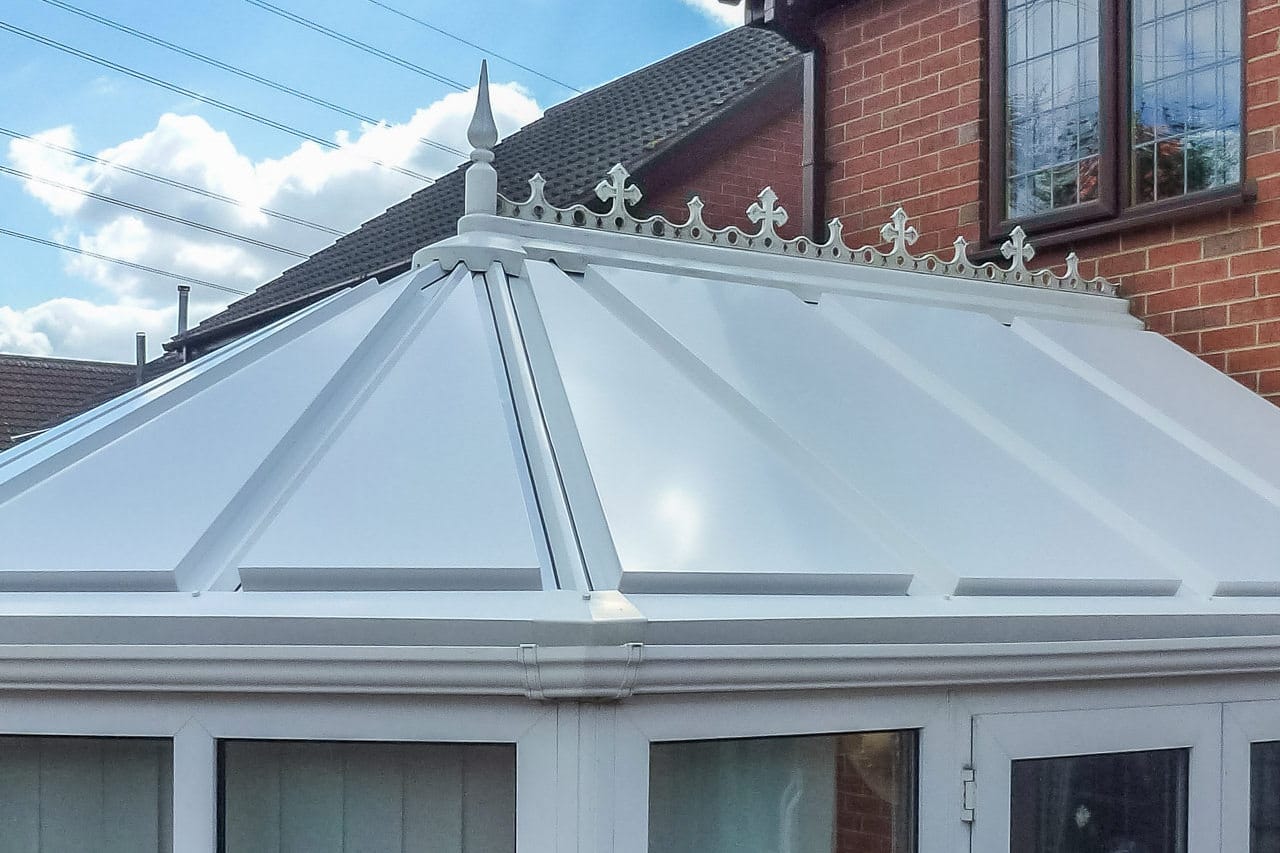 How the Thermotec Roof transforms any upvc or aluminium conservatory.
Our new insulated aluminium conservatory roof panels eliminate many of the issues associated with early generation conservatories.
Substantial reduction in noise during heavy rain, windy weather. You enjoy your conservatory in the autumn and winter months.
Thick thermal insulation prevents the build-up of heat in your conservatory. It is instantly more comfortable.
An insulated aluminium roof retaining more of the heat in your conservatory during the winter.  You lose substantially less energy through the roof.
The same advanced insulation reduces the 'greenhouse effect'. Your conservatory remains cool and usable in the summer.
Our quality-made aluminium roof guarantees to transform any PVCu, aluminium or timber conservatory into a usable room once more. Whatever the season, outside temperature or weather. It works!
Thermotec. Energy Saving Insulated Conservatory Roofing.
High-density insulation is at the heart of our roof panels. We offer a choice of insulation options from a standard 70mm up to 150mm thick. Combined with the 2mm thick aluminium skins on the inside and outside, your conservatory is instantly improved.
Subject to panel thickness and type, the U-Values of our panels go as low as 0.29Wm2K, our insulated conservatory roofs are substantially more energy efficient than other glazing materials. In winter you will use less heat to warm the conservatory and it will be much cooler in the summer.
The insulation at the heart of our conservatory roof system is designed to provide the best possible energy saving properties. This is why the most energy efficient doors, cladding, screens and facade glazing rely on insulated aluminium panels just like ours.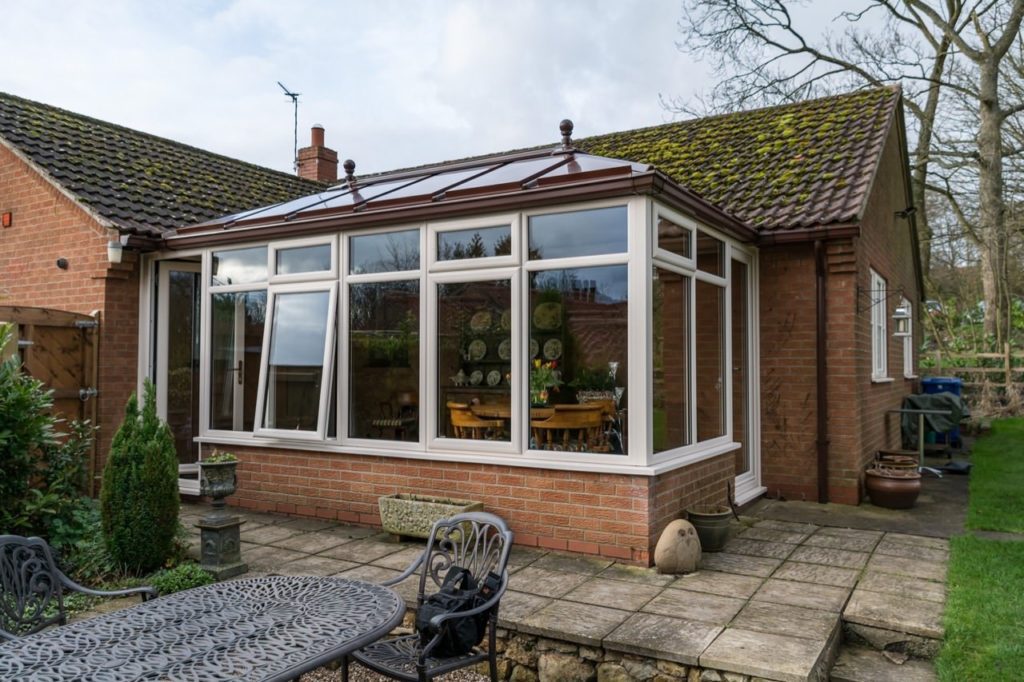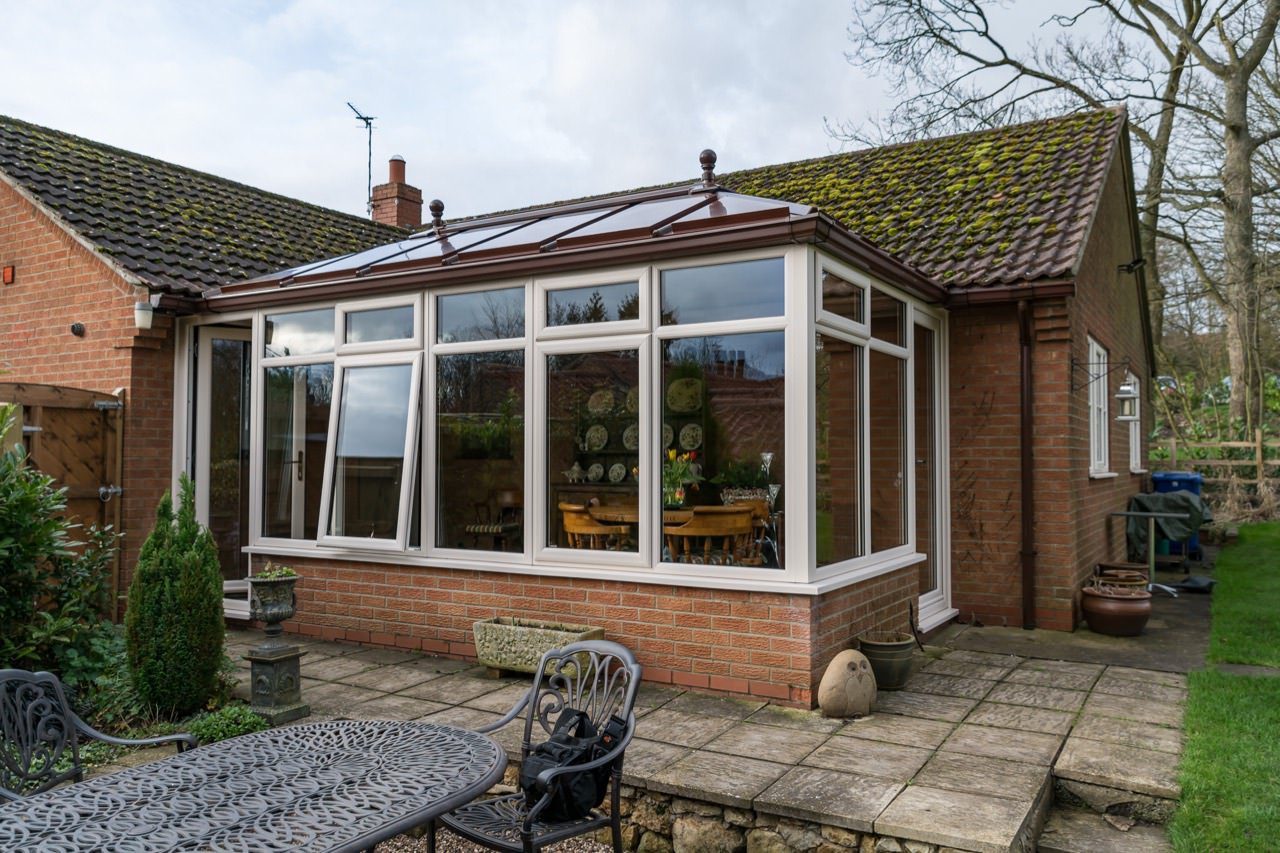 Benefit 1. A Cooler Conservatory in the Summer
Even the latest triple glazed units can't offer the protection from heat and UV rays of an insulated solid roof. We hear from homeowners delighted with their new conservatory but still consider it too hot to use in the summer.
You just want your conservatory to bring natural light into a room that is pleasant to sit in all year round. You want to enjoy the sunshine in the summer and sit in a comfortable room in the winter. Therefore you enjoy your room in the summer without costly blinds, portable air-conditioning units or fully open windows and doors.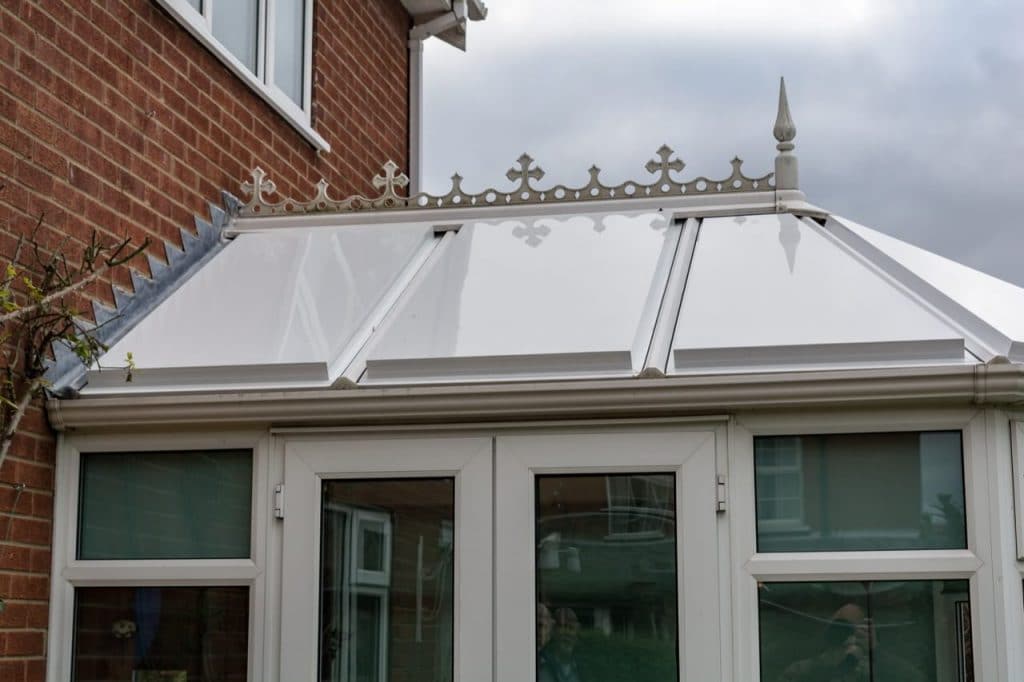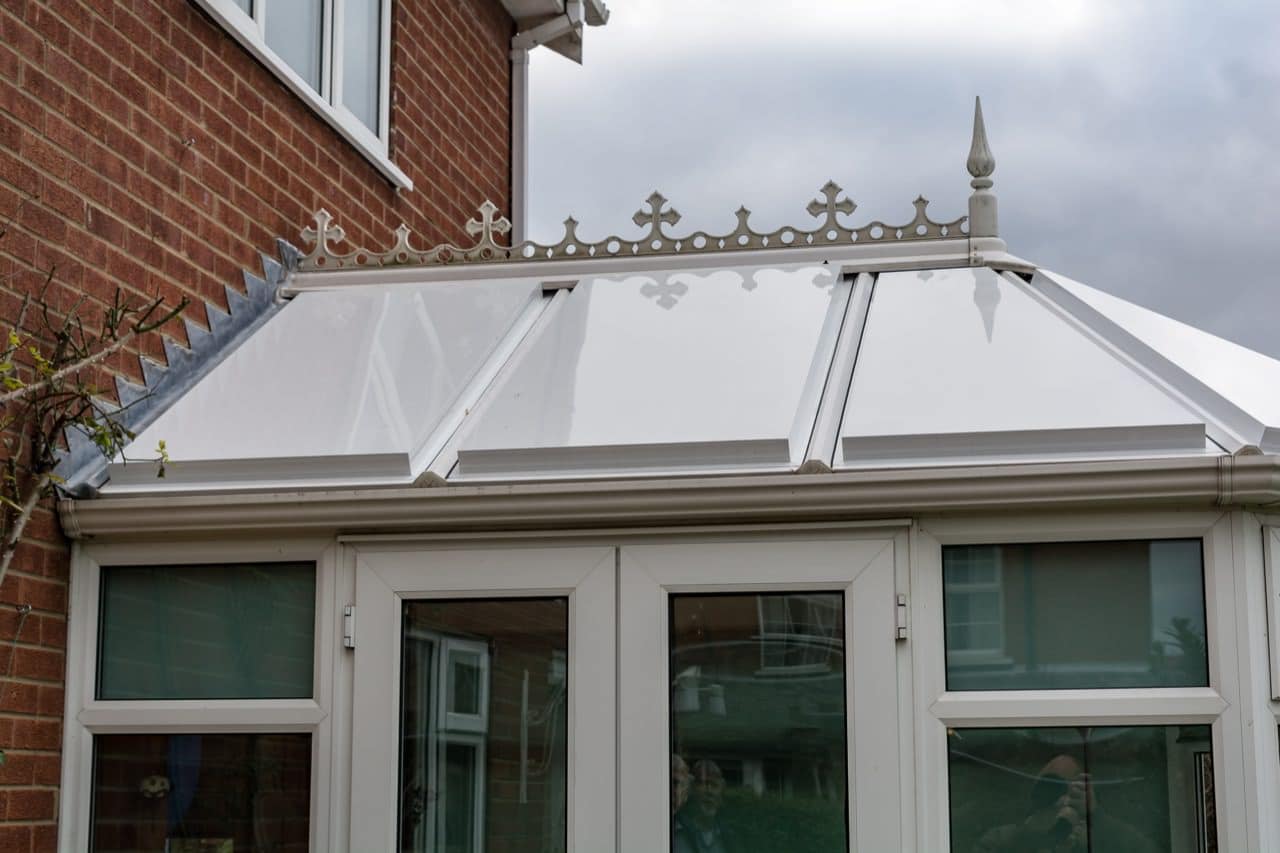 Benefit 2. A Warmer Conservatory in Winter
No more mothballing of your cold conservatory or orangery in the winter months because it is too expensive to heat.
Thanks to our lightweight insulated roofing panels you can make the most of this valuable extra space in your home. Our roof panels are significantly better than single, twin or even triple-wall polycarbonate. It just works at keeping the heat in your conservatory and not letting it escape through a poorly insulated roof.
Our panels contain thick, energy efficient and high-density insulation. As a result, we guarantee a room you can use and enjoy in the winter, whatever the weather.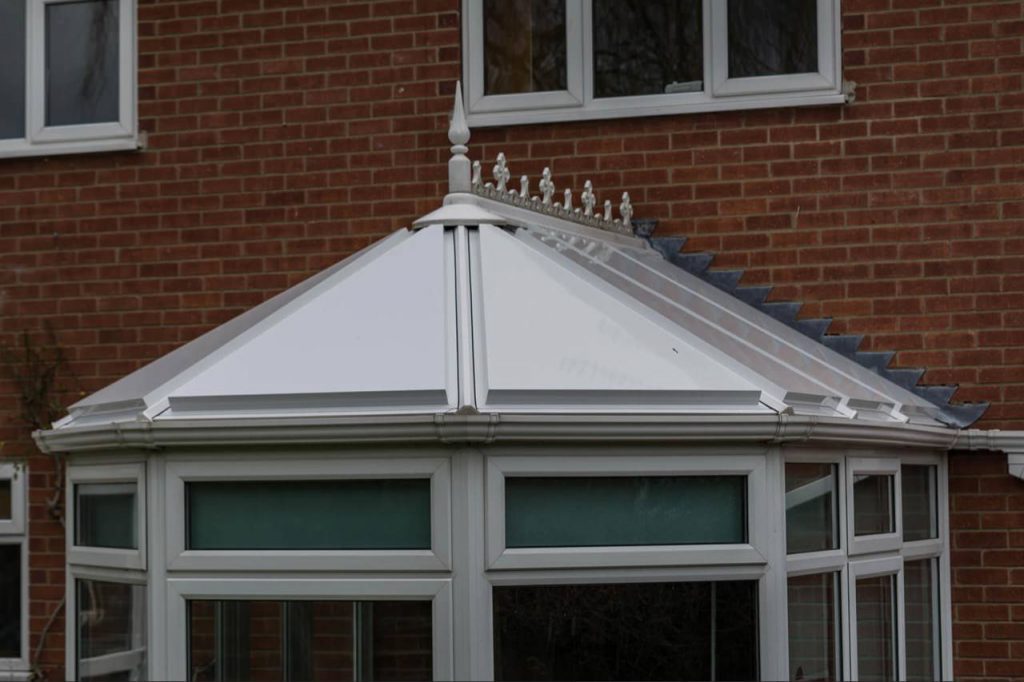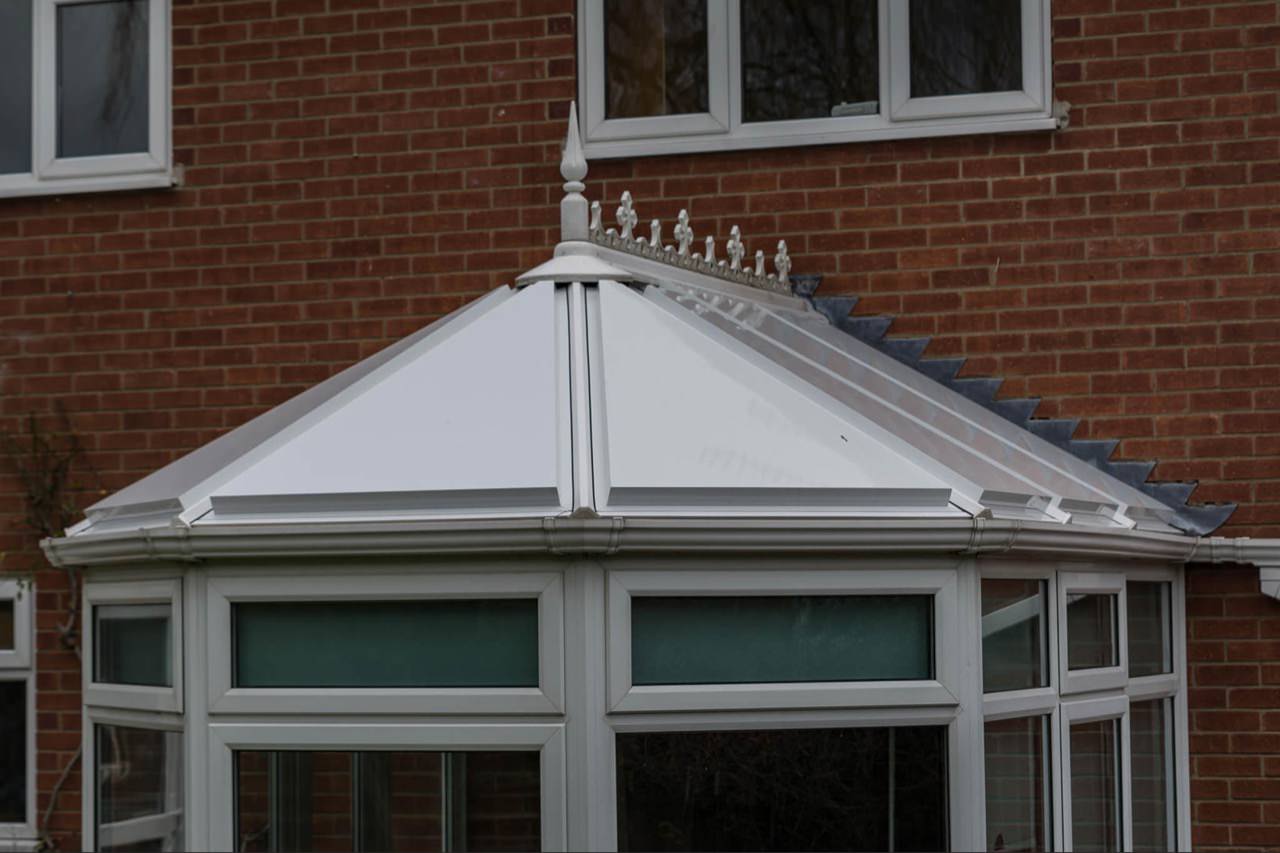 Benefit 3. A Quiet Conservatory in Bad Weather
The instant benefit you notice with your new aluminium insulated roof is just how quiet your conservatory is. Customers tell us they walk into their refurbished conservatory and it is dramatically quieter and a nicer place to be.
Our durable, lightweight aluminium panels have a stepped arrangement. This is thin enough to glaze into the original glazing cavity but substantially thicker than any glass or polycarbonate. Therefore, you get a significant reduction in noise and echo.  Your conservatory feels just like the other rooms in your home.
Even more benefits to having a Thermotec roof in your conservatory.
More effective and longer lasting than conservatory blinds.
Better insulated and quieter than new polycarbonate sheets.
A more comfortable conservatory than even the latest blue or solar control glass.
Substantially less disruptive and no redecoration compared to new tiled conservatory roofs.
No risk of condensation or weight associated with plasterboard or fibreglass roofs.
Why Thermotec roof panels are easier than other conservatory refurbishment products.
When it comes to refurbishing your conservatory, we know you have a lot of choices.  Here are some things to consider with other alternatives and solutions.
A tiled and insulated roof is arguably the best of all conservatory roofing options.  The downside is that your existing conservatory frames normally cannot take the substantial extra weight.  If a tiled roof is an option, please ensure your conservatory can take the weight of the roof or it may collapse. With some tiled roof solutions, even the footings may need reinforcement/rebuilding.
Internal new ceilings are another option where a false ceiling fits below your existing roof on the inside.  Essentially you get a new conservatory ceiling. The idea behind this is to create an insulated gap between the inside of your glass and the new ceiling.  The fitting of conservatory ceilings means timber battens screwed to your roof bars.  Talk to any professional company and few advise drilling/screwing any PVCu or aluminium frames.  Not only does this ruin the frame, it also compromises the insulation of the roof bars.   With this method:
You lose ceiling height.
Condensation can form between the roof and your ceiling which you may cause damage long term.
Plasterboard carries extra weight. Be sure your conservatory roof can take this extra weight.
Any possible leaks through the roof you would not spot until you saw wet patches on your new ceiling.
Contact us today for more information and a free quotation.
We are on hand to answer all your questions about our panels and other conservatory refurbishment products.  We encourage you to do your research and ask questions.
Contact us today for a free home survey or why not call us and speak to one of our team. We are on hand to answer all your questions.