One of the most popular styles of glazed extension or conservatory is the lean-to design, and it's just as easy to get a lean-to conservatory refurbishment using quality aluminium roof panels. Fast to install, highly effective from day one and making any lean-to conservatory a room you can use every day of the year. Here's how we do it.
Why carry out a lean-to conservatory refurbishment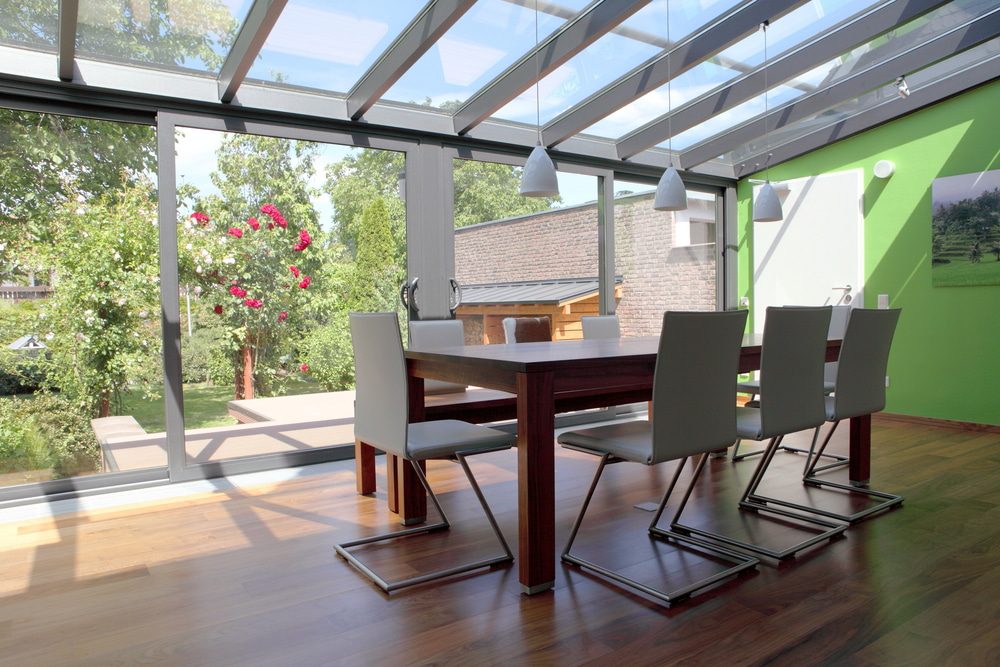 Even if your lean-to design is showing its age, what you might not know is, that for many new conservatory constructions, this style is one of the most popular. With a more rectangular style, it's more on-trend than the crested and finial type conservatories you might be familiar with. As a result, an effective lean-to conservatory refurbishment brings this popular design back in fashion alongside the modern glazed extension systems currently available.
Of course, let's remember the reasons for having a conservatory in your home in the first place – an extra room, more light and a feeling of space and garden views. So if you've got an existing lean-to style at the back or side of your house, a lean-to conservatory refurbishment using the right materials lets you enjoy your glass room once more.
How we measure your lean-to conservatory
Whether made of PVCu, aluminium or timber, it's easy to carry out a quick survey on your lean-to and in many cases, the roof panels are all the same size. We attend your property, carry out a check of the conservatory and measure up the existing roof panels. At the same time we check the thickness what's in your roof already.
Why do we do this? Because one of the significant advantages of our Thermotec panels is how they're designed to replace your existing glass using the components and materials already there. No new glazing beads or additional profiles. A simple taking out of the old materials and replacing with new.
You may already have old glass or even polycarbonate in your roof and wondering whether it's worth changing these for aluminium panels. As soon as you replace the existing and poorly insulated roof material, with the latest-generation version, the results are immediate.
The immediate benefits of a lean-to conservatory refurbishment using aluminium panels
First of all, you'll notice how much quieter your lean-to is. Gone is the thing roof material and replaced with a 70mm thick quality insulated roof panel. It's quieter when it rains, the room feels less like it has an echo and also feels more comfortable as you walk into it.
Next is the enhanced thermal performance of our roof panels. Significantly lower U-Values make your conservatory cooler in the summer, warmer in the winter and an altogether better place to be.
As soon as we finish our installation, you'll be able to finally enjoy your existing conservatory whatever the weather. And because we've changed the existing clear roof for an opaque version, glare is also dramatically reduced too.
A lean-to conservatory refurbishment typically in a day
Thermotec roof panels are an affordable way to add instant insulation and comfort, without the complexity of other conservatory refurbishment products, needing structural additions and additional materials. A fast and clean installation using the materials your conservatory already has with a simple remove old and drop in the new design. Easy. As well as this, priced against other products, the simplicity and instant results make them very cost-effective too.
You can see examples of our work all over the Cheshire, Liverpool and North-West areas as well as North Wales.
Contact us today to arrange a free quotation or discuss your particular conservatory size and style with us.