Summer is coming and refurbishing a conservatory this summer, could give you even more ways to enjoy the garden and your home. Having spent significantly more time at home during the last year, we've become more focused as a result on how to get more from it. A conservatory refurbishment provides substantial benefits, not least, a usable brand new room.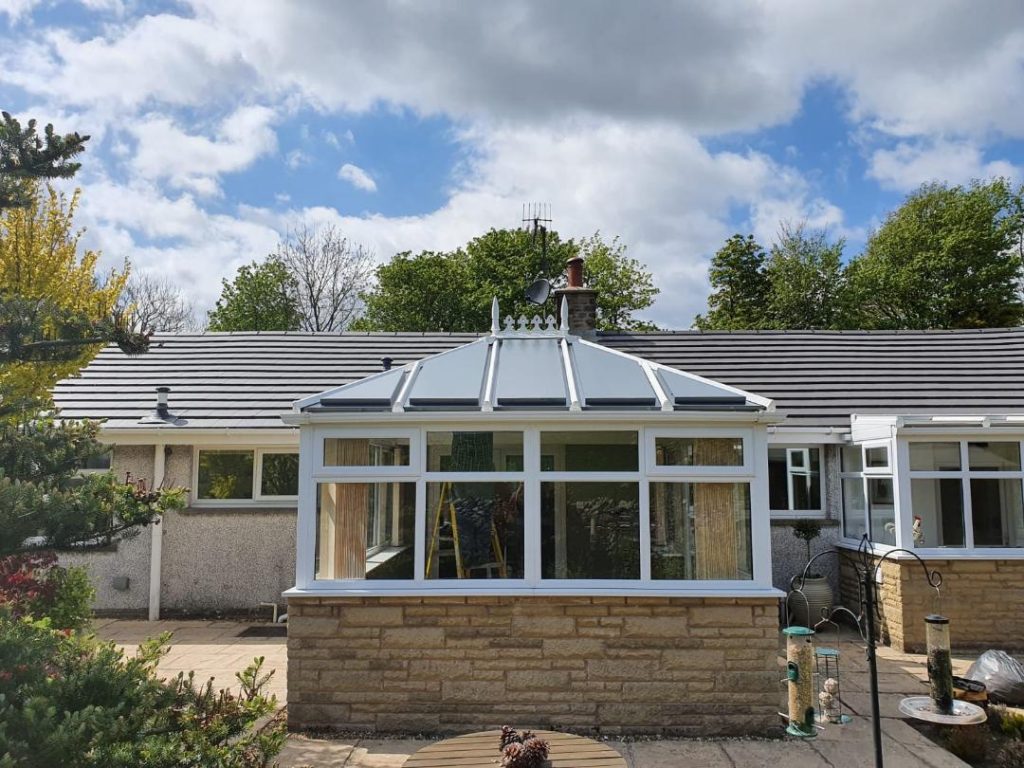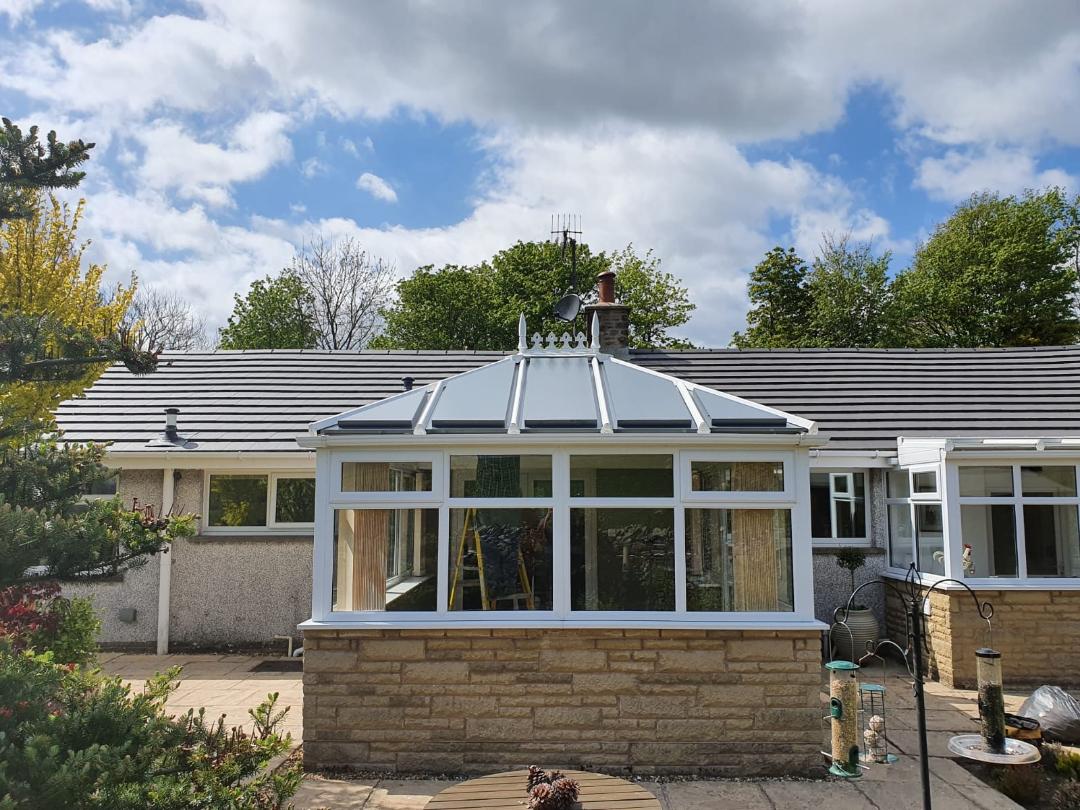 Get inspired when refurbishing a conservatory this summer
The COVID-19 pandemic has had the effect of focusing more on our homes. Whether we've spent the last year working from home, self-isolating or taking care of family. The time spent indoors not only makes us look at making the most of our rooms but also how to get more from our gardens. And if you have a conservatory, it has the potential to add genuine value to how we live. Above all it's perfect for giving us functional and usable new space every day of the year.
At Superior Conservatory Panels, we work every day transforming older conservatories into new rooms. We've seen conservatories become new family rooms, a home office, new home gym or added living space.
Using our Thermotec roof panels, give you warm in winter, cool in summer conservatories. There's no better way to finally get the extra space you want.
As well as the instant benefits provided by our Thermotec roof panels, we give some tips and advice for general ideas and inspiration when refurbishing a conservatory this summer.
Decide how you'll use your conservatory
You've probably already got lots of ideas as to how you'll use your conservatory. If you're now working from home, creating a workspace lets you be productive whilst also looking out to your garden. Much better than, for instance, converting a small bedroom or your box room. And if your work involves meeting clients or suppliers, what a great place to greet them in your home.
Of course, with most conservatories having doors and most homes having garden access, when you greet customers or visitors, there's no need for them to come through your home from the front.
Work out costs and a general budget
Any property renovation project comes at a cost and refurbishing a conservatory is no exception. As well as the cost of the roof material, you may need to consider costs for decorating the inside, new furniture and accessories.
However, for the roof refurbishment itself, our products cost less than other conservatory roof products. At the same time, there's no building work, no mess, no structural alterations. And the best bit? A typical conservatory using our Thermotec roof panels takes just one day to install. You'll be enjoying your new room in no time!
Look at upgrades to conservatory windows and doors
If your budget stretches to it, you can also upgrade your existing glass within the conservatory doors and windows.
Suggestions include solar control glass, better insulated modern glass units and even new glass with built-in blinds. Subject to survey there's no reason a good door and window maintenance company couldn't provide the latest glass technology and comfort to your conservatory.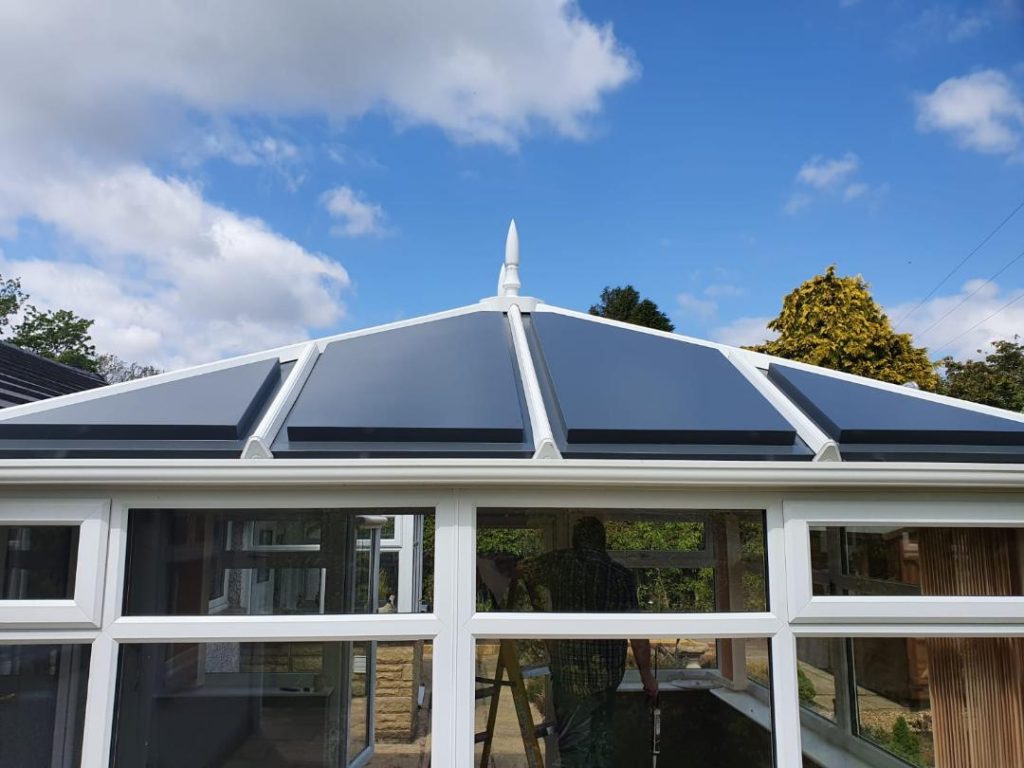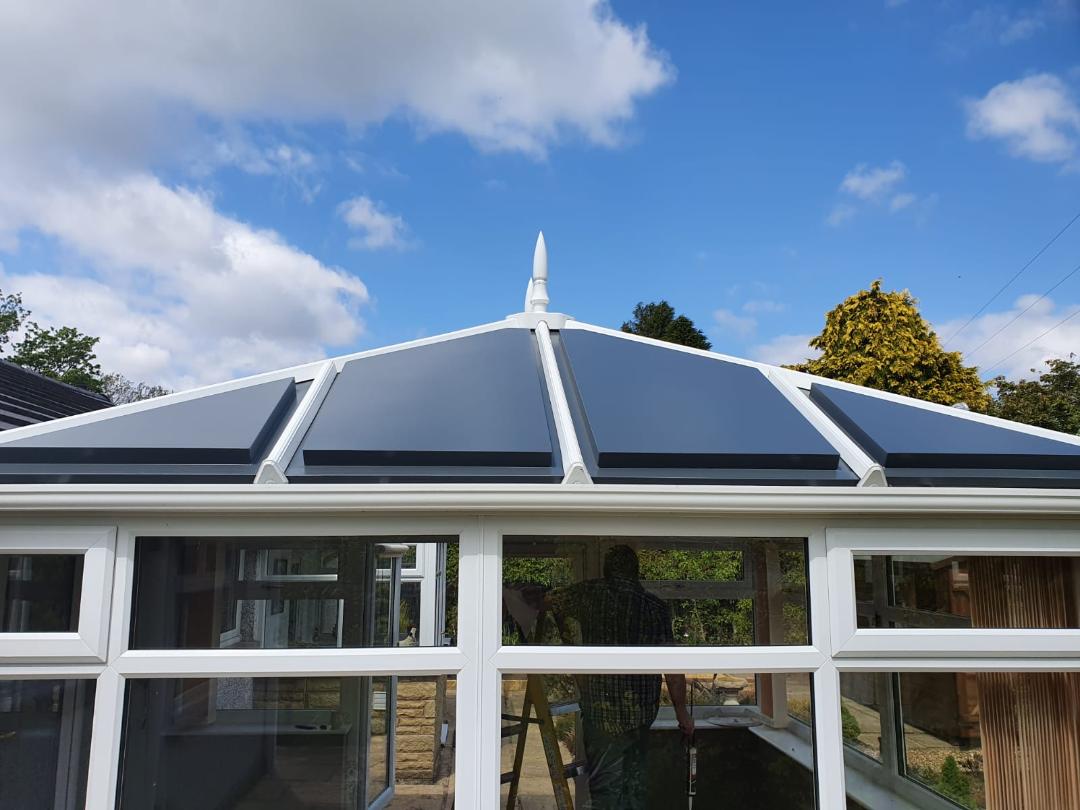 Consider adding a splash of colour
One of the best benefits of aluminium is the huge choice of colour. So here, you've got real choice. With over 150 colours, there's never been a better time to add a contrast to the white or wood effect frames of most conservatories.
Grey is one of the most popular today for new doors and windows. There's no reason you can't add the same contemporary shade to your conservatory roof too. Colour creates contrast as well as a visually striking feature.
Refurbishing a conservatory in 2020 with Thermotec Panels
Our highly insulated aluminium panels come with a durable powder coated finish. Low-maintenance, easy to clean and highly durable. Every one of our roof panels comes with thick 75mm insulation sandwiched between quality aluminium skins.
The result is a warmer conservatory in winter and a substantially cooler room in the summer. Even better, it's quiet when it rains. Gone are the issues associated with glass roofs and polycarbonate sheet.
Contact us today for a free quotation and to find out more. Get more out of your existing conservatory this summer.