When choosing the most suitable replacement for a dated conservatory roof, conservatory roof condensation can be an issue with the more expensive 'warm roof' systems. The warm roof is the fully tiled conservatory roof replacement, giving the look of a more traditional roof design, similar to the roof tiles of the house. Here we explain why conservatory roof condensation happens with a warm roof and where our own aluminium insulated conservatory roof panels, have none of the risks.
Avoiding conservatory roof condensation with warm roof systems
With many ways to replace a conservatory roof system, two options giving the look of a tiled roof are the wrap over systems and the warm roof.
The wrap-over system needs careful consideration as this typically wraps, as the name suggests, over the old, poorly insulated and dated conservatory roof. Unless carefully and professionally installed these wrap over systems are a cause of conservatory roof condensation.
The more sophisticated system is the new type of warm roof, provided by some expert and very professional roof designers and manufacturers. Their warm roofs are designed to completely do away with the existing conservatory roof, putting a carefully fabricated conservatory roof over the top, with great insulation and long service life. They are also the most expensive way to refurbish your conservatory.
Why warm roofs need ventilation to avoid condensation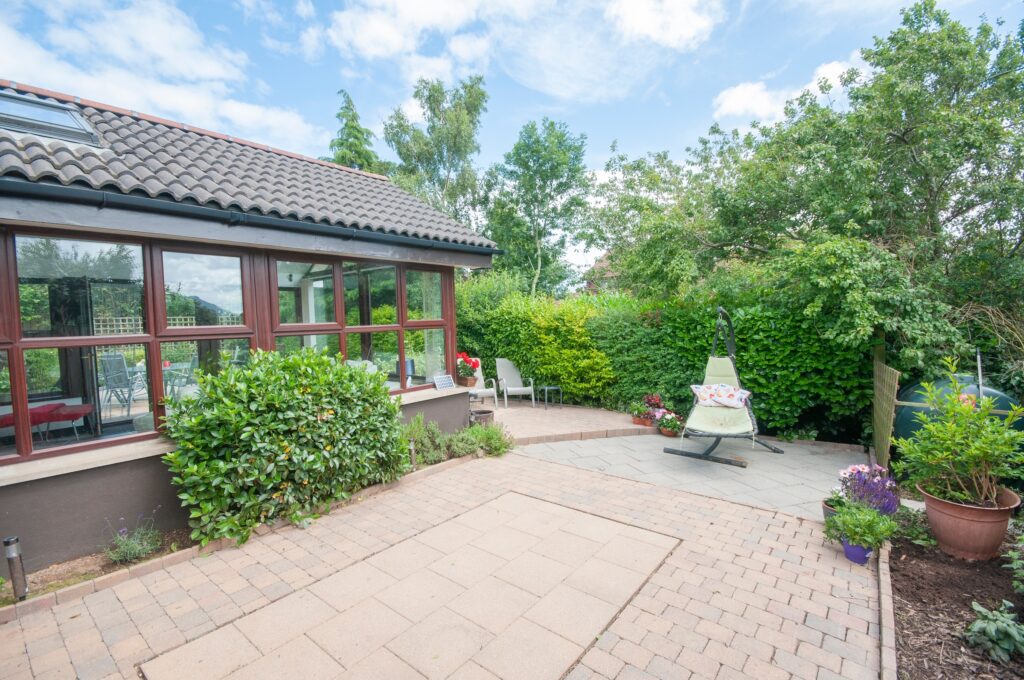 Warm roofs are designed to create an outer roof layer warmer than the inside and just like modern windows and doors, create a thermal break and avoid cold bridging. Several materials between the outer surface and the inside of your conservatory all work together. However, when you fail to ventilate a warm roof correctly, conservatory roof condensation can occur. This condensation is not just on the inside where you can see it, but also internally in the conservatory roof cavities. It is this hidden condensation that poses the biggest risk – you can't see it, therefore can't prevent it.

If you are considering the full warm roof as a replacement for your conservatory roof, always choose a purpose-designed system with the correct insulation between all its material elements and components. This should be a breathable roof, that allows moisture to escape, whilst keeping your conservatory warm and comfortable.
Some warm roof or cold roof systems can cause significant conservatory roof condensation, much of which can be hidden and cause the new roof to rot, especially where plasterboard is used. This internal condensation can rot the structure, settling within the insulation, making the plasterboard wet and with the familiar black mould spots appearing.
The warm roof solution is the most expensive, most authentic-looking conservatory roof and a substantial investment – choose the right product. These should typically have insulated eaves and soffit areas, the right insulation, and no thermal bridging concerns. These should also conform to the proper U-Values as defined by building control.
Alternatively there are Thermotec roof panels
The benefits of Thermotec roof panels are that they provide the same insulation levels, have low U-Values, are warm in winter, cool in summer and quieter when it rains. We don't claim our panels are the same as the more expensive warm roof or tiled roof appearance. However, our panels typically fit in one working day, don't require substantial modification work to your existing conservatory and have none of the disruptions. This is because they utilise the existing roof bars. They are cheaper than the full warm roof and don't create any potential risks with internal conservatory roof condensation.
Contact us today to find out more and arrange a free quotation. Our aluminium conservatory roof panels suit timber, PVCu or aluminium conservatories, and comprise a durable thick internal and external aluminium skin in your choice of colour. Internally is, thick thermal insulation keeping your conservatory altogether more comfortable.