One of the best ways to quickly improve the interior comfort of an old conservatory is with a solid roof.  There are several products available for putting a solid roof on a conservatory. There is no bad product, and all of them provide a better conservatory than before.  However, there are products on the market that are easy to buy and fit, others cost more and involve more work to your conservatory.
As well as the different products on the market, there are considerations for planning permission and whether your conservatory is suitable too.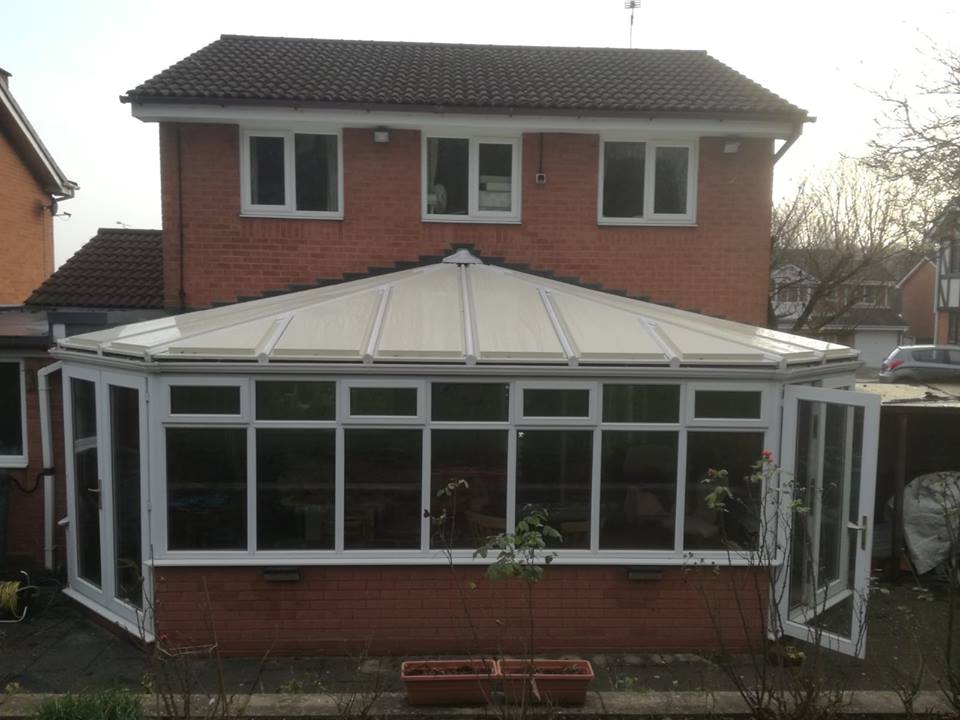 Fitting a solid roof on a conservatory. Your questions answered.
In 2010, changes in planning allowed anyone with an old conservatory to fit a solid roof without planning permission. Before this, the process was frustrating and time-consuming. As a result, many home improvement companies avoided selling these products.
Therefore, today, a solid roof not only provides one of the best ways to insulate your conservatory.  Warm in winter, cool in summer, usable all year round and even quiet when it rains.
Why fit a solid roof on a conservatory?
First of all, the fitting of a solid roof on a conservatory instantly improves the internal temperature throughout the year.  As a result of improving the internal temperature, your conservatory becomes a fully usable room, instead of a temporary one.  A new dining area, a relaxing space to read, a children's playroom or a home office.  All of these are possible new uses of a better-insulated conservatory.
Fitting a new roof is also called 'retrofit'  or 'conservatory refurbishment'. Always seek the advice and services of a professional installer as there are pitfalls when trying to improve your conservatory by DIY methods.  Only a professional company has the necessary expertise, especially for work required on the conservatory base and general structure.
Therefore, the answer is yes, you can fit a solid roof on a conservatory. Here is what you should also know.
How much does a solid roof on a conservatory cost?
The price of a solid conservatory roof depends on:
The size of your conservatory.
The shape of the roof.
The solid roof material such as panels, tiles or a hybrid roof.
Whether your new roof has any glazed panels or opening rooflights.
Above all, the labour involved fitting a solid roof remains the biggest factor in the cost. For instance, tiled conservatory roofs are heavier.  As a result, you might require reinforcement of the conservatory structure to support the heavier roof.
Fitting a solid reinforced conservatory roof.
Another option when fitting a new roof on a conservatory is the Solid Reinforced Conservatory Roof. Fitting this type of solid roof requires many different steps.
The existing conservatory glass or polycarbonate is removed.  Then all the cappings, guttering and trims are also removed. This then exposes the bare roof structure – usually aluminium.
The second stope is fitting a new timber subframe to your existing roof rafters.  The purpose of this is adding the required extra reinforcement to your old roof bars to support the new reinforced roof.
After installation of the subframe, a roofing membrane then covers the entire roof.  The membrane provides water protection as well as letting ventilation.   After this process roofing batons fix to the outside for fitting the new roof tiles.
The next step is to fit any new gutters as the old ones are unlikely to be reused.  As well as the gutters, fascias and trims are then added.
Finally, the external tiles of your choice are fixed to the outside of the roof with any lead flashings where the roof meets the structure.
Inside, the roof space is insulated with purpose-made roof insulation.  Further reinforcement fits inside laterally as well as horizontally to add extra strength at these critical points.  The final stage is fitting plasterboard and final decoration.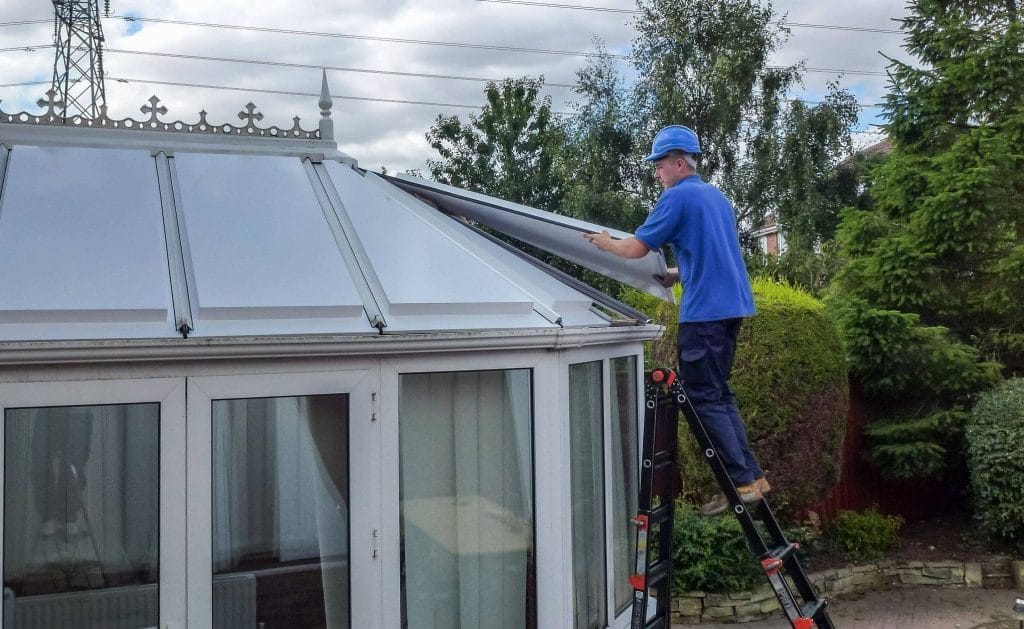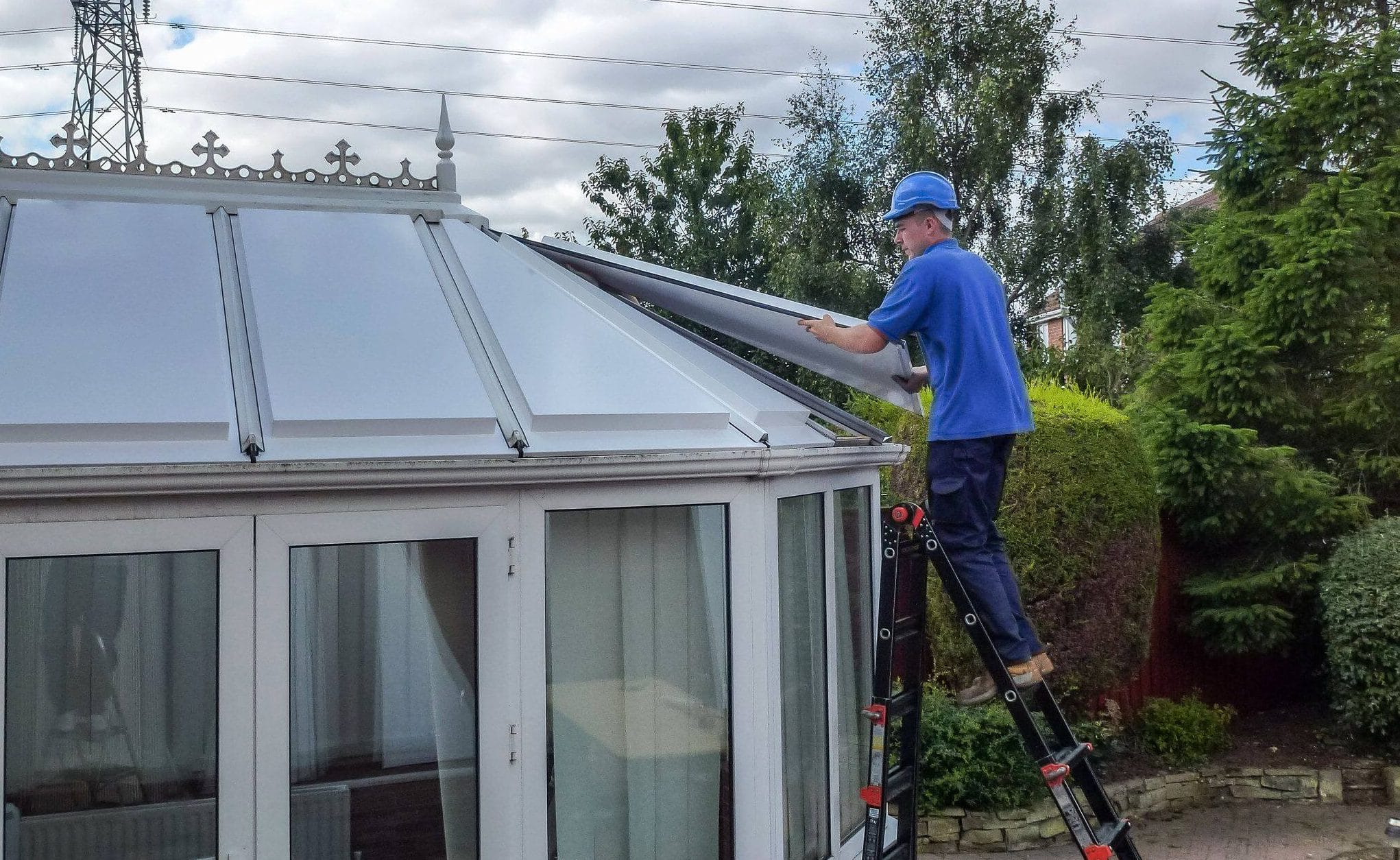 Great Reasons to consider Thermotec roof panels instead of a solid conservatory roof.
As you can see, solid conservatory roofs are a great product. However, they come with a huge amount of work to your existing conservatory.  As well as all these different processes, there is the invariable disruption and mess caused by the building work.
Alternatively, our Thermotec roof panels offer exactly the same benefits as a solid roof.  However, there is no structural work, no timber subframes, no plasterboard.  Furthermore, there is no need to remove your gutters fascias and trims.
At Superior Conservatory Panels we specialise in the latest, highly insulated roof panels to transform your conservatory.  We use the existing roof bars, there is no building work involved and best of all, your get what feels like a brand new conservatory in less than a day.
Minimal disruption to your home.
Huge choice of colours.
Outstanding U-Values of just 0.4 for the best in interior comfort, winter or summer.
10-year guarantee.
The age of your conservatory or the material makes no difference.
Contact us today for further information and to arrange a free quotation.  Also, take a look at our recent installations to see how conservatories are transformed with our quality-made products.