With so many older conservatories needing refurbishment, a new solid roof is a great option to transform a conservatory. But do you need planning permission for a new conservatory roof.  In this article, we explain what to consider when replacing your old conservatory roof.  We also explain why our Thermotec roof could provide a solution, save you time and save you money.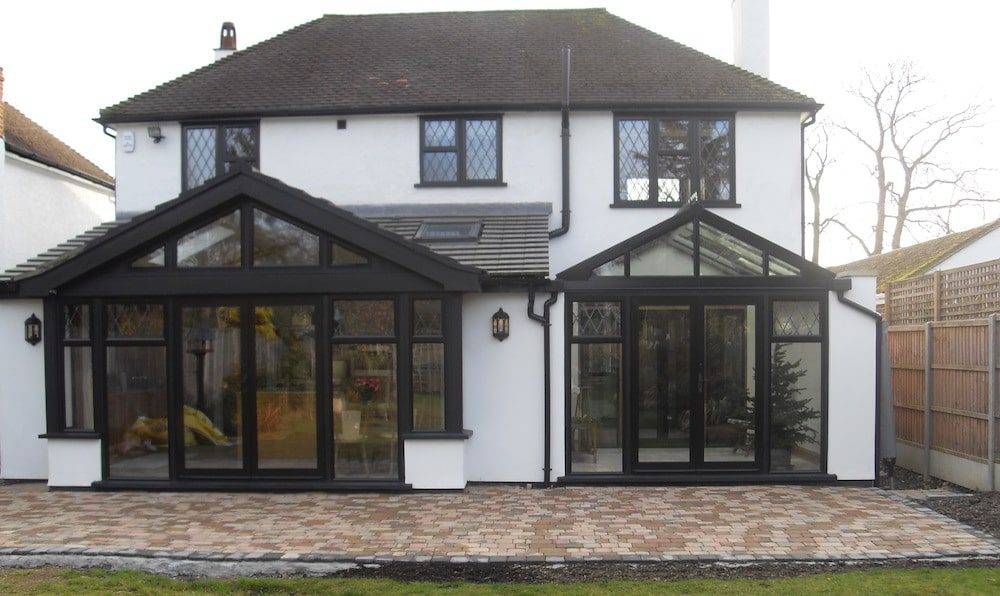 Why you don't need planning permission for a new conservatory roof.
First of all, you need to ensure that any new replacement solid roof complies with both current Building Regulations and relevant Planning Law.  In the case of our Thermotec conservatory roof panels, in the vast majority of cases, this is not required.
In 2010, the Government relaxed the planning regulations. These changes mean planning permission for a new conservatory roof is not required. Before this change, the regulations called for more than 70% of the roof to have glass or polycarbonate to avoid applying for planning permission.
Reasons to change your conservatory roof.
If you are researching replacing your conservatory roof, one of the reasons might be a change of use.  Perhaps you want to change your conservatory from an occasional room to one you can use all the time. Working from home, a growing family and additional living space are common reasons.
With all our satisfied customers enjoying their new conservatories, other reasons include an altogether better, quieter and more comfortable conservatory. A glass or polycarbonate roof does not provide the sound insulation and comfort of a solid roof. This is why replacing an old conservatory roof with a solid one is so beneficial. A solid roof also reduces the solar glare that still comes through glass units and polycarbonate sheets.
What to consider before you change your conservatory roof.
You don't usually need planning permission for a new conservatory roof. However we recommend you always check with your local authority as planning and constraints vary from region to region. Or contact us for some advice.
With all our conservatory roof replacements so far, no need for planning permission was needed from our customers.  However, we explain some things to consider with the other conservatory roof materials on the market.
Tiled conservatory roofs.
There is no doubt that a new, insulated tiled roof offers a matching appearance to the rest of your home as well as the appearance of a properly constructed extension. If you like the look of the tiled roof, we recommend you research it and its suitability for your home.
By far the biggest consideration with a tiled or even a hybrid (a mixture of PVCu and composite materials) roof is weight. Your conservatory is built and designed, even if old, to take a specific type of roof and glazing material.  The vertical members of your conservatory are weight bearing. Therefore, do not assume that the windows and frames under your roof can take any extra weight.
Weight is the one disadvantage of a tiled conservatory roof. If you do go down the route of this replacement conservatory roof material, you must ensure your conservatory is structurally able to handle it. In our experience, these roofs require reinforcement works to an existing conservatory. In other cases the conservatory cannot accept a tiled roof.
The original design of your conservatory may only have enough support to handle the original glass or polycarbonate as well.
Finally, a new tiled roof will involve a more complex installation and the removal of your existing roof.  Our conservatory roof panels utilise the existing roof and existing conservatory structure underneath.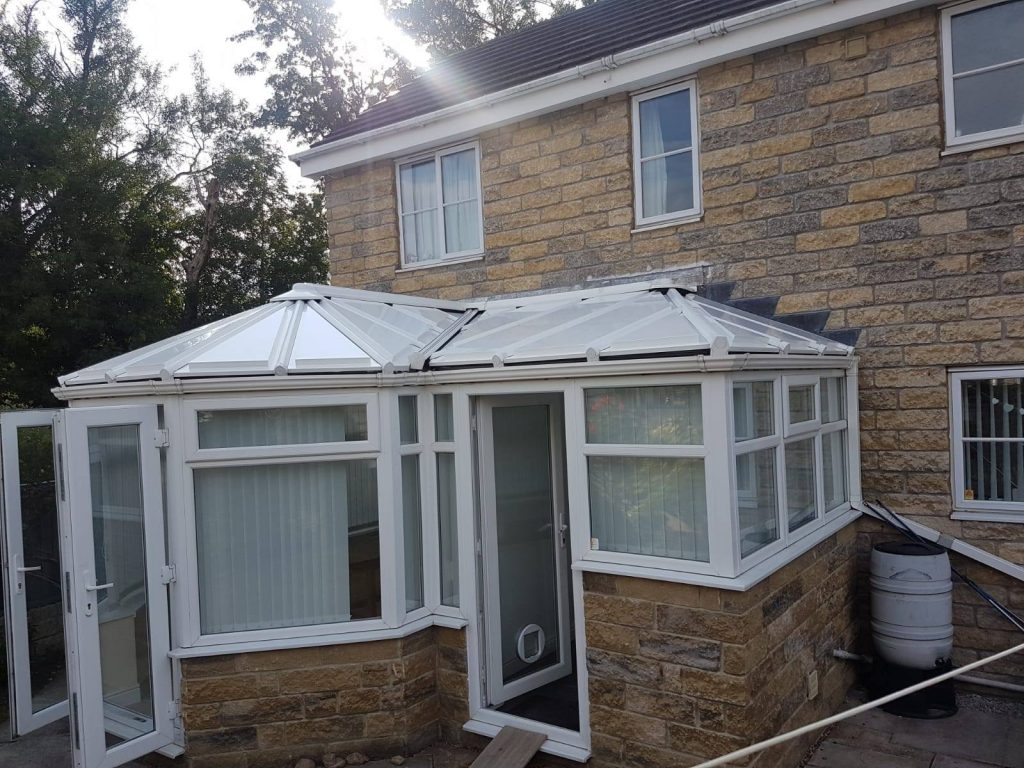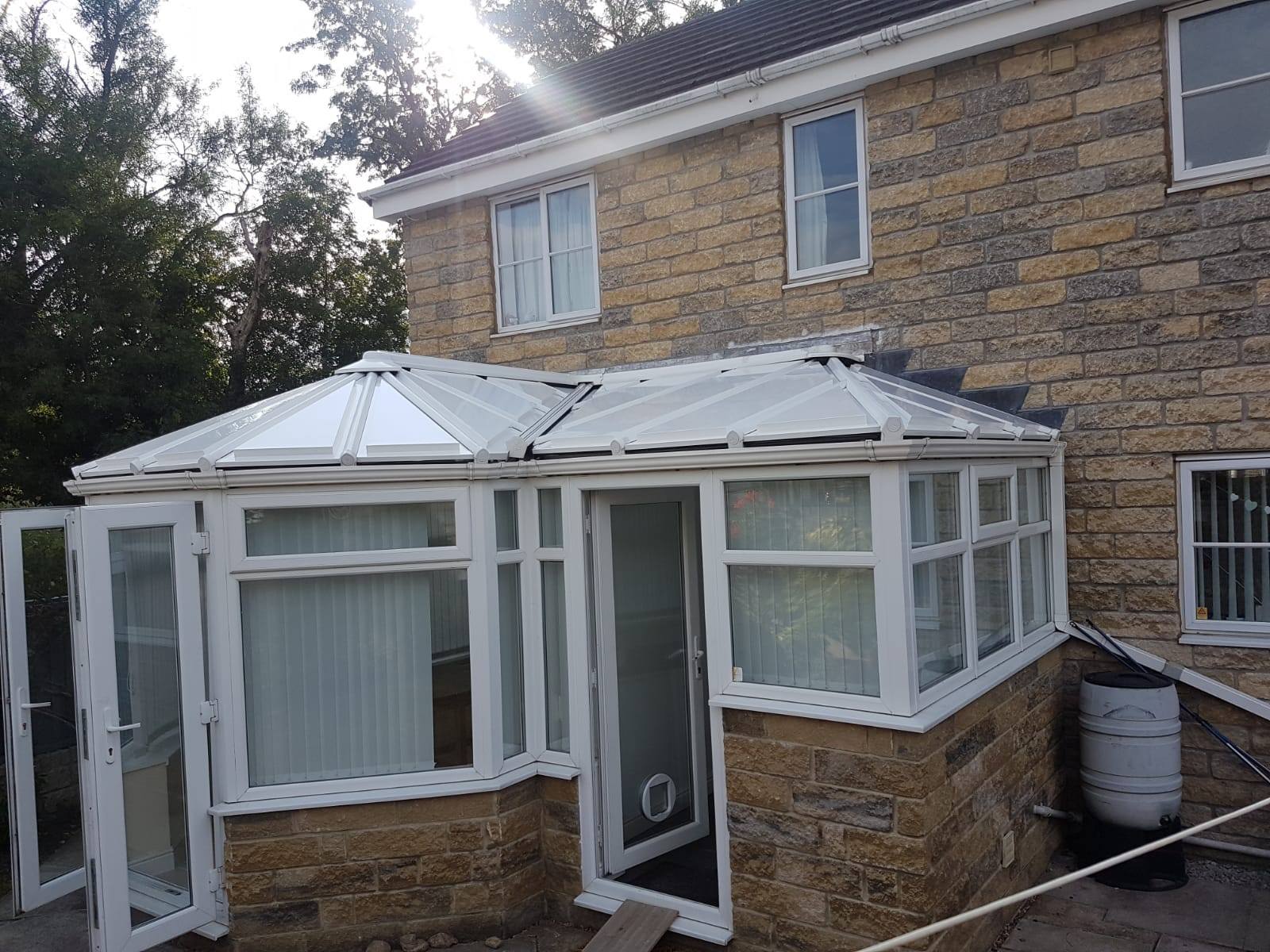 Aluminium conservatory roof panels. Without planning permission.
Talk to us about our insulated aluminium roof panels, offering you a peace-of-mind new conservatory roof without planning permission. Here is why our product gives you a better conservatory without the associated planning permission for a new conservatory roof.
Works with virtually any type of conservatory of any age.
Uses thick insulated aluminium panels that remain lightweight. No additional reinforcement required.
Installed in one day in most cases.
Uses your existing roof.
10 year guarantee.
A choice of over 150 colours.
Contact us for a free quotation.
Contact us today for more information about possible planning permission for a new conservatory roof and to find out how our aluminium roof panels offer a faster, better and simpler solution for your conservatory.