In this article, we look at the different ways to update an old conservatory; covering internal and external improvements. We give you tips and advice on the windows and doors, internal decoration as well as the options for your conservatory roof.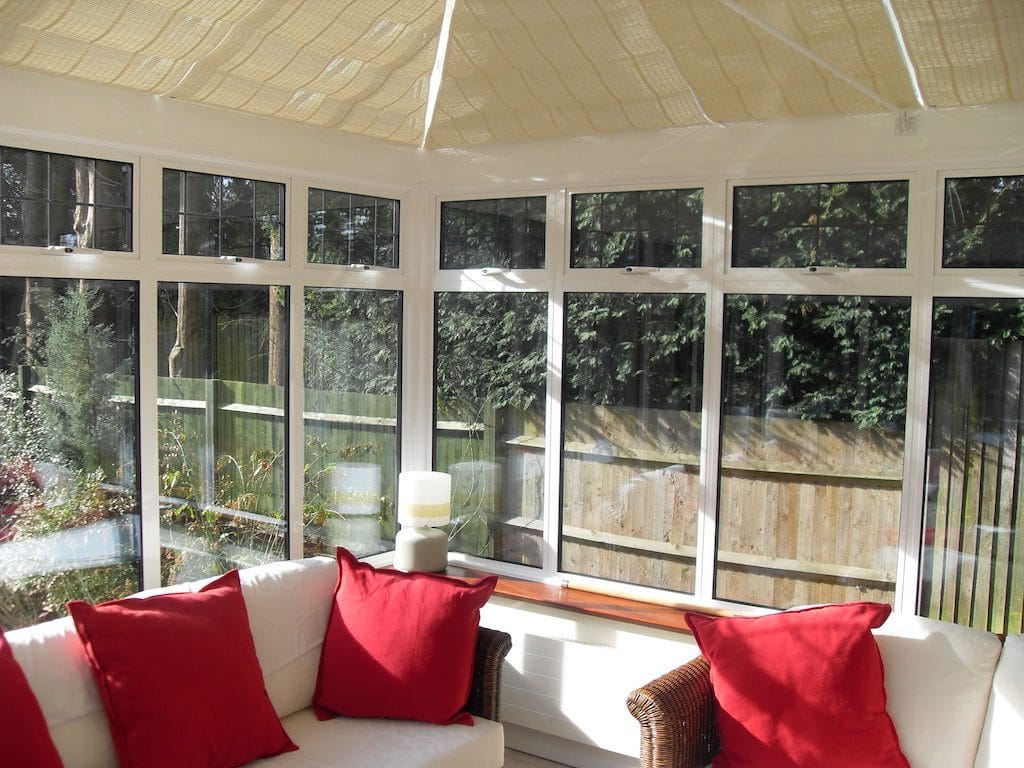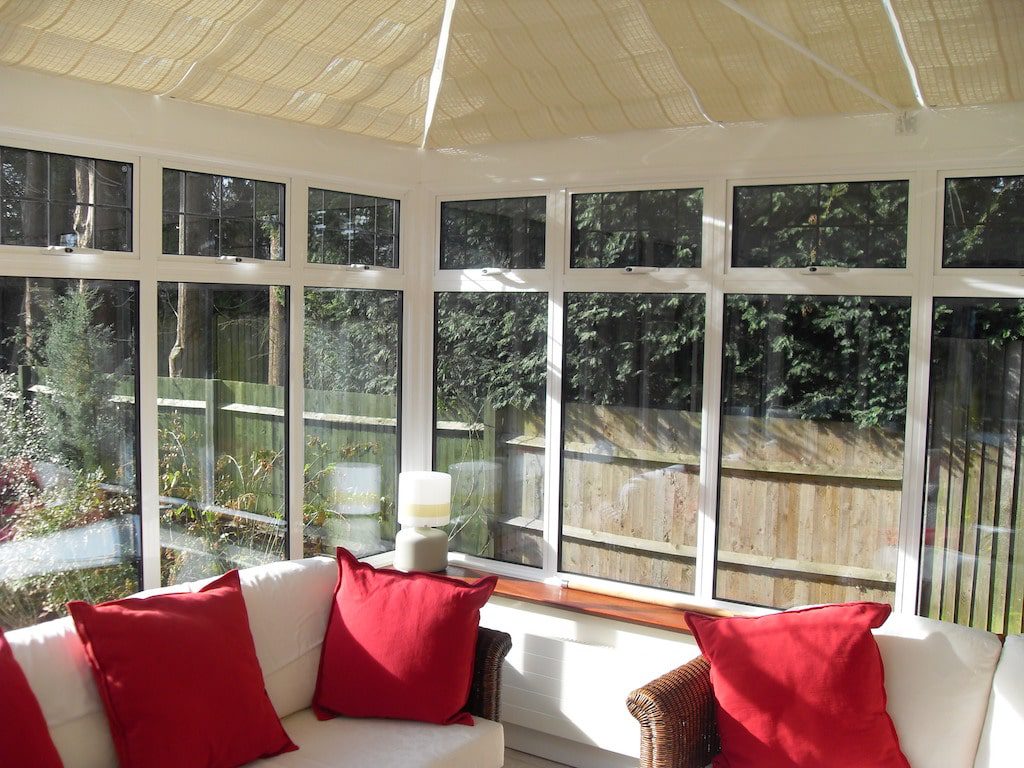 Why you should update an old conservatory.
First of all, you can love your conservatory once again. Whether you purchased your conservatory or if it is part of a house purchase, it remains a valuable addition to your home. Therefore, with the latest generation of materials and accessories today, you can bring virtually any dated conservatory back to a good condition.
There is a big choice of the latest generation of glass, blinds, building materials, conservatory roofs and conservatory refurbishment products. Therefore, there is no excuse not to spent some time giving your old conservatory some love.  In many cases, some of these options are inexpensive and provide instant results.
Probably the most common reason to update an old conservatory is the fact that it is too cold in winter and too hot in the summer.  This irregular temperature comes down to poor energy efficiency in the winter and to much solar gain in the summer.
Your conservatory has the same good insulation windows and doors found elsewhere in your home.  The temperature problem comes down to a lot of transparent glass or polycarbonate in the roof.  It also comes down to bigger expanses of windows and doors for the conservatory walls so what can you do about it?
Look to refurbish the window and door glass.
Subject to the age and condition of your windows, changing the glass to the latest glass units is beneficial. A great way to update an old conservatory with better performing glass units.
If you have an older conservatory, your glass units only have two pieces of glass with an air-space.  Assuming your glass is 24mm thick and above, new units in the windows and doors can make a noticeable difference.
With most new windows and doors today you get better glass than before.  Current glass specification is standard or toughened safety glass, with a soft-coat low-emissivity coating.  The edges of the units have a warm edge spacer bar and argon gas replaces the air in old units. As a result, these modern glass units are superior and perform better.   A quick site survey will establish whether your conservatory windows and doors suit the latest double glazed units.
Look at new conservatory blinds or integral blinds.
If your conservatory frames and glass remain in good condition, latest-generation blinds is another way to update an old conservatory.
You can choose new fabric blinds with solar control properties designed for conservatories.  Or, subject to a site survey, integral blinds could provide a solution.
Integral blinds are manual or automatic blinds housed between the two panes of glass in your windows. Integral blinds are hermetically sealed. They do not gather dust, blow in the wind, or need cleaning like other blinds.  Integral blinds come with most 24mm thick units and above. You can even get integral blinds to go in new conservatory roof glass as well.
Also, a quick site survey will establish whether your conservatory windows and doors suit integral blinds.
Replace your conservatory roof.
Replacing your conservatory roof is probably one of the biggest improvements to update an old conservatory. There is a big choice of solid roofs, new glass, new polycarbonate or partial solid/glass roof.  Take a look at the pros and cons of the various replacement roof materials. 
As we explain throughout this website, our Thermotec aluminium roof panels provide a great solution for a new conservatory roof.
Available in any colour.
Suit any PVCu, aluminium or timber conservatory.
No need for a new roof or conservatory reinforcement.
No planning permission required.
Installed in less than a day.
Furthermore, another great reason is light weight.  Our roof panels do not require substantial building work or alterations.  We work with the existing structure. As a result of our easy-to-fit panels, there is substantially less disruption in refurbishing your conservatory.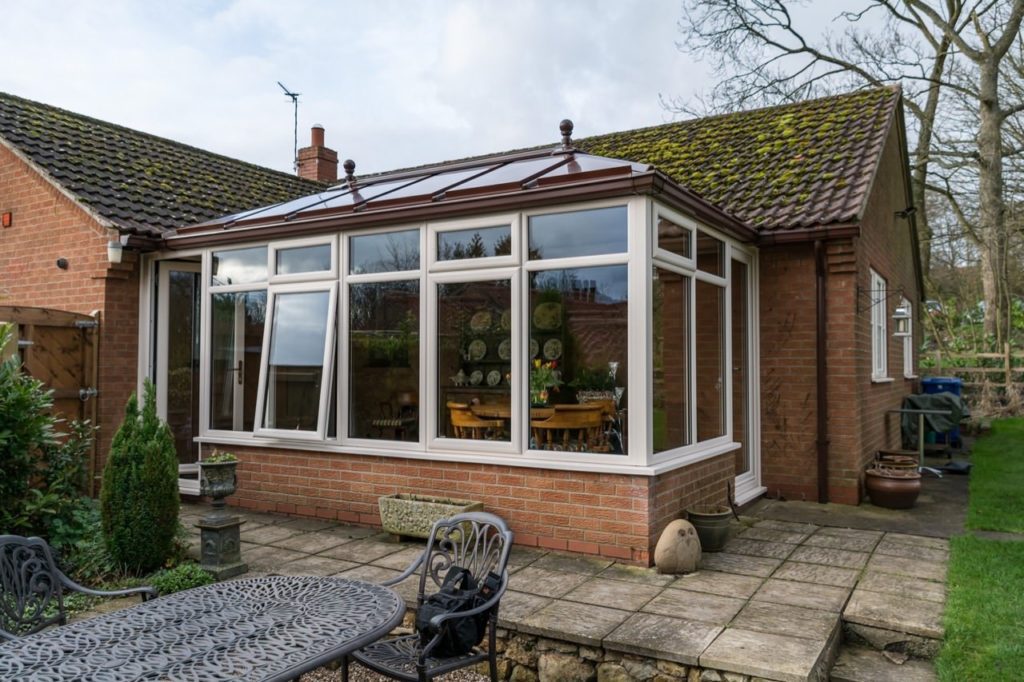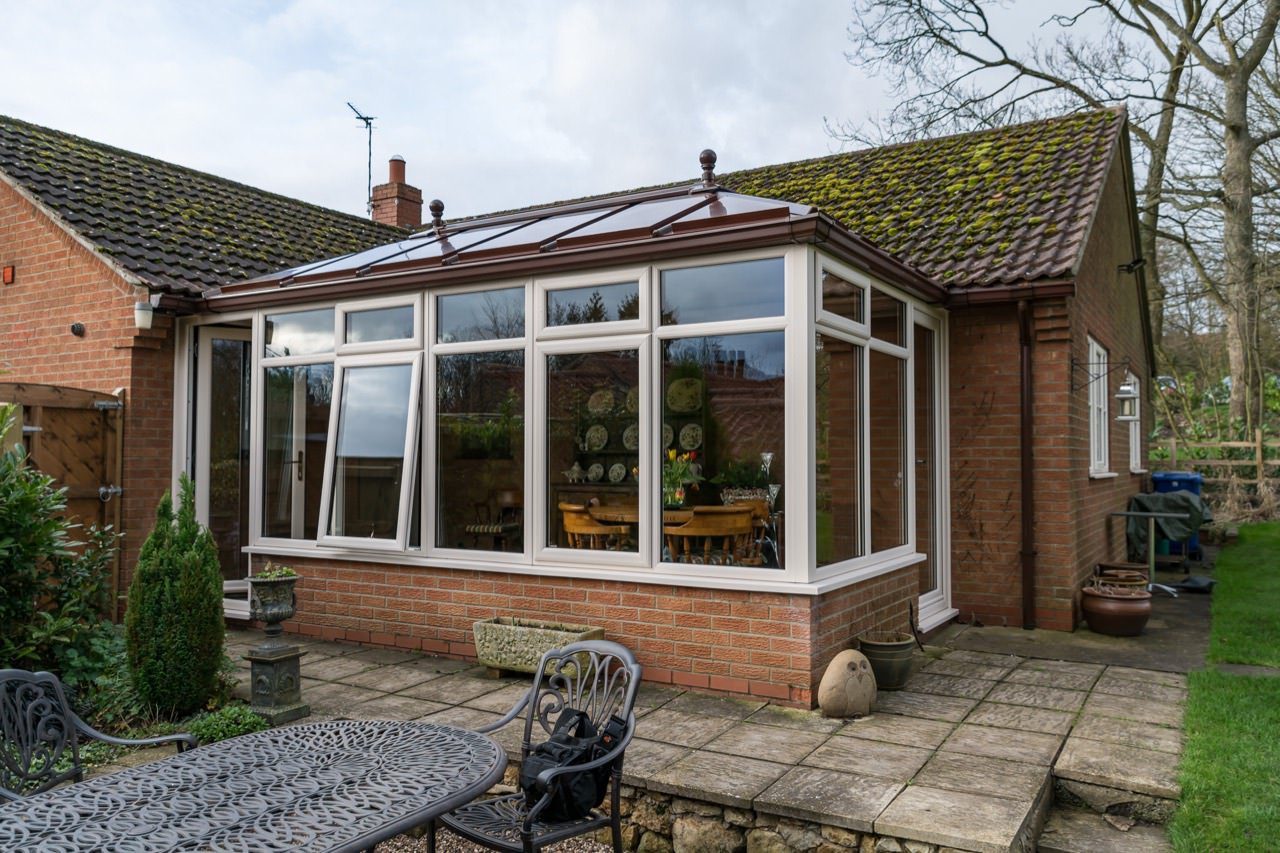 Updating the inside of your conservatory.
Another way to update your conservatory is to also concentrate on the interior. Look to replace the conservatory furniture with soft fabrics, comfortable sofas or relaxed seating.
Homely touches like flowers, family photos, pictures on the walls, rugs and new furniture all help improve the interior ambience as a result. Consider redecorating the walls of the conservatory in a new colour scheme.
Furthermore, if funds allow, why not replace the connecting doors from the house to the conservatory? The latest options include sliding doors, bifolding doors, frameless glass doors and other modern solutions in contemporary aluminium.  Modern PVCu and timber products also come in a choice of colours, frame styles and designs.
Finally, new patterned blinds, cushions and throws also improve the feel of the conservatory as well. If you intend to use your conservatory as a dining area, consider making the dining table the focal point of the space.
Give your conservatory a spring clean.
Finally, PVCu, aluminium or timber conservatory frames all look dated without routine cleaning and maintenance.  The double glazing industry is notorious in giving the impression new windows are fit-and-forget products. This is not the case and even a conservatory can come up like new with a professional clean.
Seek out the many professional window cleaning companies, specialising in cleaning conservatories and conservatory roof.  As a result, you will be amazed at how great a clean old conservatory look as a result of a good clean. A very cheap way to update an old conservatory.
For timber conservatories, consider repainting the frames.  Even aluminium conservatories can have a professional re-colour from on-site powder coating and refurbishment companies. Therefore a good clean also has instant results.
Contact us to update your conservatory with an insulated roof.
Contact us if you would like more information on how to refurbish your cold conservatory and bring it back to life with our insulated aluminium roof panels. Our quotations and advice is free.