If you want to refurbish your conservatory, there are several conservatory roof options available.  Every type of conservatory roof has its advantages and disadvantages. These we will explain in this article as well as provide an overview of what you can expect with the current products on the market.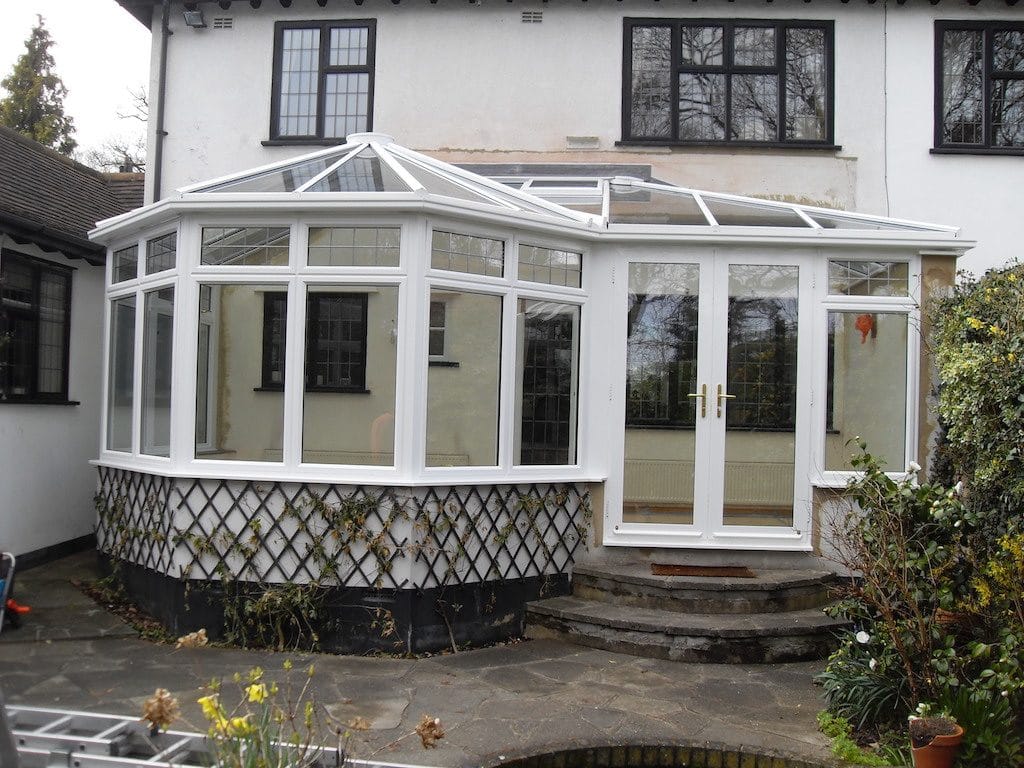 Your complete guide to conservatory roofing options.
The great thing about the range of conservatory roofing options you can buy is technology.  Glass, solid roofs and composite materials today will all improve your old conservatory.  Any of the choices available are sure to enhance your old poorly insulated glass units or basic polycarbonate sheets.  What you need to look at is which type of material will work best for you.
First of all, it is worth looking at what you are trying to achieve with the overall conservatory refurbishment.
What is the best material on a price to long-term value basis?
Is your conservatory suitable for the renovation you are looking to carry out?
What are you looking to achieve by refurbishing your conservatory?
When it comes to deciding on the type of conservatory refurbishment available, the choices are:
New glass in your existing roof.
A completely solid new conservatory roof.
A new glass conservatory roof.
Solid panels within an existing roof, like our Thermotec panels.
A new tiled roof with or without glass roof panels.
New polycarbonate sheets in your existing roof.
A complete latest-generation conservatory using the existing base work.
Why refurbish your old conservatory?
Approximately 3 million conservatories exist in British homes.  Tastes change and more so over the last 20-30 years.  Aluminium is popular for residential properties where PVCu was always the dominant material.  Bifolding and sliding doors replace many of the traditional patio doors found in our homes.
Conservatories were once highly desirable with leading brands such as Amdega and David Salisbury offering high-end conservatory constructions.  Virtually every home improvement company provided conservatories.  The trend today is for modern, fully-built home extensions, not the bolt-on upvc, aluminium or timber conservatory of old.
Therefore, thousands of old conservatories are dated, unloved and unusable.  This is mostly down to poor temperature control and out of date materials, particularly in the roof.
A market came about several years ago to bring old conservatories back to life.  Best of all, the latest generation of conservatory roofing options is built to last.  They offer the best in insulation, technical know-how and a longer life-span than first-generation glass, aluminium, plastic and polycarbonate.
There are some excellent conservatory roof options and refurbishment solutions on the market.  Some of these address damaged and even dangerous conservatories.  Others provide a new cosmetic appearance with energy saving and comfort.  Finally, there are products like our Thermotec roof that transform an otherwise good conservatory into something you can actually use!
It is worth bearing in mind that Planning regulations stipulated that a conservatory roof required at least 75% transparency. With the Building Regulations of 2010, this stipulation does not apply.
Glass vs solid conservatory roofs.
One of the reasons conservatories are so popular is the feeling of light and space. We all visualise spending the summer months in a bright and airy conservatory, looking out to our garden. The reality is few of us use our conservatories as intended.
Glass is popular for conservatory roofs, but even latest generation high performance glass makes a conservatory too hot. Solid roofs won't let in light but create a more comfortable interior as a result. Finally, there is the combination of a solid roof with glass panels such as rooflights or some glass roof panels to let in more light.
In choosing from the various conservatory roof options, you will need to think about the glass vs solid roof advantages and disadvantages.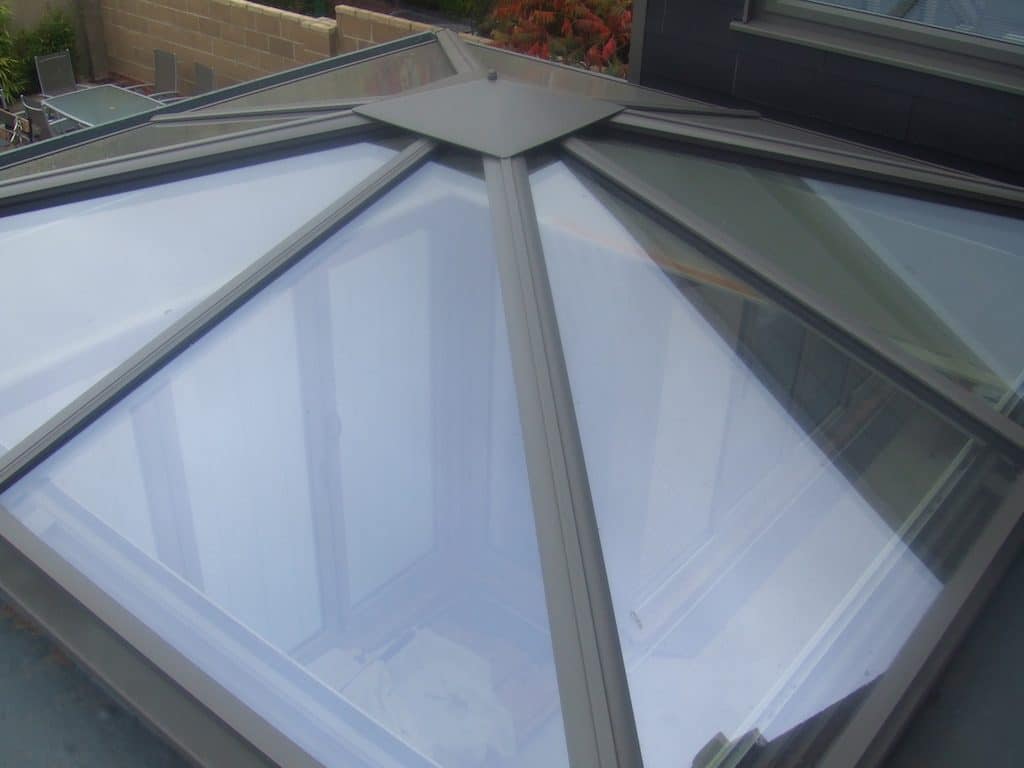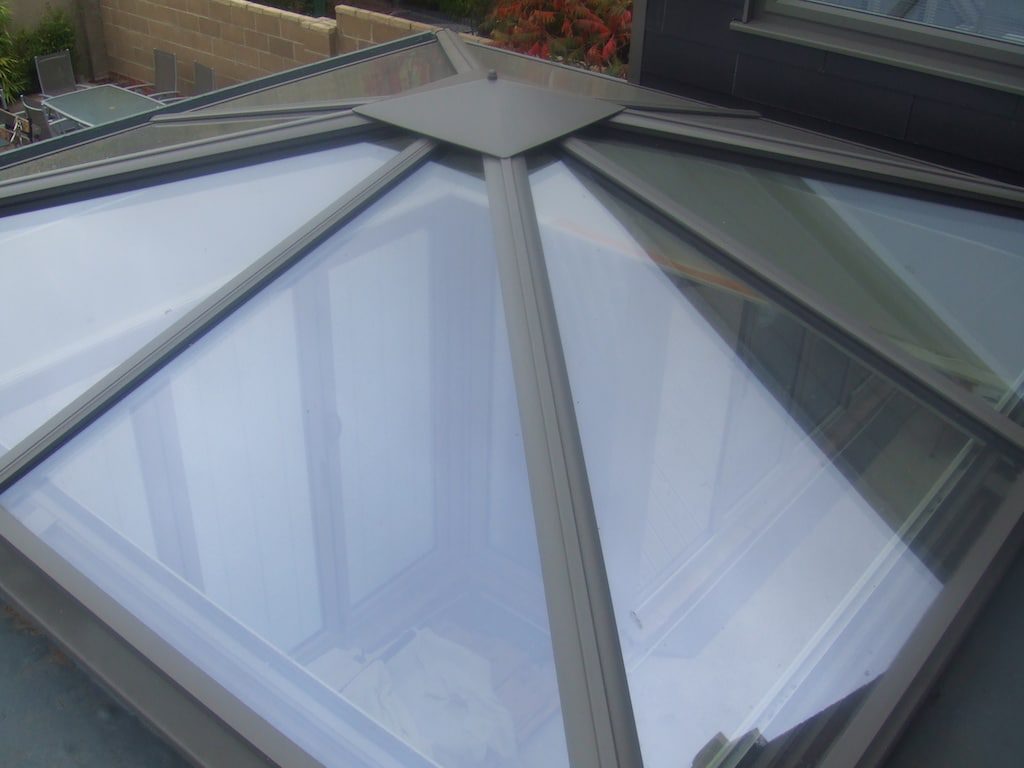 New Glass Roof. Pros and Cons.
Your old conservatory probably has standard double glazed units.  That is toughened or laminated glass with an air space. It is also likely to feature metal bars to the perimeter of the glass unit.  This is typical of early generation glass units.
Modern glass units by comparison feature laminated or toughened safety glass, with a soft-coat low-emissivity coating, warm edge plastic spacer bars and argon gas fill. All these modern components create a much more energy efficient unit.  You can even enhance it with solar control blue or grey tint as well as a self-cleaning coating.
The advantages of a new glass roof to refurbish a conservatory is an improved internal temperature and less solar glare.  However, this will only be marginally cooler in the summer. Finally, new glass can work out costly, and you will still need to consider replacement in the future once again.
New Polycarbonate Roof. Pros and Cons.
In our view, the only advantage of a polycarbonate roof is low cost.  Widely used in outside lean-to's and greenhouses, polycarbonate is basic.  It is noisy when it rains, even modern polycarbonate has poor insulation.  We do not recommend it. As a result of its poor performance, polycarbonate doesn't effectively 'renovate' your conservatory or part of the better conservatory roof options you can buy.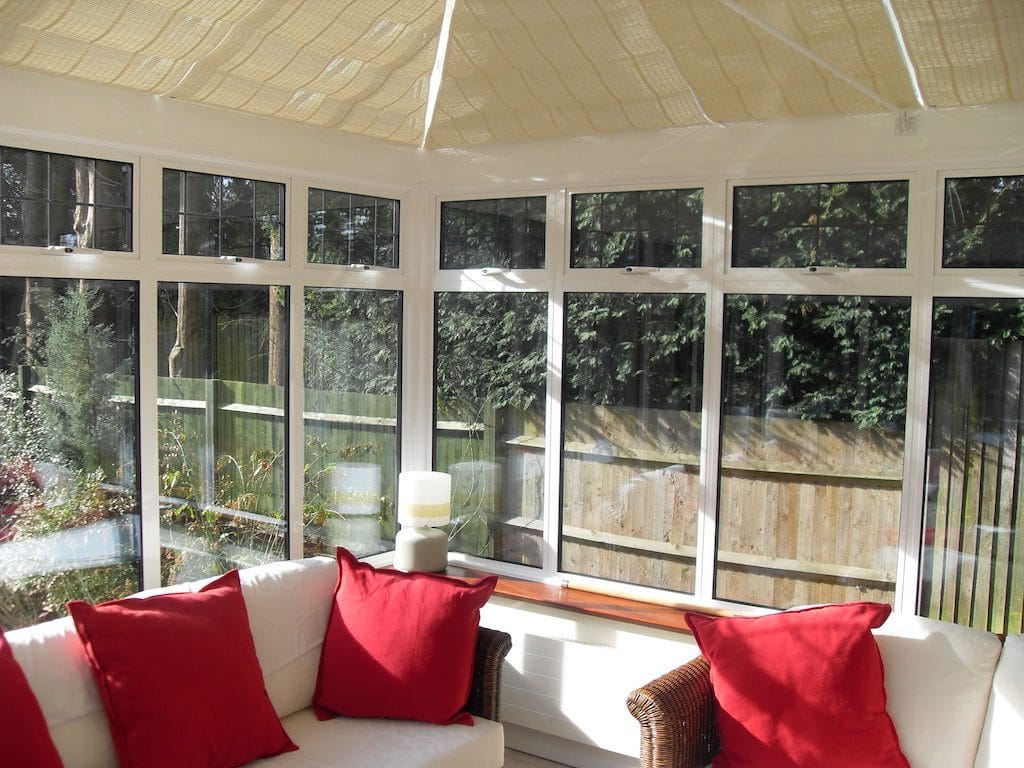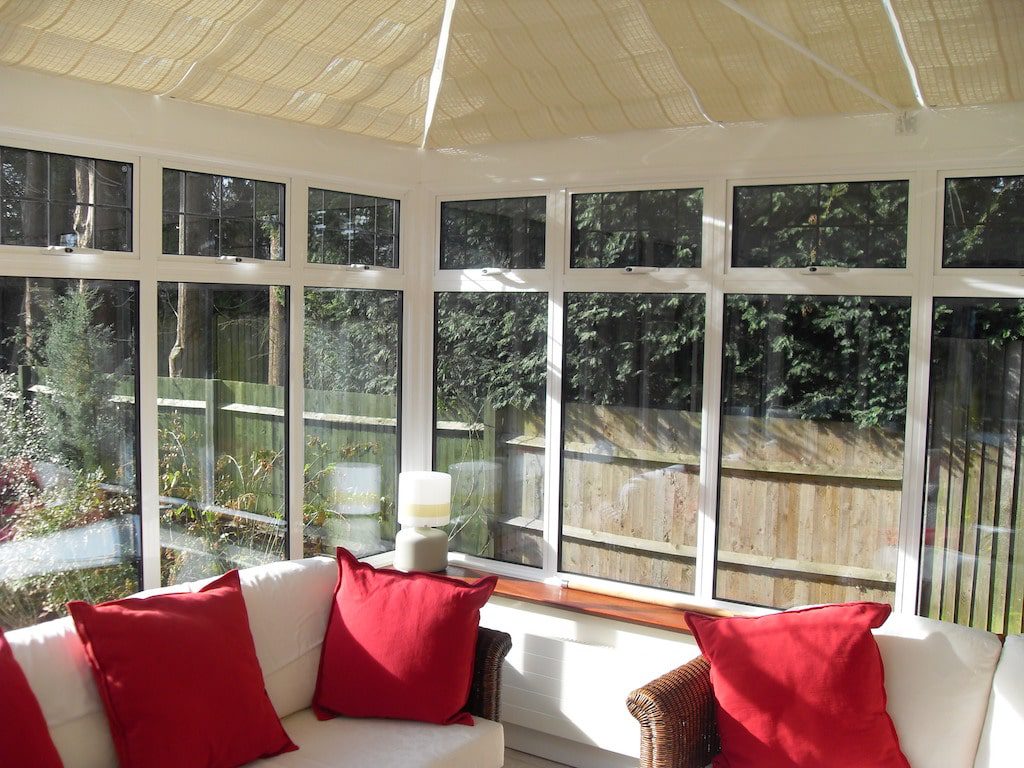 New Conservatory Blinds. Pros and Cons.
Conservatory blinds are another low-cost option. However, they are not a long-term solution.  Conservatory blinds gather dust and dirt. They also need careful use to prevent them from failing.  Conservatory blinds only partially cool the conservatory in the summer months and do nothing in winter.  As a result, we do not consider blinds as a conservatory refurbishment.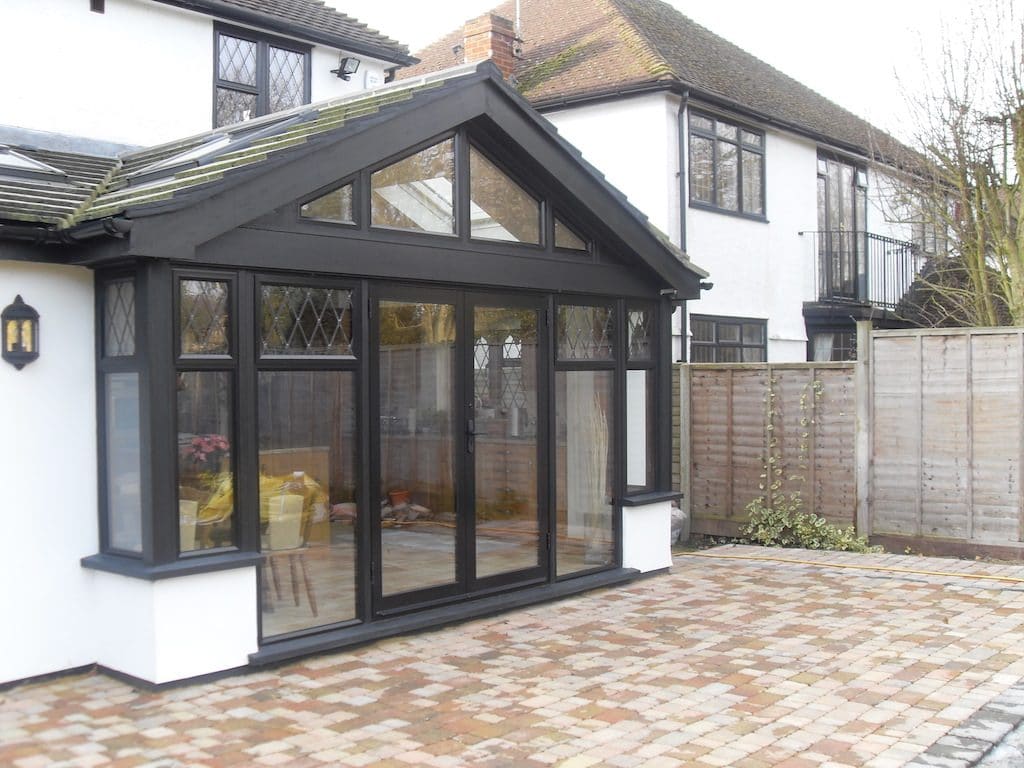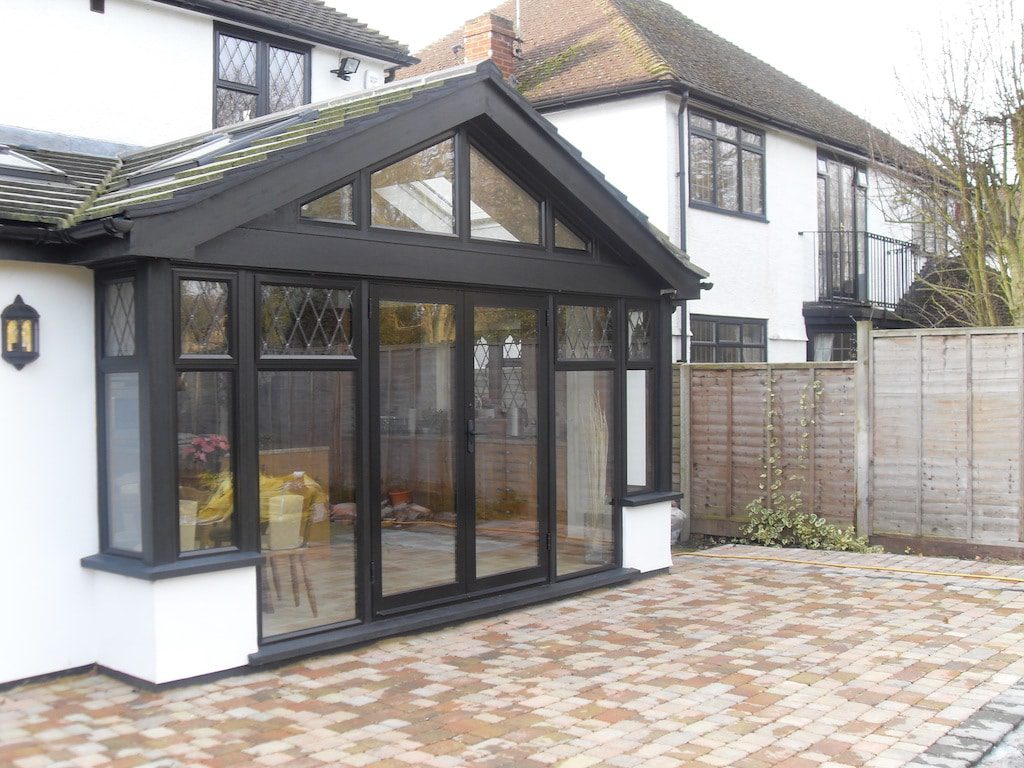 New tiled roof. Pros and Cons.
Just like our Thermotec aluminium roof, a tiled roof is solid and well insulated. If you were to compare our product to anything, it would be the pros and cons against a new tiled roof.
The construction of a new tiled roof on your conservatory means significant changes to your existing conservatory structure.  You will need to replace your existing conservatory roof entirely.  This could be a false economy if, like many conservatories, there is nothing wrong with the condition of your roof.
A tiled roof has new structural supports such as rafters, batons or even steelwork. These supports are intended to take the substantial weight of the new roof. They also allow the fitting of a new false ceiling.  Tiled roofs mean building work followed by plastering and decoration.
The result of a completed tiled roof is excellent but there are other considerations.
The entire project takes several days.
The weight of the roof makes it difficult to include in many types of conservatories.
Extra support is added to ensure the existing conservatory can take the weight.
You need planning permission with a Building Regulation Application.
A great choice in conservatory roof options is our Thermotec aluminium insulated roof panels.  Not only do they take less than a day to fit, but they also use virtually any existing conservatory roof frame.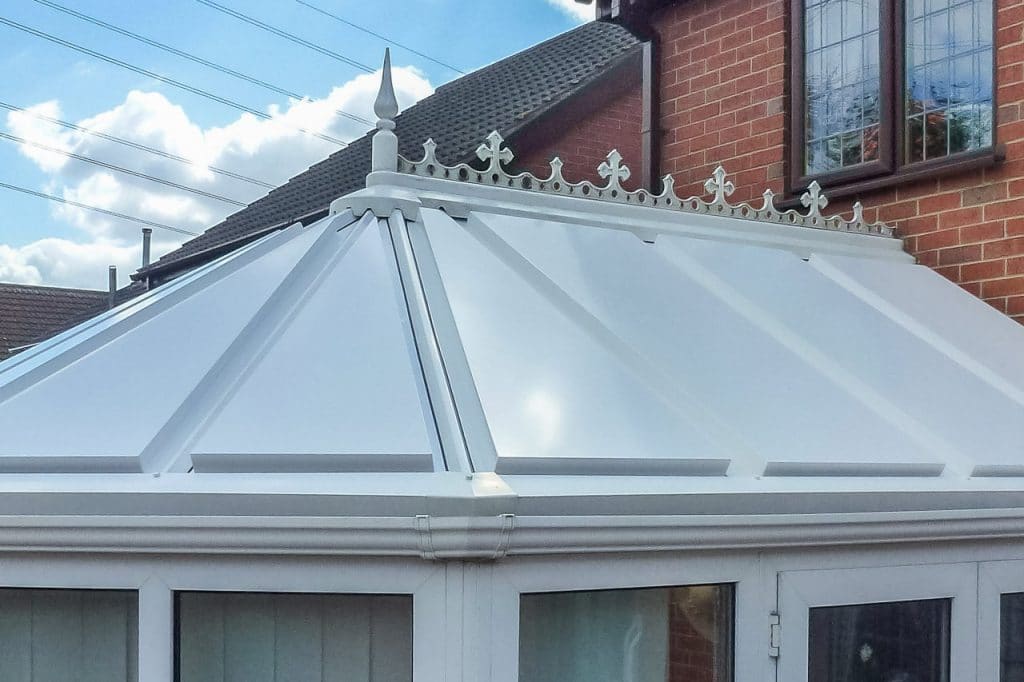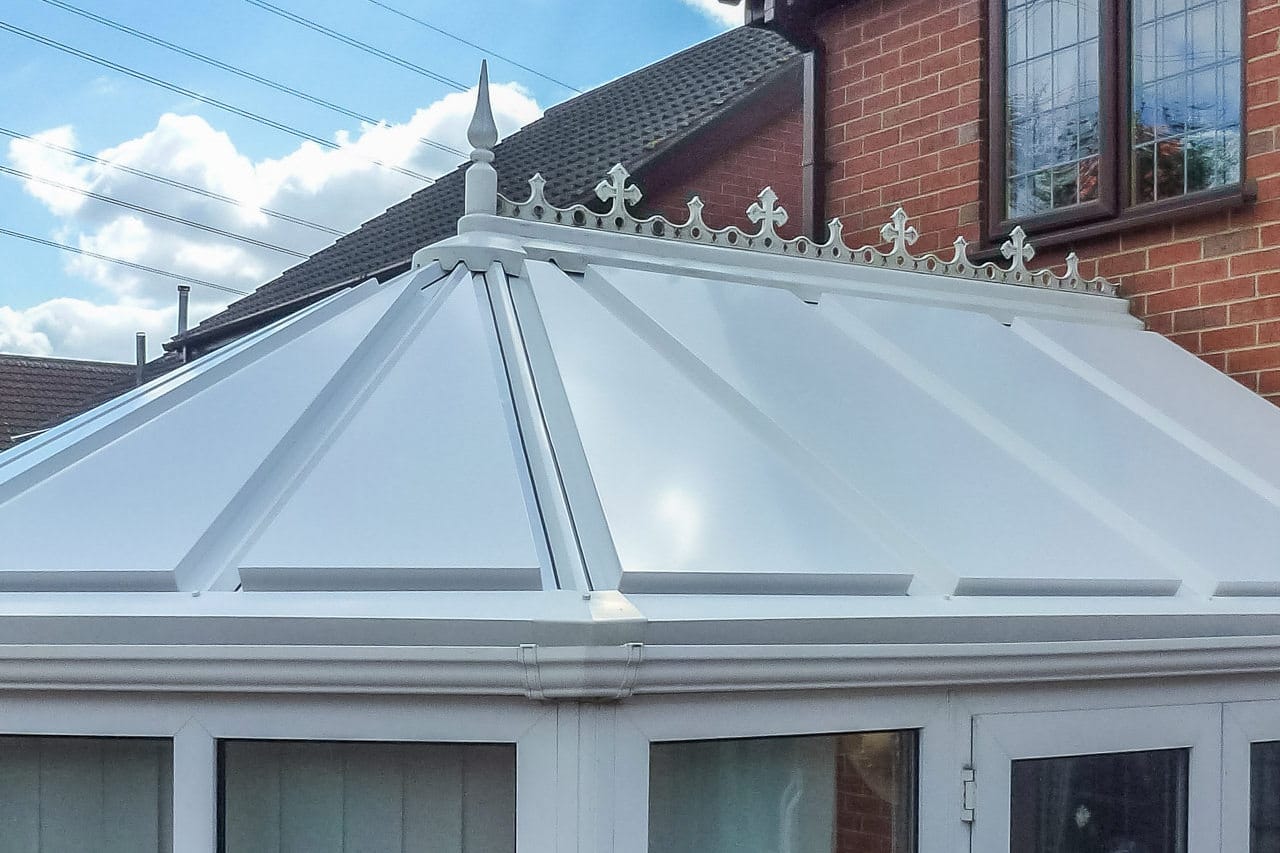 Comparing the various conservatory roof options.
Conservatory Roof Options

| Benefit | Thermotec Roof | New Glass Roof | New Blinds | Polycarbonate | Tiled Roof |
| --- | --- | --- | --- | --- | --- |
| Useable All Year Round | Yes | | | |  Yes |
| Highly Insulated | Yes | | | |  Yes |
| Cooler in the summer | Yes |  Yes | |  Yes |  Yes |
| Warmer in the winter. |  Yes | | | |  Yes |
| A quieter conservatory |  Yes | | | |  Yes |
| Eliminates Solar Glare |  Yes | | | |  Yes |
| Ten-year guarantee |  Yes | | |  Yes |  Yes |
| Fitted in one day |  Yes | | | | |
| Lowest U-Values |  Yes | | | |  Yes |
| Huge Colour Choice |  Yes | |  Yes | | |
| Planning Permission | | | | |  Yes |
| Uses existing framework |  Yes |  Yes |  Yes |  Yes | |
| Planning Permission | | | | |   Yes |
We are confident our innovative aluminium insulated conservatory panels provide the best in conservatory roof options for your home. They will transform your old conservatory. Best of all any of the old negatives found in your glass or polycarbonate roof will disappear on the day of installation. Take a look at some of the projects featuring our roofs in customer homes.
Contact us if you have any questions or would like to arrange a free, no-obligation quotation.