For any older pvcu, aluminium or timber conservatory in any design, aluminium panels for conservatory roofs are better because of how they solve the too-hot, too-cold issues of inefficient conservatory roofs, the light and strong nature of aluminium and endless colour options. If you're considering improving your old conservatory, aluminium panels for conservatory roofs are hard to beat.
The benefits of aluminium panels for conservatory roofs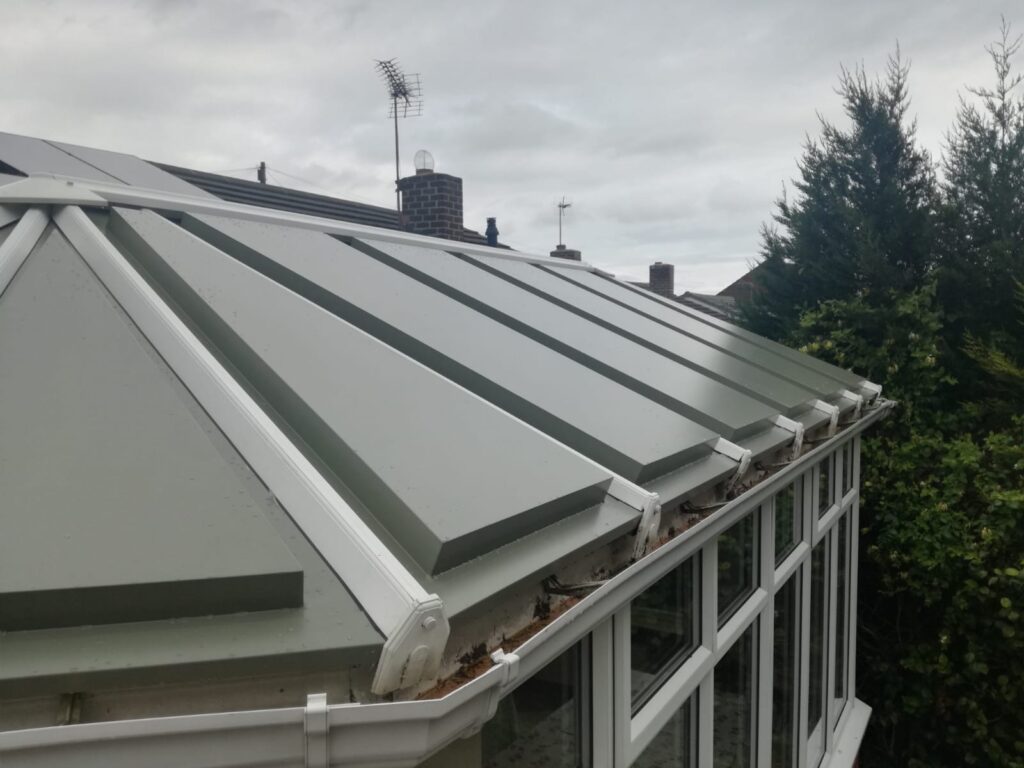 We know you have a lot of choices in replacement conservatory roof options when improving a dated PVCu, aluminium or timber conservatory. From new glass to new solid or hybrid roof systems, tiled roofs and more. All of these different products come at various price points and levels of complexity.
Choosing aluminium panels for conservatory roofs will offer you the same benefits of aluminium that makes this material so popular when replacing your doors and windows or building a new extension.
Aluminium is naturally light in weight yet exceptionally strong. Aluminium is also a material that's easy to work with and is environmentally friendly. In the future this superb material is also infinitely recyclable, helping reduce your carbon footprint and making sure we all do our bit for the environment.
The material we use in our range of conservatory roof panels is high-grade aluminium from the best producers and suppliers.
The lightweight nature of aluminium also means our conservatory roof panels are easier to handle and work with, meaning a simpler installation and less disruption for you.
The colour advantages of aluminium in your refurbished conservatory roof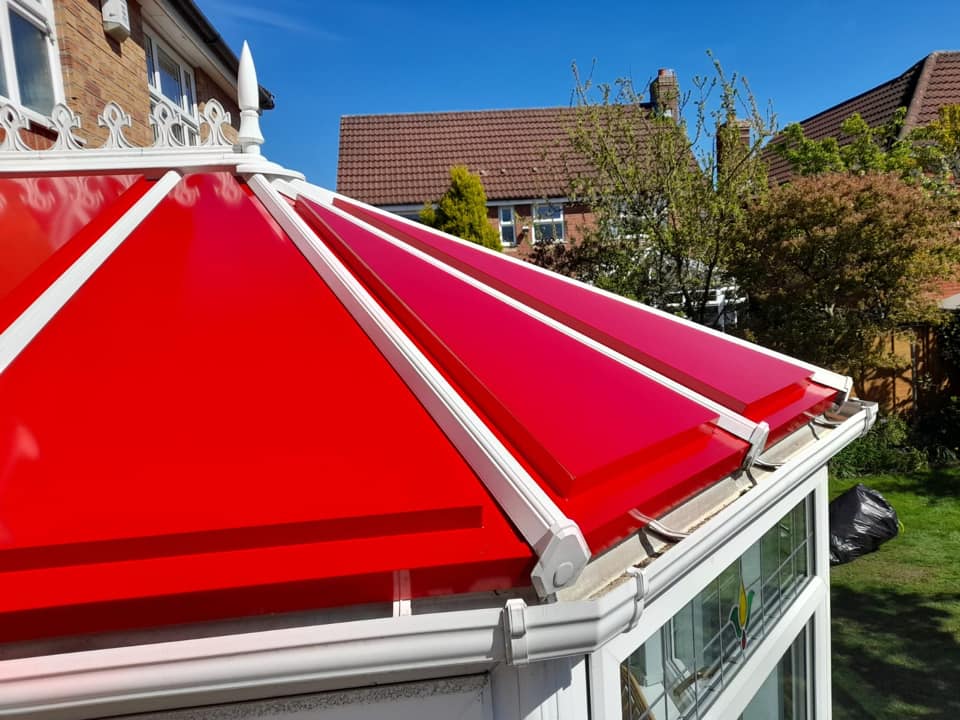 Just like buying new aluminium windows and doors, colour is another significant benefit of aluminium panels for conservatory roofs. Other materials like PVCu and wood rely on foiling or spraying to achieve a colour finish.
When you colour aluminium, only the powder coating process is used. Powder coating has been the best way of colouring and protecting aluminium for nearly fifty years. It's the powder coating process you see on high-rise buildings, contemporary homes, shops and offices and many other products such as consumer goods made of aluminium.
The coating and coverage is better, powder coated coloured aluminium is easier to keep clean and typically comes with a better guarantee than other finishes. Aluminium powder-coated finishes can even be specified as more durable and weather resistant – ideal if your house is in a coastal location with salt in the air. Our panels are coated by some of the best colour applicators with all the required certification and accreditation.
By far, choosing aluminium for your new conservatory roof panels gives you the biggest choice of colour. Typically you will find nearly 200 colours available. However, aluminium can also be finished in metallic colours, different colours inside to outside and even textured and tactile finishes that look ultra-modern. Aluminium panels for conservatory roofs, therefore, give you the chance to bring a staid white conservatory to life by choosing a bright, vibrant or contemporary colour to your new roof. If you've a timber conservatory, you are more likely to colour match your conservatory structure, windows and doors in aluminium than other types of roofs.
Aluminium panels for conservatory roofs will last for years
There are many great reasons why refurbishing your conservatory can give you more space and breathe new life into your conservatory. Aluminium is the preferred material for new in replacement glazing or new extensions. Aluminium panels give you the same great looks, long life and low maintenance.
Transform your conservatory, get a free quote today
Highly insulated Thermotec roof panels provide a fast and effective way of transforming your conservatory into a fantastic new space you can use every day. Fitted in just one day, your conservatory roof is quieter when it rains, warmer in the winter and cooler on warmer days. Take a look at how we've transformed conservatories in homes, all over the North West of England.
Contact us today to arrange a free quotation.