With energy bills higher and set to rise again in the Autumn of 2022, how to make a conservatory more energy efficient, is worth thinking about if you have an older PVCu or aluminium conservatory. Most PVCu and aluminium conservatories already come with double glazing to the windows and doors. So what can you do about your conservatory roof?
How to make a conservatory more energy efficient with a new roof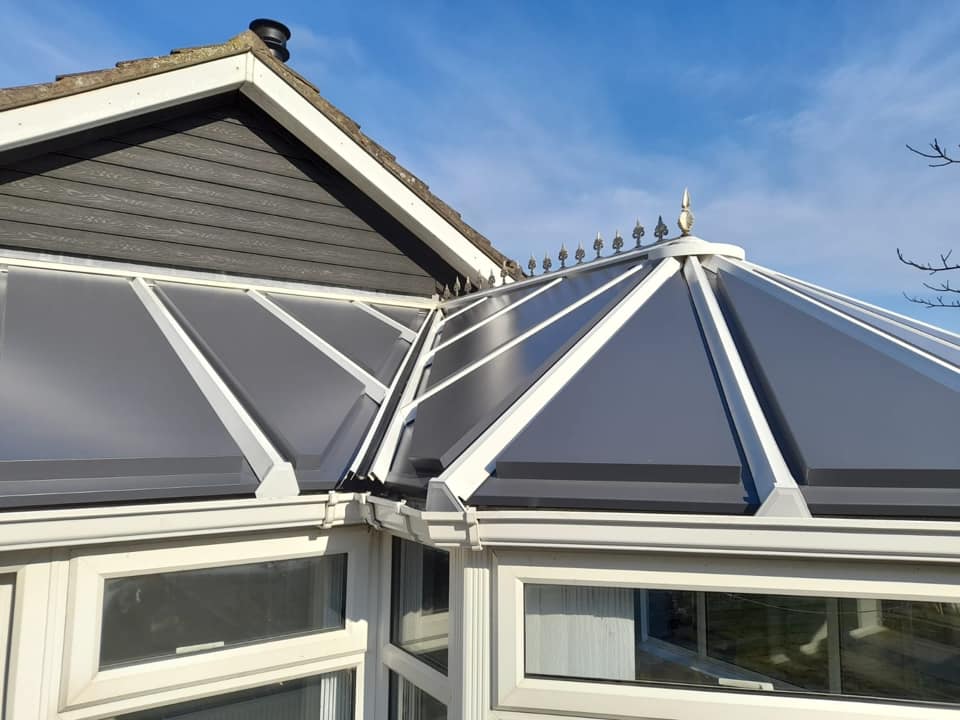 Whilst all homeowners will get help with their energy bills, your old conservatory is possibly one of the larger spaces in your home, and if still fitted with its original roof glazing material, probably the one room losing the most heat and costing you money. So whilst any help in lowering our energy bills is welcomed, now could be the time to think about replacing your dated conservatory roof glazing with the latest generation of highly-insulated aluminium panels.
Whatever the size, shape or age of your conservatory, as long as your existing roof has glass or polycarbonate, it's possible to improve its energy efficiency with significant noise reduction and interior comfort at the same time.
Do conservatories save energy?
Older conservatories typically don't have the better-insulated doors and windows you get today. These conservatories also don't come with the latest generation of insulated conservatory roof or glass units you'd get if you were building a new conservatory today. Therefore, how to make a conservatory more energy efficient today, means replacing your existing roof with something better.
Change your roof fast with the advantages of aluminium and thick thermal insulation and yes, your conservatory can save energy from day one.
showing new aluminium roof panels
So how does a conservatory save heat energy?
It might be warmer now, but winter is on its way with the heating due to come on in the Autumn. Using our custom-made conservatory roof panels replaces your dated roof material with a significantly thicker and better insulating material. The result is substantially less energy escaping through a single skin polycarbonate, or old glass unit with an air space.
Our roof panels are three times as thick, have some of the lowest possible U-Values and therefore ensure your conservatory saves you money when the heating is on. And if your existing conservatory is too cold in the winter, or too hot in the summer, you'll improve these two annoying factors of a conservatory at the same time.
An immediate solution in how to make a conservatory more energy efficient
Our strong, light, energy-efficient conservatory roof panels have immediate benefits, from day one.
A better-insulated conservatory you can use every day
Immediately quieter, cooler or warmer
No structural modification work required
Fast and easy installation with no new parts required
Improved in less than one day
Worried about higher energy bills and want to help bring them down? Get in touch today for a free quotation. Or take a look at our recent installations – we've probably already improved a conservatory that's similar to yours.