Improving the insulation, sound, and comfort of an existing conservatory also gives you a choice of some excellent conservatory roof colours. So whether you have a PVCu, aluminium or even a timber conservatory, here's some inspiration and advice for adding a new look with matching or contrasting conservatory roof colours using our outstanding insulated aluminium roof panels.
Why conservatory roof colours matter when refurbishing your conservatory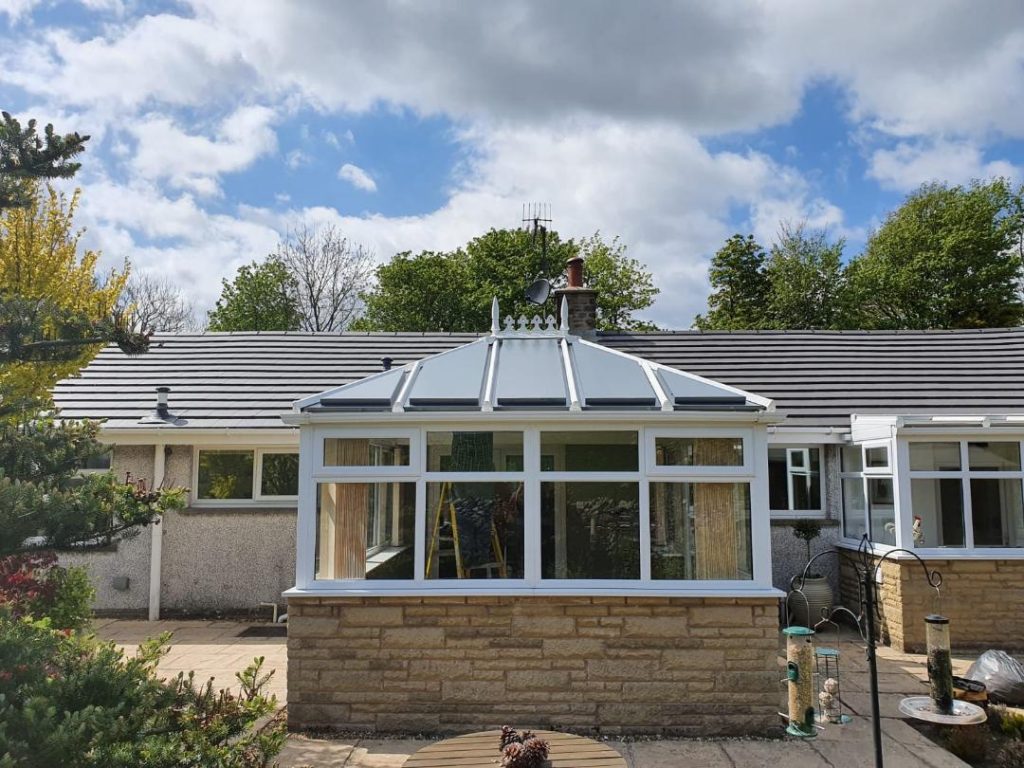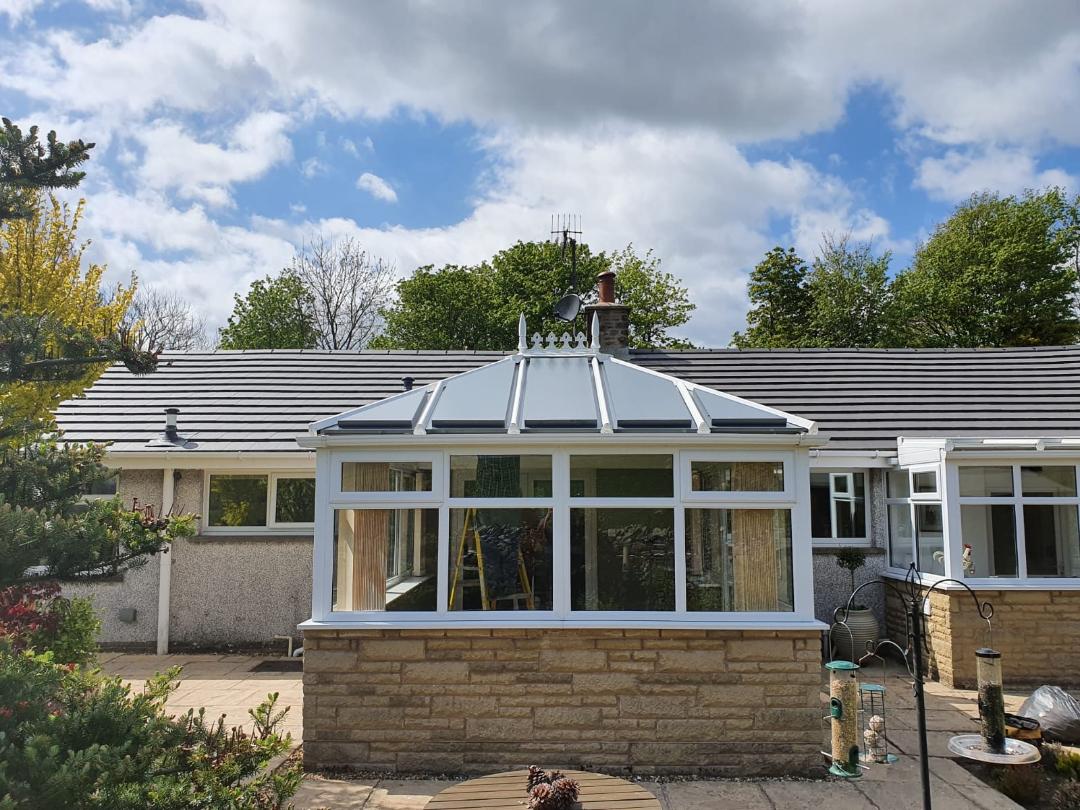 The roof is arguably the most prominent part of your conservatory so it's important to consider the overall look of the roof as part of your conservatory refurbishment project.
You've decided to bring new life into your conservatory and make it a useable all-round room. Therefore the overall appearance matters not just from how it's viewed from the outside but also when you're sat in your conservatory.
Of course, it's simple to stay with the existing colour. But if your conservatory has more traditional finials, crests and other decorative features you may find these a little dated now. Changing the colour of the roof panels is an excellent way to draw the eye to the colour and away from the more dated elements of your conservatory roof.
There's nothing wrong with sticking to white throughout giving a clean look. And with the latest generation of RAL colours for coating aluminium roof panels, there's many white shades and tones. If you have an aluminium conservatory, many of these originally came in gloss white finishes such as RAL 9910. This colour is still popular. However, you can add a different tone to your new white panels with hints of light grey, cream and other colour softening the overall look.
For PVCu conservatories in white, matt white colours suit these better giving a neat balance between the two different materials.
Some of the best conservatory roof colours
Choosing the right conservatory roof colours depends on the style of your conservatory as well as the look you're trying to achieve. So here are some examples of different conservatory projects we've carried out using a selection of different conservatory roof colours.
And remember, it's the premium aluminium material used in every one of our Thermotec roof panels that gives you all sorts of colour options. When it comes to materials for roofs, windows and doors, nothing beats aluminium with over 150 different colours available.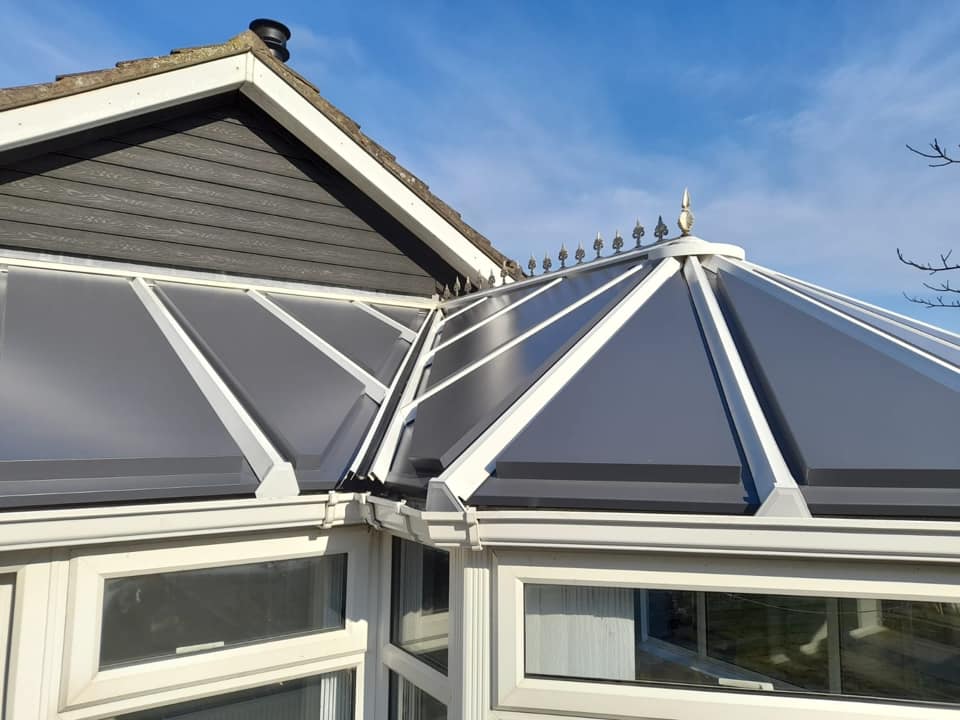 Contemporary Grey Colours
Grey is popular in modern extensions, bifolding and sliding doors as well as interior decor. So there's no reason not to use grey when refurbishing any older conservatory and it's one of our most popular conservatory roof colours.
There are nearly 20 shades of grey available for your new aluminium roof panels so we're sure you'll find the perfect colour. Grey remains one of the best contrasting colours to white upvc or aluminium conservatories.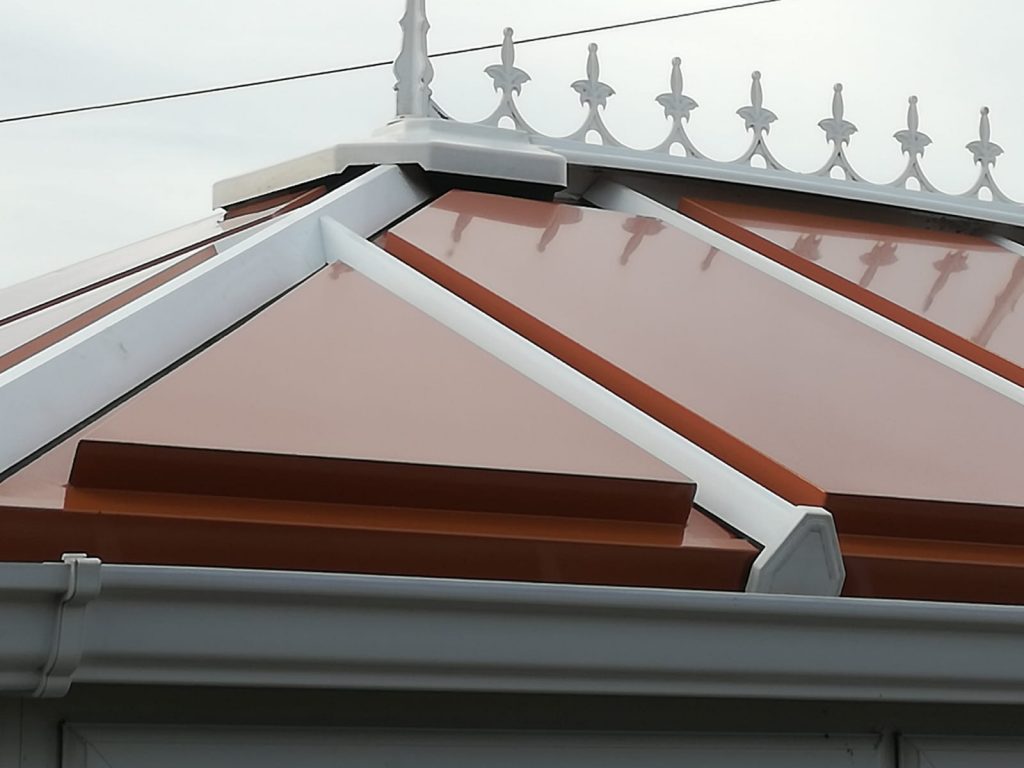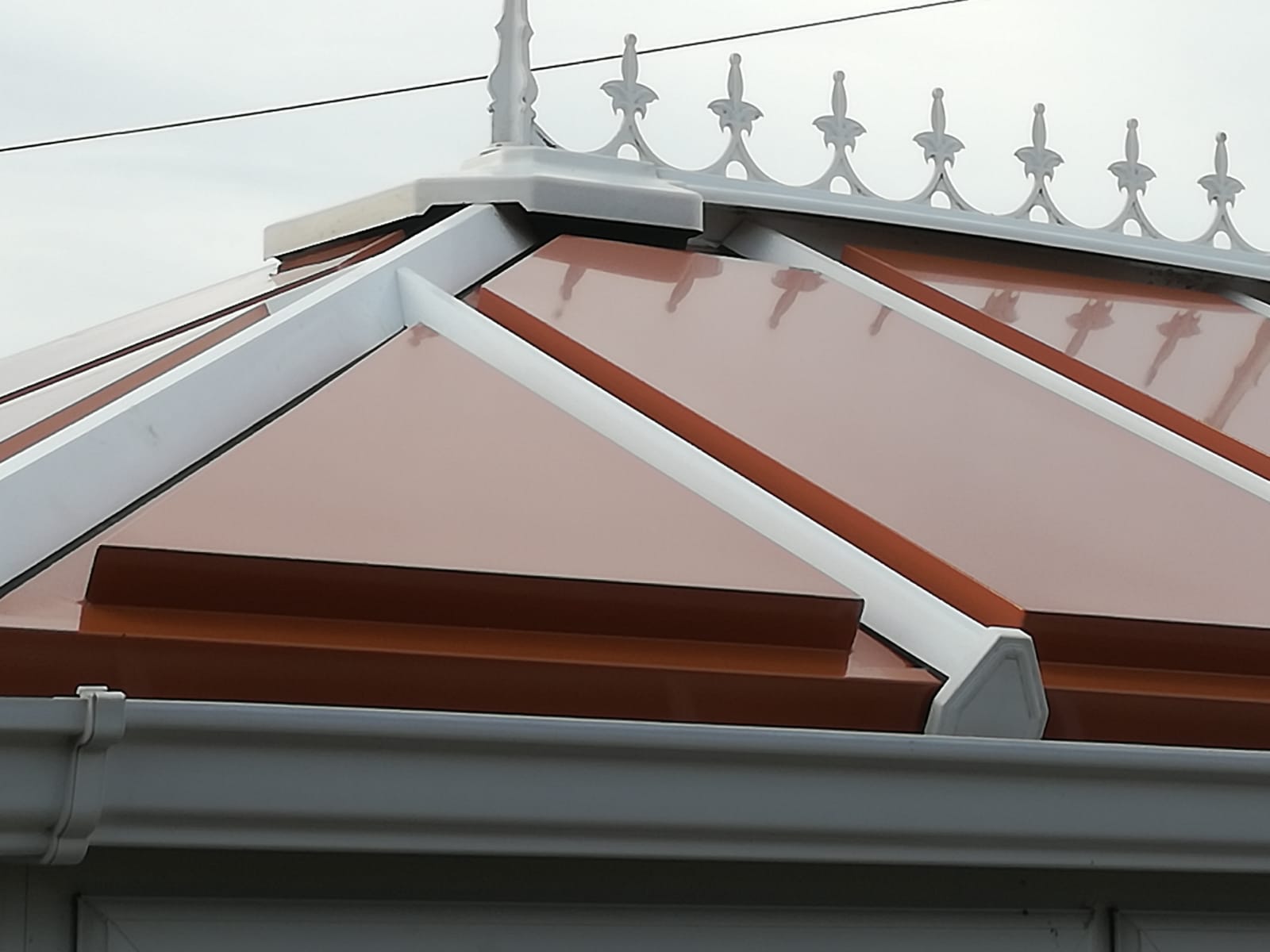 Matching your traditional roof tiles
If you live in an older house with terracotta roof tiles, this is an excellent colour that also blends in well with the white conservatory roof bars.
This colour is part of our 8000 series of RAL colours in 12 different shades using brown with a hint of red.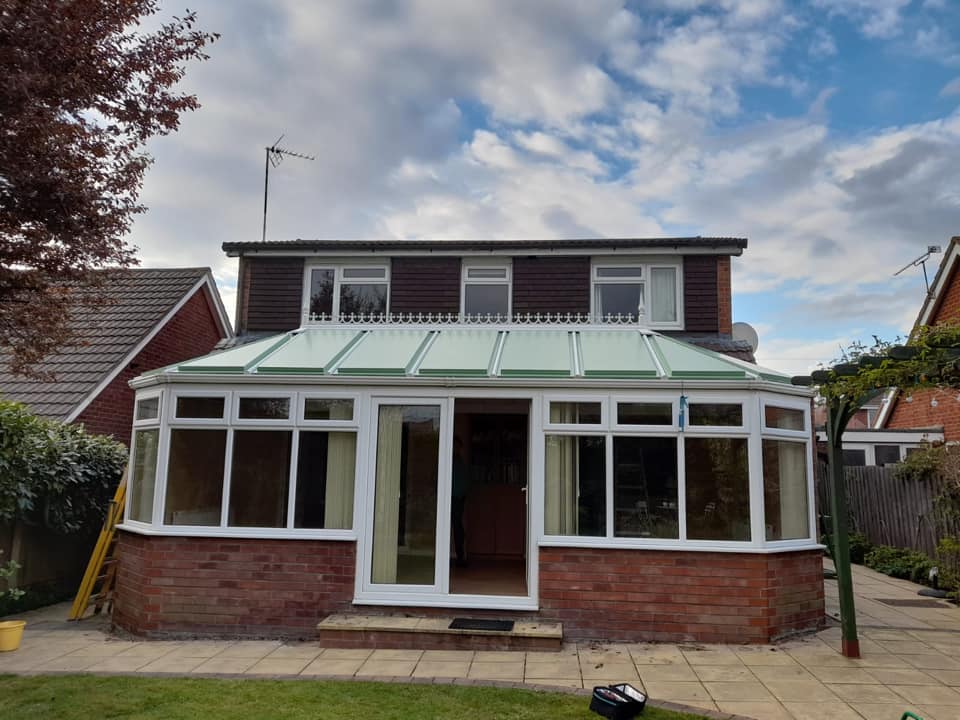 Heritage conservatory roof colours
Here's a bespoke conservatory design using a heritage green colour that's both different in appearance yet remains subtle.
Using RAL 6021, there are 36 different green shades with hints of brown, grey and blue. It's also an excellent complement to the white frames.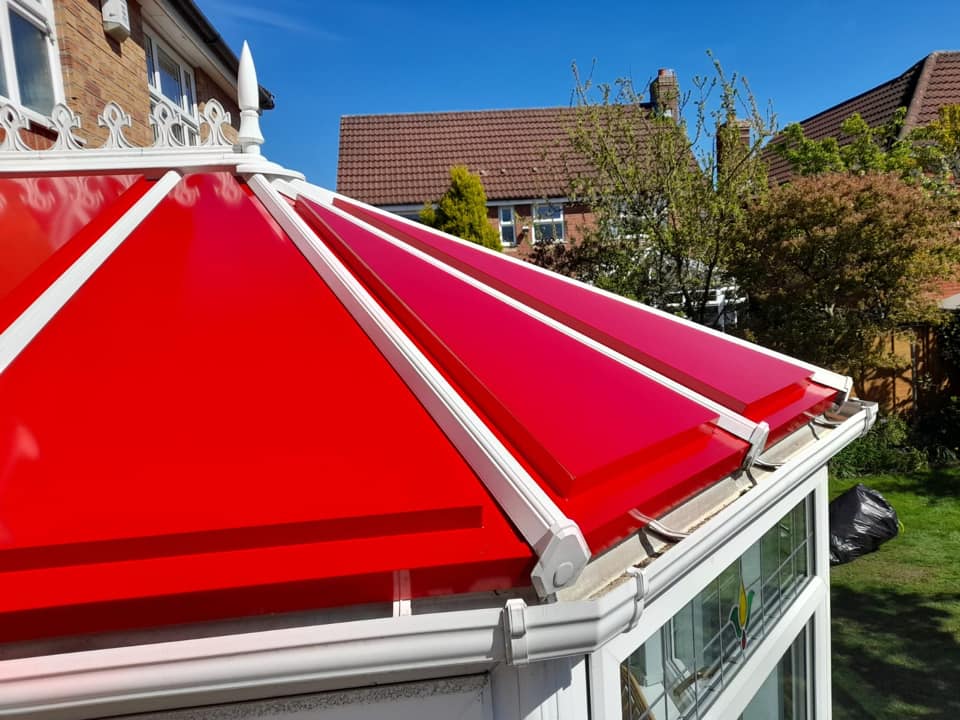 Go bold with vibrant colours
Want to make your conservatory stand out? Vibrant colours give a completely new look to any conservatory, making them bright, cheerful and distinctive from what you had before.
These colours are also great if your conservatory is also used as a kids playroom.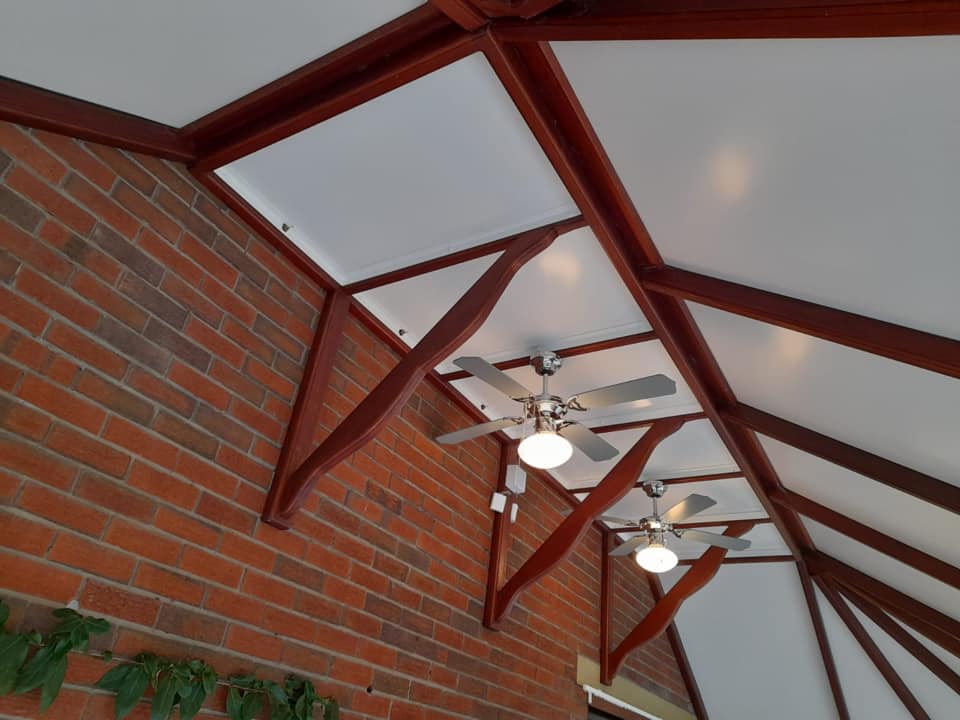 Contrasting interior colours
White is very popular inside the conservatory as it brightens the interior compared with darker colours.
Timber, brown aluminium and woodgrain upvc conservatories suit white interior colours very well. and gives a lovely end result.
Bring new life into your conservatory. Get a quote today
Superior Conservatory Panels replace your old glass and polycarbonate sheets with high quality aluminium panels creating gorgeous conservatory roof colours. Even better, our panels come with thick thermal insulation. Instantly you get a quieter, warmer in winter, cooler in summer conservatory you can use every day of the year. Best of all, a typical installation takes less than one day.
Contact us today with your requirements and arrange a free quotation.