Keeping a conservatory cool in summer is challenging when conservatories comprise so much glass in the roof, windows and doors. Understanding the causes and solutions for a hot conservatory helps to choose the right solution to control the internal temperature. In this article, we explain some of the options available for keeping a conservatory cool during hot weather.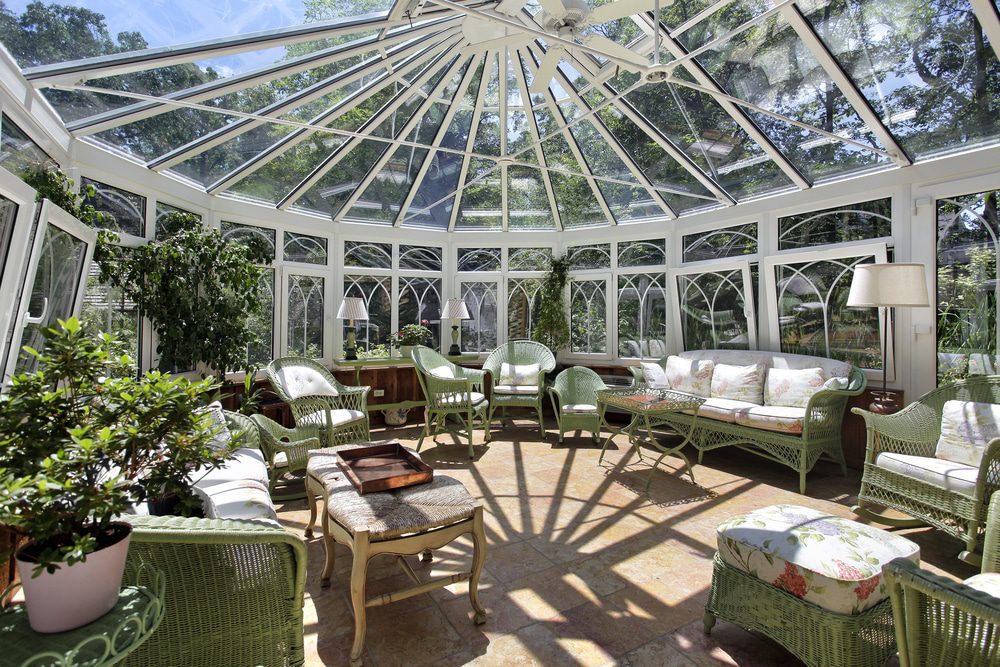 Help with keeping a conservatory cool in summer weather.
A conservatory remains a great addition to a house providing a light-filled extra room. However, so much glass around the conservatory walls and a glass or polycarbonate roof do not help with controlling solar gain. Predominantly glass construction is the main reason why they are too hot in the summer. The same problem with overheating exists whether your conservatory is uPVC, aluminium or wood.
Therefore, if your conservatory feels like a greenhouse instead of an airy, bright room, we give some information on the different ways of keeping it cooler. These comprise both off-the-shelf products and accessories as well as refurbishments and modifications.
Increasing the ventilation in your conservatory.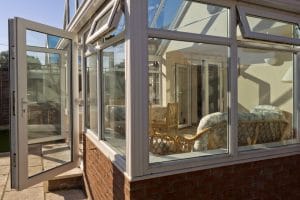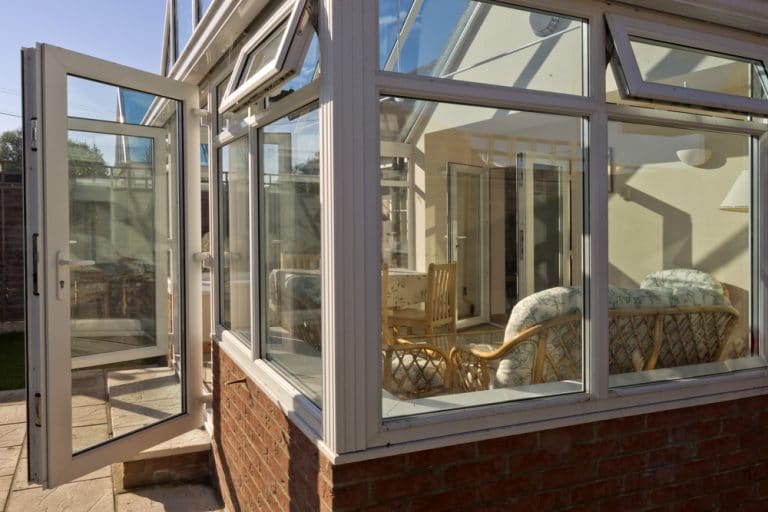 Of course, one of the simplest solutions is to open your conservatory windows and doors. Although this might seem obvious, this is not always practical.
First of all, the amount of ventilation depends on the number of openable windows in your conservatory.  Smaller conservatories don't have as many as bigger ones. Lean-to conservatories have fewer sides to open windows and create a draught.  Similarly, many conservatory roofs don't have opening vents in them. Therefore, increasing ventilation into the conservatory won't work for everyone.  Open windows and doors also might not be suitable at all times of the day for security and other reasons.
Curtains and Blinds.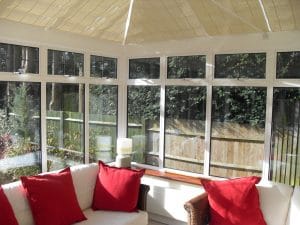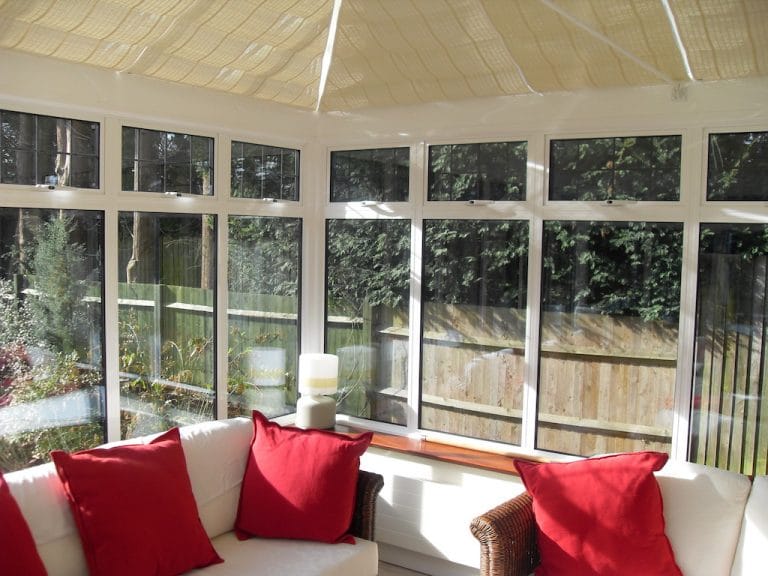 Blinds and curtains in a conservatory and especially in the roof is one solution. Not only are there companies specialising in conservatory blinds, but there are also DIY-fit blinds too.
Adding blinds is quick, easy, and work well in keeping a conservatory fresh. However, the downside is the blinds blowing in the wind, gathering dust and if fabric, fading from the sun. Despite this, blinds are an excellent solution and also help insulate a conservatory better in the winter too.
There is all manner of blinds available such as roller blinds, Venetian blinds, blackout materials, shutters and even automatic blinds.
Air-conditioning units and cooling fans.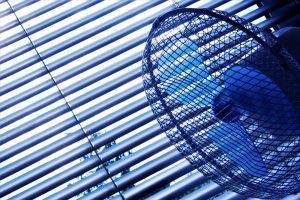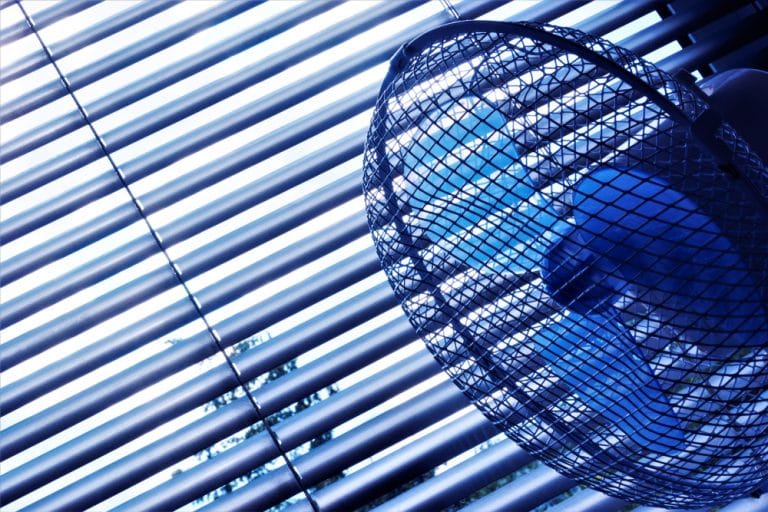 A ceiling fan, free-standing unit or air conditioning is another way of keeping a conservatory cooler. Some fans offer a lot of power, and mobile air-conditioning units are also effective. They are ideal when using the room.
However as soon as you switch them off, the conservatory quickly gets hot again.
Another option is to have a proper air-conditioner installed in your conservatory. These are quiet, energy-efficient and unlike fans, provide cooled air into your conservatory.
Solar control glazing film.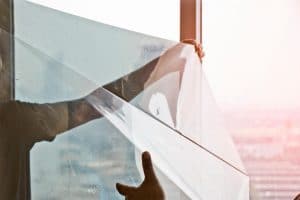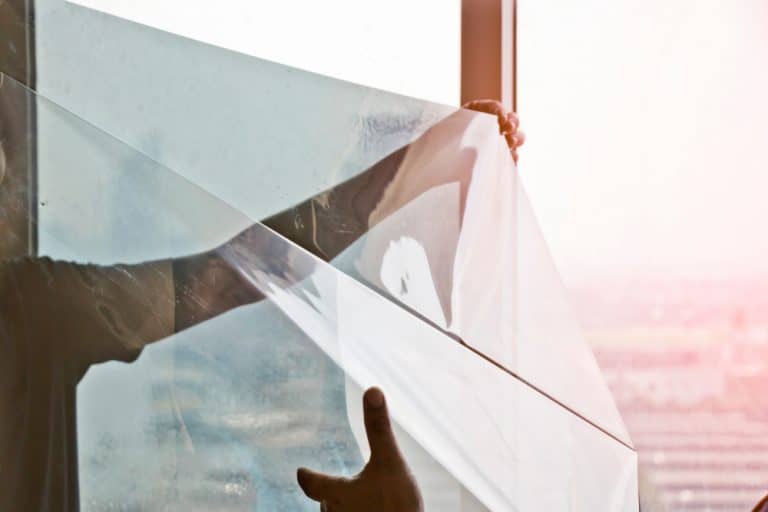 Solar control films are another way of tinting the conservatory and window glass, reducing solar gain and glare from the sun.
This plastic layer of darker film does work in cooling a conservatory down, and it also helps prevent furniture and fabrics fading due to sun damage. They do a good job of reflecting the sun and heat away from the room.
These films come either with professional installation or as DIY options. Their drawback is ensuring a good installation as they can show unsightly bubbles in the film. The corners need careful protection as they can start to peel if incorrectly applied.
A more expensive option for solar film is changing your glass to the latest insulated solar control glass. This works similarly but is a more permanent solution to the film.
Keeping your conservatory cool by replacing the roof.
Despite the effectiveness of the above solutions for keeping a conservatory cool in the summer, none are permanent solutions. This is why in recent years the market for replacement conservatory roof materials has grown. Some of these require structural modification others replace the entire roof with a solid alternative.
Get in touch and transform your conservatory fast.
Our Thermotec conservatory roof panels work in keeping your conservatory cool in the summer and warm in the winter. They also keep your conservatory quiet when it rains. Not only this, but they have other benefits too.
Suitable for existing timber, PVCu or aluminium conservatories.
Available in matching or contrasting colours.
Instantly make a conservatory more comfortable and substantially quieter.
Use your existing conservatory roof materials with no extra modification required.
Best of all is our conservatory roof panels take just one day to fit into most conservatory roofs. Get in touch today, and you could have a brand new roof in a matter of a few weeks and a new conservatory to enjoy every day of the year, whatever the weather. All it takes is a phone call, and we will do the rest.