Our Thermotec roof panels offer a simple yet very effective way to improve your existing conservatory with substantial benefits over other products.  Fitting conservatory roof panels is best carried out by a professional company. For instance, how your conservatory roof is glazed is one important factor.  Knowing your existing roof arrangements ensures the replacement roof panels come at the correct sizes and shapes. To help you understand the process of fitting conservatory roof panels, we have put together this easy-to-understand guide.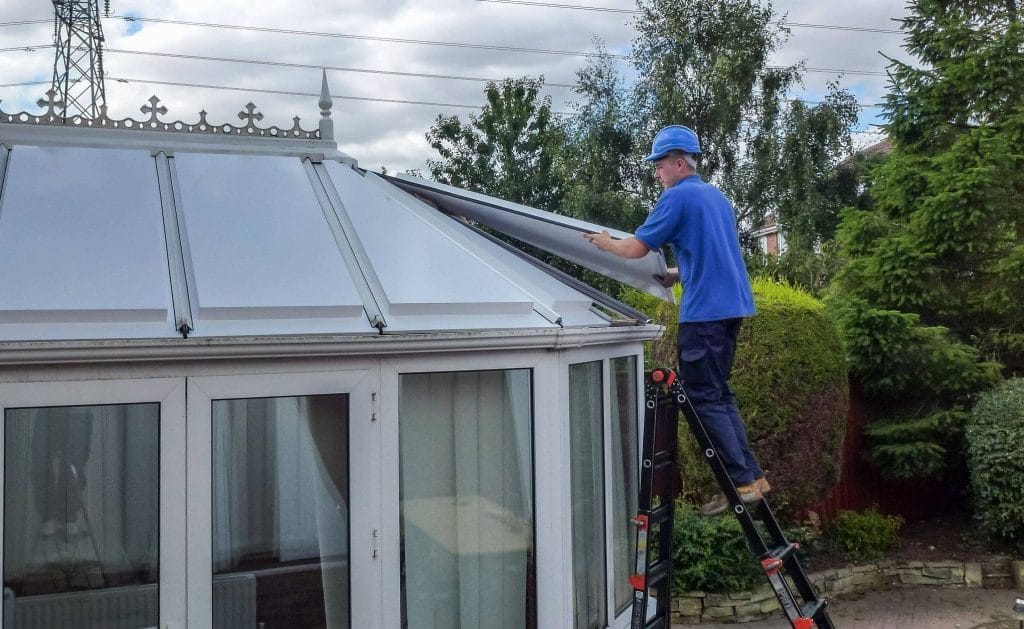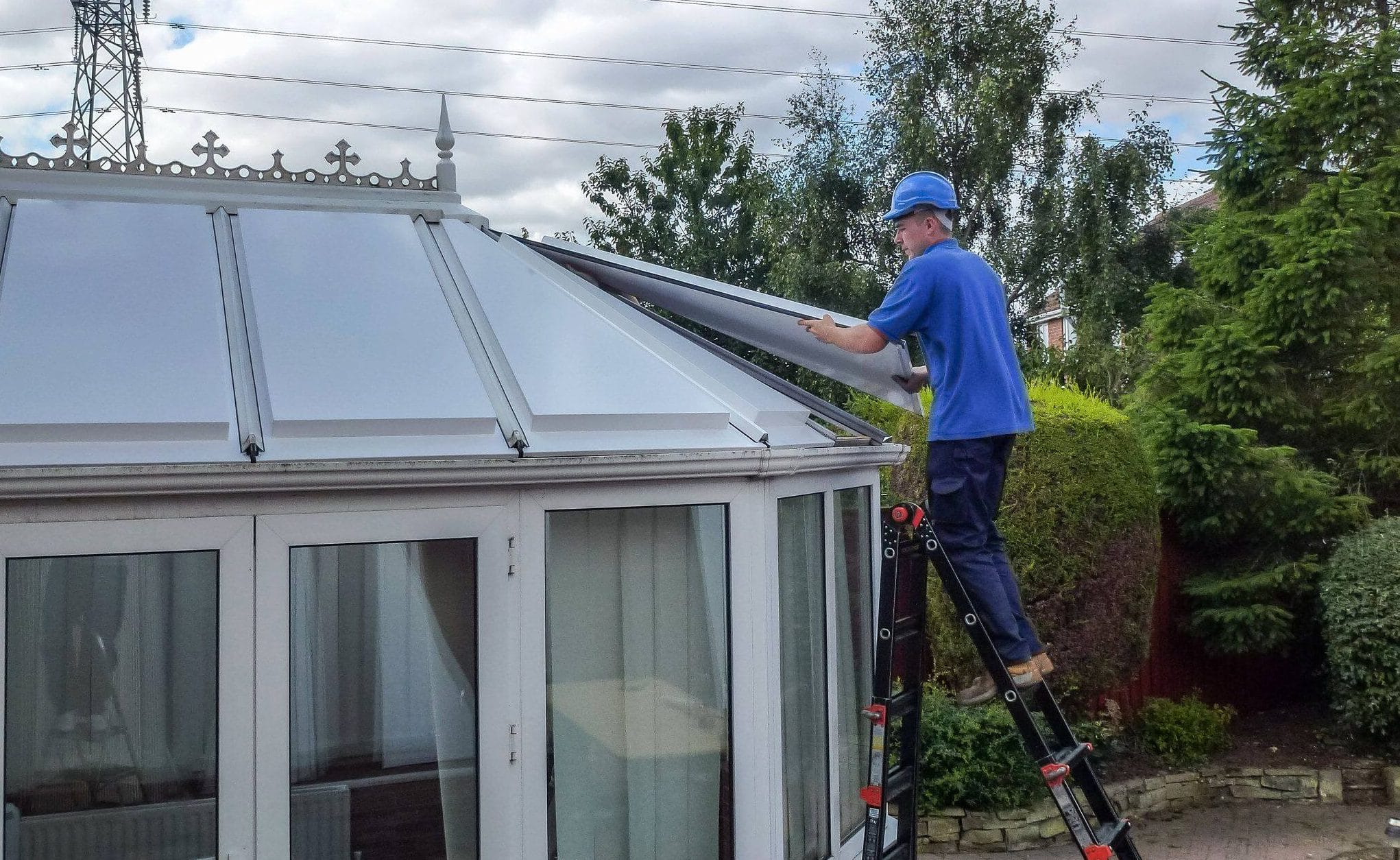 Professional fitting conservatory roof panels in your home.
To illustrate how our insulated conservatory roof panels fit any aluminium or PVCu conservatory, first of all, we explain their construction.
Your new conservatory roof panels are designed and made in the UK.  The exterior construction is quality aluminium sheets to strict industry standards for thickness, quality and conformity.  Importantly, these British standards give you peace of mind in several ways.
Subject to the panel type and insulation thickness U-Value of 0.29Wm2K are achievable. The standard panel offers 0.4Wm2K. Therefore, you benefit from excellent insulation.  Our panels are nearly 10 times more efficient than your existing polycarbonate.
The physical properties of our panels conform to 15 different EN standards. You get a quality-made panel. Contact us for our data sheet.
The high-grade aluminium sheet used conforms to British and European standards for quality, thickness, conformity and type.
Your new conservatory roof panels, therefore, give you a bespoke, made-to-order new conservatory roof designed to fit your existing roof frame.  There are none of the problems associated with tiled or built roofs. For instance, planning permission, weight-bearing considerations and other costly factors.
How we make our conservatory roof panels. Step-by-step.
1. Contact us.
The first step is to fill out one of our contact forms. We also have our very popular Get a Quote Form.  Many people use this as they give us all the details of their conservatory on a simple to use form. They get a fast quotation back.  You can also read our Frequently Asked Questions about our product and service.
2.  The Home Survey.
A survey of your property is necessary to measure your conservatory and ensure the sizes, angles and everything else is right the first time.  We then confirm all the details to you.
3.  Manufacturing your panels.
Your new conservatory roof panels use precision manufacturing processes and techniques.  There are no standard size or 'in-stock' products.  The quality powder coated aluminium sheet sandwiches the quality high-density insulation. Sophisticated machinery bends and shapes your new panels to the required shape.  We weld the panel corners and hand-finish them for a quality finish that looks great in your home.
Your panels are then painted using the very latest powder coating and colouring processes. After the powder comes baking the panels in a special oven to cure the paint finish and give you the beautiful inside and outside colour.
Finally, we hand clean and prepare your panels as well as carry out stringent final inspection checks. We then wrap them to protect them both during handling and transportation to your home.
4.  Fitting the panels.
Firstly we carefully remove the screws on the end caps of your conservatory roof bars.  This is one of the most important jobs as many screws have been in place for years. Therefore they need careful removal. Secondly, we take carefully take off any glazing beads holding your existing glass or polycarbonate materials in place.  We carefully carry out this process, reusing these critical beads, sealing your new panels in place.  We also check the existing gaskets.
To fit your new panels, we reverse the process, using the existing gaskets, glazing beads and screwing the end caps back on the end of the roof bars.
Transform and improve your conservatory today.
Finally, take a look at our recent installations in all types of conservatories with our Thermotec roof panels. Contact us with any questions or for further advice and get a quote today.
✓A new conservatory roof in just one day.
✓An instantly warmer and also more comfortable conservatory in the winter.
✓Enjoy your conservatory every summer.
✓10-year guarantee.
✓Cheaper, better and easier than other products.