In the winter months, what can you do when your conservatory is too cold? Before you give up on your old conservatory, it helps to understand what makes it too cold to use.  Best of all, there are solutions to make a cold conservatory more comfortable. Some of these solutions are not prohibitively expensive and let you enjoy your conservatory all year round.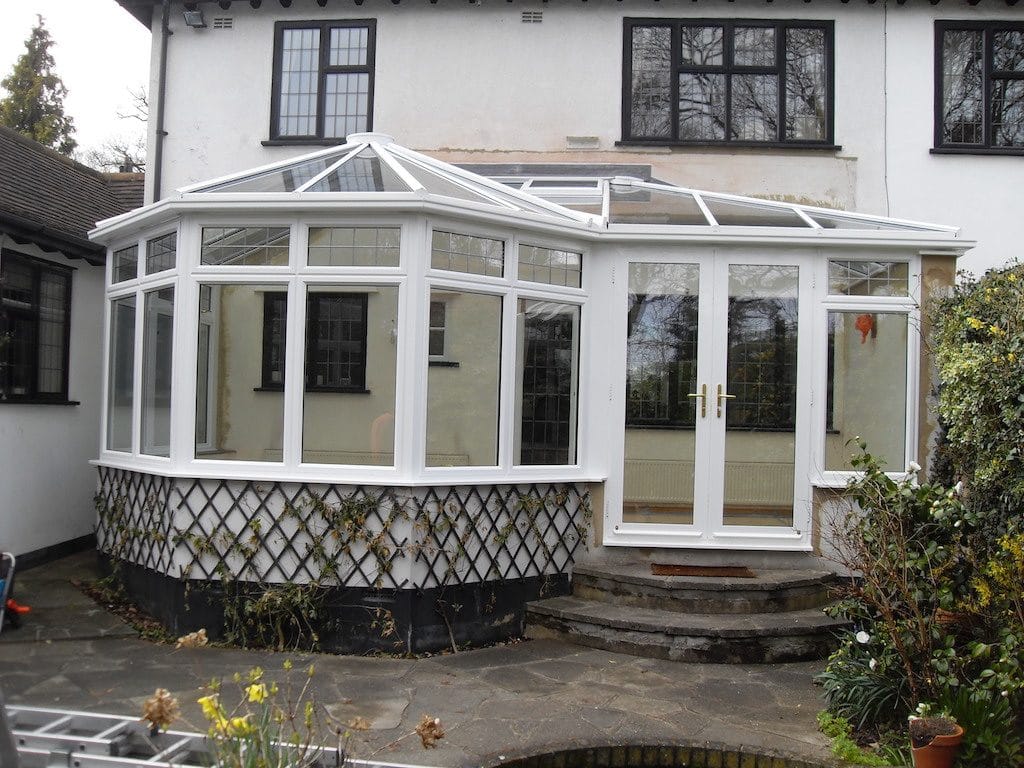 What makes a conservatory too cold?
Firstly, remember that conservatories remain a great addition to your home.  Not only do conservatories give you valuable extra space, but they also create a light-filled space.  Conservatories are also cheaper than building a new extension. Not only this, but a well-designed conservatory works with any traditional or modern property.
The reasons for making a conservatory too cold come down to technology. Early generation conservatories came with just a basic polycarbonate sheet in the roof. Some DIY conservatories continue to offer polycarbonate. However, polycarbonate is a terrible insulator and therefore unsuitable in preventing a conservatory from being too cold. The only advantage to a polycarbonate roof is low cost.
Many modern conservatory roof systems now use glass.  On the one hand, glass is a better insulator than polycarbonate.  On the other, glass creates a greenhouse feeling in the summer.  Early generation conservatories used basic glass with an air space.  Then came sophisticated glass units with coatings, sun-protection, argon gas and better U-Values.  However, glass remains glass, and even the best-insulated glass units still cannot perform like a solid insulated roof.
Consequently, while glass lets in light and is better than polycarbonate it still has limitations. Glass still makes a conservatory too cold in the winter and contributes to it being too hot in the summer.
Therefore, the only real solution for preventing a conservatory that is too cold is to insulate it better.  This comes down to your choice of conservatory roof.  For a new conservatory, talk to your installer about the benefits of a tiled and insulated roof. For an older conservatory, there is a range of products on the market. All of these provide better insulation than polycarbonate and glass.  They also insulate your conservatory better.
How to improve your old conservatory and make it warmer.
There are several products to choose from, all addressing the problems making a conservatory too cold.
Our simple to fit aluminium insulated roof panels. See how they instantly improve your conservatory.
The latest multi-walled polycarbonate sheet. These products now come with HeatGuard, but still noisy and not as effective.
The latest solid roof conversion. However, you will need reinforcement and building work. Otherwise, your conservatory will collapse.
Latest generation conservatory glass with built-in integral blinds.
Demolishing your conservatory and building a new one.  The most expensive option.
Keeping what you have, investing in heating for the winter and air-conditioning for the summer. An increase in your utility bills.
New fabric blinds with some level of heat retention. Not that effective.
Any of these options will provide a solution to a conservatory that is too cold.  They all form part of the current range of systems and methods to refurbish an old conservatory.  Budget, the long-term solution, what will work better for you and your home are all deciding factors.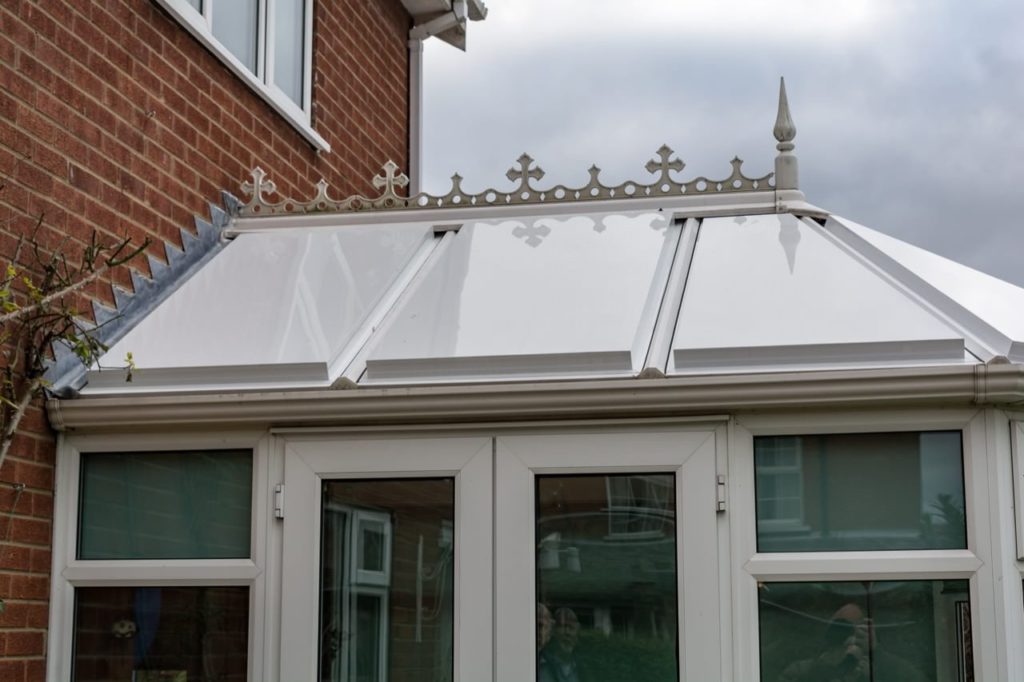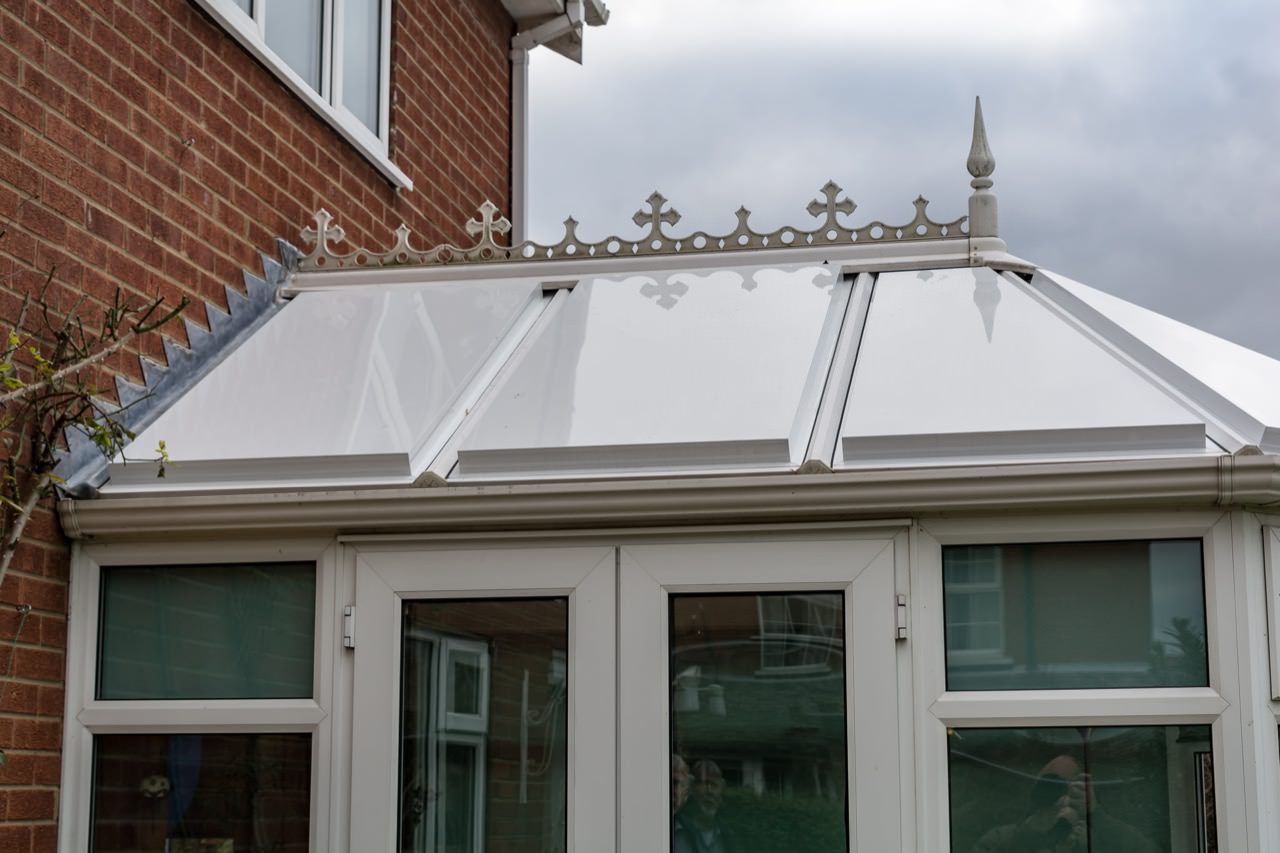 Your conservatory remains a great product.  We can improve it today.
If you purchased an old conservatory, by now, you might be feeling that the promised 'extra room' falls short of your expectations. Do not let a simple matter of variable temperature spoil your enjoyment.  Here is how our Thermotec roof panels transform your conservatory with a cost-effective method in just one day.
✓A new conservatory roof in only one day.
✓An instantly warmer and also more comfortable conservatory in the winter.
✓Enjoy your conservatory every summer.
✓10-year guarantee.
✓Cheaper and better than other products.
The even better news is that our insulated roof panels use the existing conservatory structure.  There are none of the headaches associated with solid or insulated roofs. You don't need to reinforce your roof or your conservatory base. You get none of the potential damp and condensation issues with a new internal ceiling.  And you get none of the noise and poor insulation associated with polycarbonate or glass.
Finally, remember your conservatory windows and doors are not part of what is making your conservatory too cold.  It is the roof.  Put the right product in your roof and you can enjoy your conservatory every day of the year.
Contact us for a free quotation.
Contact us today to find out more and to get a fast quotation. Enjoy your conservatory this winter.