When it comes to refurbishing your old conservatory, what is the best conservatory roofing material?  Well, the best roofing material is the one that gives you temperature control in your conservatory. In this article, we take a look at the different options for changing a conservatory roof.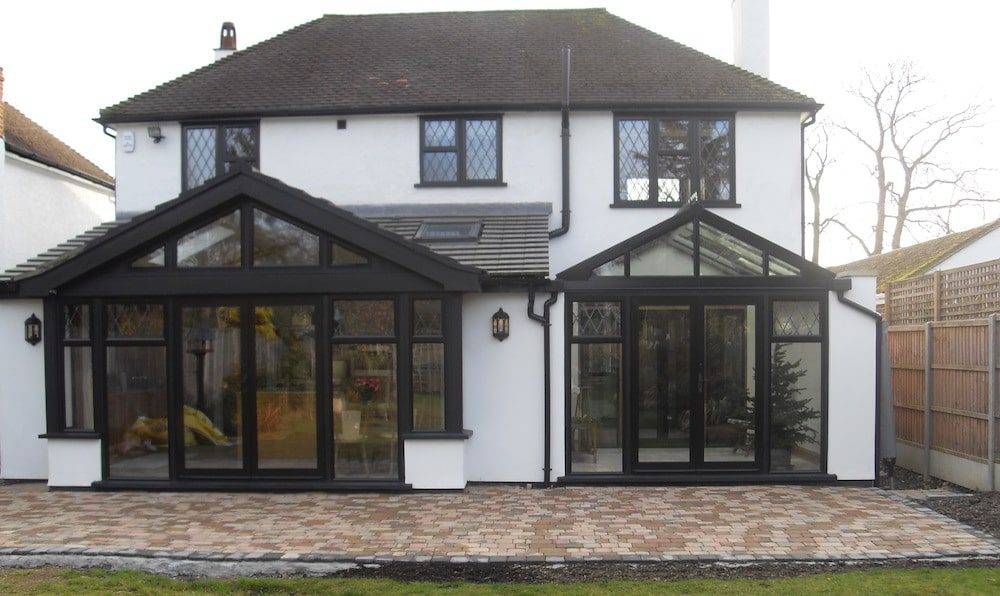 Choosing the best conservatory roofing material. Things to consider.
First of all, it is useful to look at the benefits of having a conservatory in the home. These benefits apply both to new conservatories and if when exploring the options for refurbishing your existing conservatory.
Why your existing conservatory is inefficient.
If your conservatory is too cold in the winter and too cold in the summer, the main reason is poor insulation of the conservatory roof.  On old conservatories, the windows and doors tend to do their job, performing better than the roof.
Heat escapes through the roof and sunlight comes through it in the summer.  This variable temperature is why your conservatory is inefficient.  Change the old glass or polycarbonate roof, and the results are instant.
Factors affecting your choice of conservatory roof.
In our view, there are six factors to influence your decision when choosing the best conservatory roofing material.  Here, we list these factors and why they are essential.
Considerations when choosing a conservatory roof
Feature
What to Consider
Style of Conservatory
Flat roofs aren't as effective at draining rainwater away from the panels
Usability
The more insulated, quieter and comfortable a conservatory, the more you will use it
U-Values
The better the U-Value in the roof, the quieter and more comfortable the conservatory
Regulating internal temperature
The better insulated the roof, the better the internal temperature regulation
Lifespan
Some conservatory roof materials are intended for replacement
Others only have a short lifespan
Anticipated Maintenance
How easy is the roof to clean?
Therefore if you want to get the best out of your conservatory refurbishment, the more insulated the roof, the better the overall experience will be.  Consider the comfort factor of your conservatory when deciding on the best conservatory roofing material.
Why an insulated Roof is best for your conservatory refurbishment.
When it comes to the best overall comfort in your conservatory, nothing beats an insulated conservatory roof. You will lose some of the light transmission compared to a fully glazed roof but will gain a vastly better conservatory when you use it. An insulated roof provides benefits even the latest solar-control glass cannot offer.
Better internal temperature regulation.
Reduced noise from rainfall on the roof.
Reduction in condensation.
Reduced solar glare.
Lower heating and cooling bills.
Less faded fabrics on furniture and furnishings.
Disadvantages of a solid conservatory roof.
Conservatory professionals all acknowledge that insulating material is the best conservatory roofing material for year-round enjoyment for a conservatory refurbishment.
Some homeowners are wary of a solid roof.  The primary concern over a glass roof is the loss of light. Some think that with a solid roof, the conservatory is no longer "a conservatory".
Given that a conservatory has windows, doors and glazing on all sides, the light transmission is not substantially reduced. While you will invariably lose some sunlight from above, you cannot ignore the benefit of enjoying the conservatory in all seasons.  However, if you do still want some light through the roof, there is no reason why you cannot have a mixture of solid panels and glazing.
Types of replacement conservatory roof available.
Presently on the market, you will find a variety of solutions intended to improve your old conservatory.  These range from after-market blinds to a full tiled conservatory roof.
Have you bought a conservatory many years ago? Did you buy a house with a conservatory on the back? Replacing the conservatory roof virtually guarantees to bring this addition to your home back to life.
Conservatory Roof Options

|  Conservatory Roof Product | Advantages | Disadvantages |
| --- | --- | --- |
| Thermotec Aluminium Roof | Numerous advantages over other materials | Slight reduction in light transmission |
| New Blinds | Cheapest Option | Only useful in the summer for blocking out sunlight |
| New Polycarbonate | Cheap and easy to replace | Old technology material with virtually no insulation. |
| New Glass, e.g. Solar Controlled | Lets in the most amount of light | Glass units have a limited lifespan |
| Secondary Internal Roof | Cheaper than a full tiled roof | Often retains moisture between outer and inner roof |
| Tiled Conservatory Roof | Solid and long-lasting | Heavy and not suitable for every old conservatory |

Helping you choose the best conservatory roof for your home.
A Thermotec roof from Superior Conservatory Panels transforms your conservatory with a host of features and benefits. Many satisfied homeowners enjoy their conservatories once more thanks to our simple to fit and economical product.
Unlike other solid roofs on the market, ours works with any conservatory. There is no major structural work, building work or planning considerations.  If you are thinking about the other solid conservatory roofs on the market, these will require Building Regulation Application. The reason for this is that your original conservatory roof is designed not to carry the weight of a solid roof. Our roof panels, subject to survey will work with any roof and do not impose additional loads on the existing roof framework.
Best of all you can enjoy your refurbished conservatory in just one day. That is all the time it takes to improve your old conservatory.
Contact us today to arrange a home survey and to ask any questions.