An installation of Thermotec Panels in Manchester to an existing PVCu lean-to conservatory. Superior Conservatory Panels work throughout the North West and the Midlands.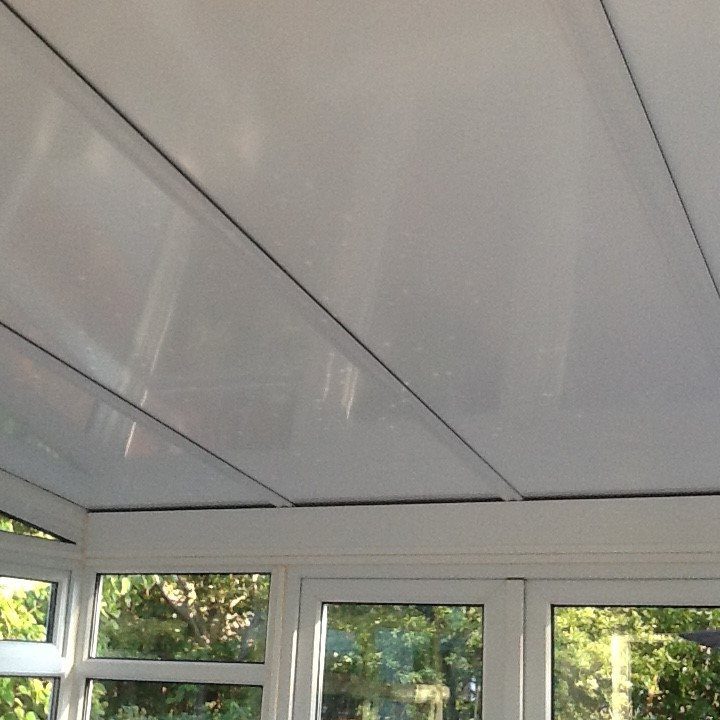 White aluminium Thermotec Panels in Manchester.
This project is to an existing upvc lean-to conservatory having French Doors in the centre with adjacent fixed and opening windows.
The existing conservatory roof in this design of lean-to conservatory is usually twin wall or triple wall polycarbonate or basic glass units. As a result of these older roof materials, having little insulation, interior comfort is often compromised.
Therefore, there are several instant benefits following the installation of the new conservatory roof panels.  Instantly, the conservatory is quieter, with improved sound levels.  There is also less solar glare and less noise when rain falls on the new roof.
Another benefit of our conservatory roof panels for a lean-to conservatory is strength. Aluminium is well-known for its high strength to low weight properties.  Therefore, they are ideal in lean-to structures because of the longer roof panels found in this design.
These Thermotec Panels in Manchester come in a white polyester powder coated finish, for a great appearance and durability.  The powder coating process also creates a low maintenance product, with only routine cleaning required.
Finally, the impressive U-Values found in Thermotec roof values also help with heating and cooling the conservatory throughout the year.
Contact us today to transform your old conservatory.
It costs nothing to arrange a free home survey and get a quotation on our entire range of conservatory roof panels.
At Superior Conservatory Panels, we provide our transformational roof panels in Staffordshire, Shropshire, Cheshire as well as Mid and North Wales. If you require our services in the North West areas of England, get in touch today.
You can also fill out our contact form either for us to call you back or give us details of your conservatory.
Customer Testimonial.
Mrs D (Manchester)
"Just had new Thermotec roof and the end result is excellent and the two fitters were amazingly hardworking as well as being such lovely guys."