Aluminium is widely marketed as being light compared to other materials, but how strong is a conservatory roof when improving it with our aluminium insulated panels? Whilst aluminium is regarded as a lighter material, it does have a lot of inherent strength, making our conservatory roof panels perfect for general roof refurbishments and improving the interior comfort and insulation.
How strong is a conservatory roof with aluminium panels?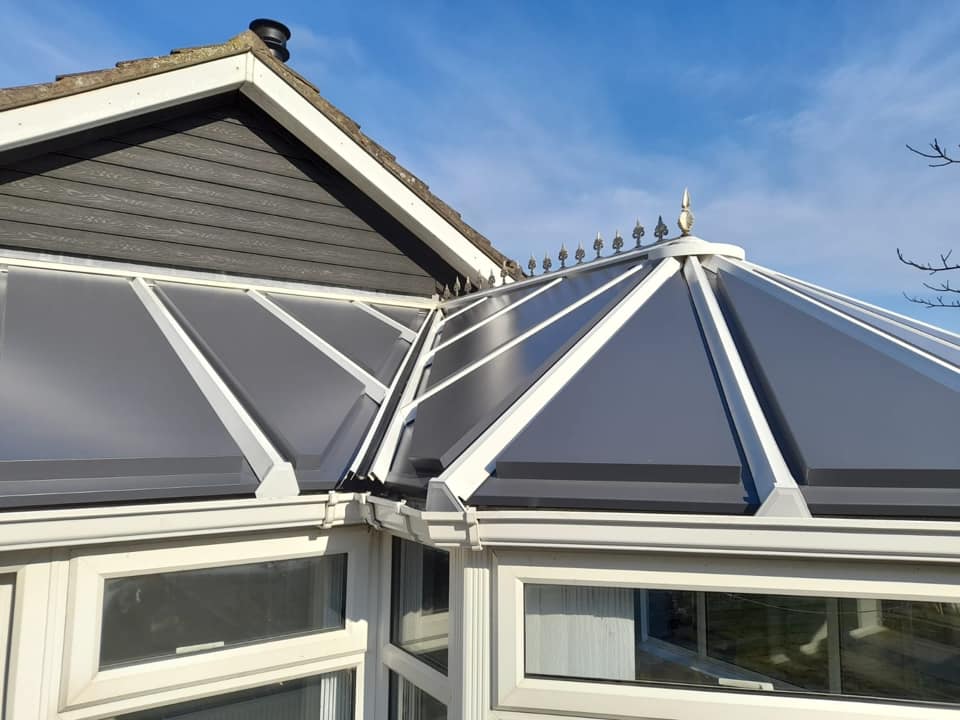 One of the many benefits of a Thermotec roof is it uses aluminium on the inside and outside faces. The aluminium skins are 2mm thick, which, whilst not sounding that thick, is actually enough to provide a lot of strength to the roof panel. At the same time, aluminium has strength and, high corrosion resistance, high thermal and electrical conductivity. It is easy to form into your bespoke roof panels sizes and shapes and is designed to withstand British weather.
Internally, our aluminium conservatory roof panels comprise Styrofoam ™ which is manufactured by the renowned Dow Building Solutions. Rigid, strong and highly insulated, Styrofoam is bonded to the aluminium sheets using sprayable contact glue, widely used for bonding metals and insulation materials.
How strong is a conservatory roof – the bespoke aluminium panels
The aluminium, insulation and manufacturing process creates your bespoke aluminium panels, which are specially bent and shaped by advanced machinery, to the precise sizes of your conservervatory. The panels have welded corner joints, adding to the product strength. Then they are coloured using an advanced powder coating process, providing not only the desired colour, but one that is durable, low-maintenance and professionally applied to the best industry and quality standards.
The final manufacturing process creating durable panels and providing a strong conservatory roof is the finishing of seals and joints.
To further help answer the question of how strong is a conservatory roof, each typical panel using 2mm thick sheet each side and with a standard 75mm panel thickness is 12.2kg per square metre. That is strong.
The strength of a conservatory roof will also differ depending on whether the panels are thicker or deeper, to suit the individual roof requirements of aluminium, PVCu and timber conservatories.
Strong, reliable aluminium conservatory roof panels – get a free quote today.
Highly insulated Thermotec roof panels provide a fast and effective way of transforming your conservatory into a fantastic new space you can use every day. Fitted in just one day, your conservatory roof is quieter when it rains, warmer in the winter and cooler on warmer days. Take a look at how we've transformed conservatories in homes, all over the North West of England.
Contact us today to arrange a free quotation.