A conservatory extension the back of a detached modern house, with our latest conservatory refurbishment in Staffordshire, supplied and installed by Superior Conservatory Panels.
White conservatory refurbishment in Staffordshire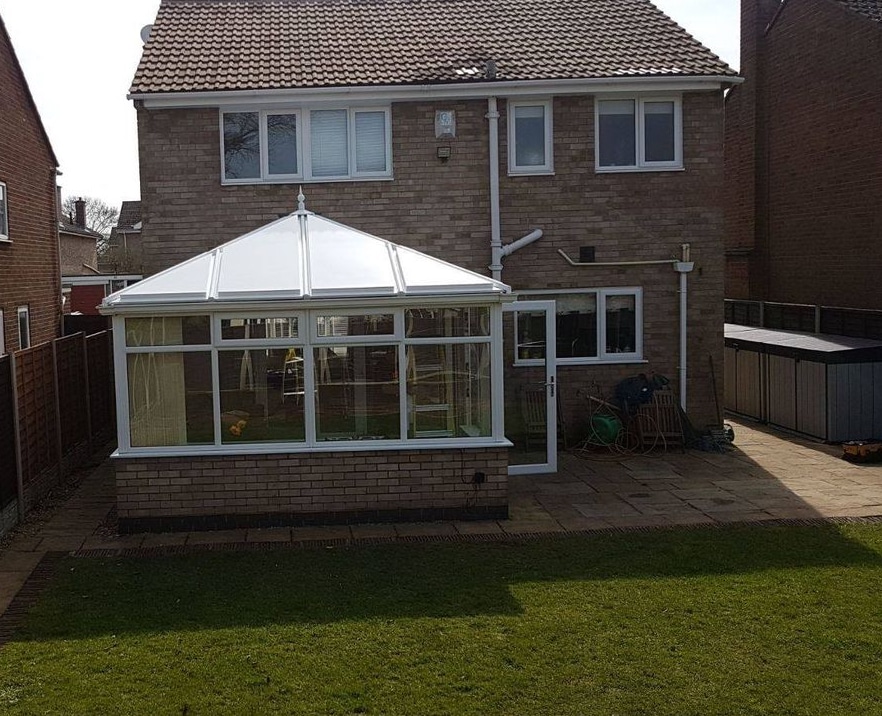 This recently constructed house is fitted with an Edwardian style conservatory at the back. The original structure sits on a stone base and has the optical white PVCu profiles, two sides have casement window modules for ventilation and views, with a set of French doors for access out to patio area and garden.
Our team surveyed the property measuring for new aluminium white powder coated conservatory roof panels. Designed to fit in just one day, these high quality made-to-order roofs are perfect, fitting within the existing roof bars and using the same components as the existing roof. Matching closely the existing PVCu windows and doors around the house and, of course the conservatory itself, the colour chosen is RAL 9910 gloss.
•The Thermotec roof panels replace the existing roof material, having better insulation and a thicker overall construction.
• The panels are designed to provide a no-hassle conservatory roof replacement and come in a white finish for a brighter interior.
• The conservatory promises a more comfortable internal temperature with reduced noise and sitting inside now means reduced glare and much cleaner conservatory roof.
As shown in this conservatory refurbishment in Staffordshire, conservatory roof panels are a great way to improve the insulation of any conservatory. By fitting Thermotec conservatory roof panels, you can use your conservatory as a proper, comfortable and functional room all year round.
The low U-values of the panels mean that the interior of your conservatory will be kept at a comfortable temperature winter and summer. The fast installation with no mess or disruption is an added bonus.
Expertly manufactured by us, this conservatory refurbishment in Staffordshire is professionally installed and with a ten-year guarantee. Our new panels promise to breathe new life into your conservatory for many years to come.
Create a better, warmer conservatory for the winter.
At Superior Conservatory Panels, we transform any existing conservatory into a new room.  Get a new space in your home this summer and enjoy a better conservatory interior than ever before. A new way to enjoy more space this winter. Contact us today for a free quotation and to find out more. Why not take a look at more installations and conservatory types, improved with Thermotec Panels.
With none of the structural work required with other types of conservatory roof refurbishments, Thermotec roof panels are easy to fit, easy to maintain and highly effective.